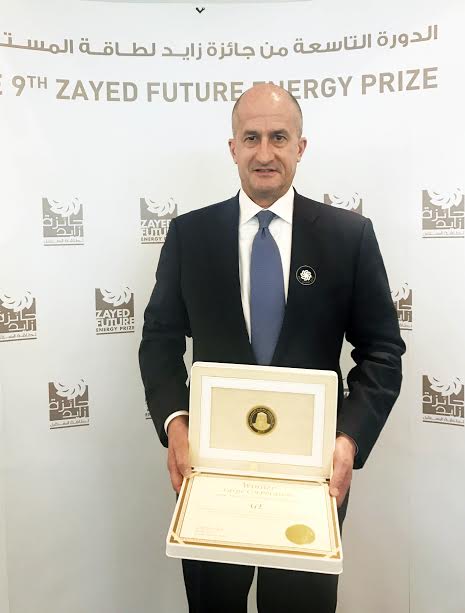 New York-based multinational conglomerate corporation GE has won the prestigious Zayed Future Energy Prize in the Large Corporation category for its significant contribution to renewable energy and sustainability.
In the presence of HH Sheikh Mohammed bin Zayed Al Nahyan, Crown Prince of Abu Dhabi and Deputy Supreme Commander of the UAE Armed Forces, GE's Vice Chairman John Rice received the prize at the ceremony on Monday, the opening day of the World Future Energy Summit in Abu Dhabi.
"We are honored to receive the Zayed Future Energy Prize, and thank the UAE and its leadership for this prestigious honor for GE. We are proud to receive an award that salutes the vision of the late Sheikh Zayed, a great leader who was committed to making the world a better place for our future generations," said Rice.
The award took into consideration the impact of the investments and interests of GE in renewable energy and sustainable development, its global presence in the sector, industry leadership and long-term commitment to developing innovative products.
"This award also reflects the passion and dedication of the UAE's leadership to promote renewable energy and sustainable development. Winning the prize is a testament to our commitment to innovation and developing solutions that make things better for the environment, the economy and society," pointed out Rice.