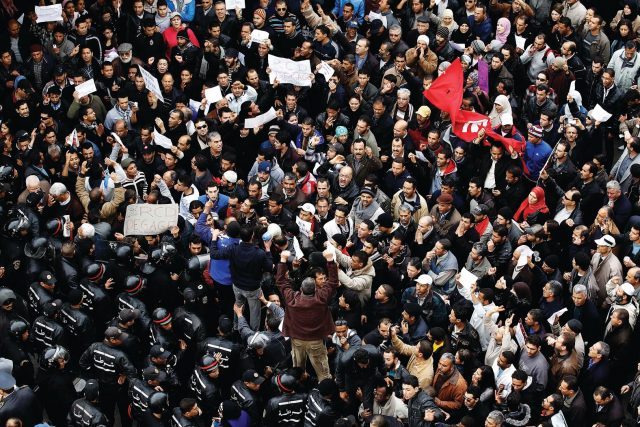 Geopolitics and geopolitical tumult sometimes confuse analysis and Tunisia provides a very current example. The composite puzzle that is today's Tunisia consists of many pieces, some of them contradicting each other. Among them: six years have passed since the Arab Spring, which started in Tunisia. In December 2010, protests erupted in Tunisia (and elsewhere) after Mohamed Bouazizi's self-immolation, following his bitter confrontation with police. He died in January 2011 and the government of President Zine el Abidine Ben Ali fell ten days later as the region exploded into the Arab Spring.
The country possesses undeniable potential. In its review titled The Unfinished Revolution, the World Bank says: "Tunisia has everything it needs to become a 'Tiger of the Mediterranean'", but adds that its potential has never been realized.
Today, Tunisian authorities continue to fight the Islamic State by breaking up cells and confiscating weapons caches. Organized labor opposes some of the government's money-saving plans. Moreover, the Truth and Dignity Commission has begun holding hearings to probe human rights abuses by previous governments. Meanwhile, the country continues under a state of emergency law, which allows the banning of strikes, some meetings, temporary closures of theaters and bars, and other measures. Amidst all these pieces of the puzzle, the political situation remains unstable, while the government has an aggressive economic rebuilding program.
Success stalled
Tunisia's success story since 2011 stalled despite its early promise. It emerged from the Arab Spring and maintained its parliamentary system in spite of ­domestic unrest, jihadist attacks, inflation and
high unemployment.
Those setbacks have taken a high toll on the country. Every year since 2011, a large number of Tunisians have emigrated through legal or illegal means to look for better opportunities elsewhere. They took with them their training, income-earning and tax-paying potential. Meanwhile, more than 500 companies departed in the same period and a succession of governments have not resolved the country's economic problems nor its jihadist threat.
The current government, headed by Prime Minister Youssef Chahed, the latest in a series of governments in the same period, took office after the previous government, headed by former Prime Minister Habib Essid, lost a non-confidence vote in July last year. Not surprisingly, investors backed off and foreign direct investment inflows dropped by more than half from a $2,600,674,976 in 2008 to $1,001,771,959 in 2015. Growth in gross domestic product dropped to 0.8 percent with the final total for 2016 unlikely to be very different.
At the time of writing, Tunisia has an official unemployment rate of more than 15 percent, a disillusioned population and a jihadist problem. In October, Tunisian President Beiji Caid Essebsi renewed the state of emergency first imposed on November 25, 2015, after an attack took place on a bus carrying members of the presidential guard, killing 12 of them.
This followed another attack at the resort of Sousse in June, in which 38 foreigners died, and an attack on the Bardo Museum in June, leaving 21 tourists dead. In March this year, an attack on army and police posts near the Libya border left at least 50 dead. These attacks and a slowing European economy together produced a huge drop in tourism, normally a mainstay of the economy.
On the political front, changes have become more mandatory than optional, but Tunisia's political make-up confuses the issue, suggests Anthony Kim, research manager and senior policy analyst at the Heritage Foundation, a Washington-based think tank. The wide range of ideologies will make consensus difficult and appears likely to slow much-needed reforms, he explains. "The whole political culture there is very much consensus driven.
That's respectable, but they need political decisiveness to move things forward," he says. "They do realize the urgency of implementing necessary reforms and ordinary citizens want to see that happening." Tunisia's political class subscribes to different political ideologies but shares a common goal of making as many citizens happy as possible. "So it's very hard for them to move things forward in a timely fashion. That means delays and delays and delays," he explains.
On the economic front, with a tight focus on meeting these challenges, Tunisia has made several moves to improve its economy and relationships with foreign investors. It will take several years before success or failure becomes apparent, with 'success' and 'failure' defined as improvement or the lack of it, respectively, in economy, employment, investment and GDP.
Ticket to success
One of those most responsible for accomplishing economic success is Fadhel Abdelkefi, the country's Minister of Development, Investment and International Cooperation. He and his ministry have embarked on a high-ticket development program, designed to make up for lost time, to repair the damage and to re-introduce Tunisia to global finance. "We were basically off the investment radar for North Africa," he says during an interview from his office in Tunis. Abdelkefi styles the package as a vehicle for telegraphing Tunisia's FDI policy. "Tunisia is coming back to investment. We are opening the market to foreigners," he says.
The multi-million euro investment package contains an ambitious assembly of three types of projects that could be economic game-changers: 66 government infrastructure projects such as roads and bridges, which the government hopes will attract financing from banks, including the World Bank and development agencies; 35 public private sector projects (PPPs); and 30 completely private sector projects.
To make this work, Abdelkefi hopes to compete by leveraging the highly educated work population, Tunisia's Free Trade agreement with Europe, its close relationship with some Sub-Saharan countries and its proximity to the continent. "We are facing competition from Morocco and Egypt," he says during the interview. Target countries for investors include the United States, China and others.
If the government accomplishes its goals, the projects will lead to a GDP growth of between six and seven percent, greater government budget stability and a reduction in unemployment, which Tunisia sees as a mean of discouraging jihadist influences. "Democracy is also prosperity for the people and, to have this prosperity, you have to boost the economy to have growth and to have less unemployment in this country," Abdelkefi says. When TRENDS suggested that the program is very ambitious, he responded: "Yes – we have to be."

Attracting investment
In fact, the viability of the current government and the stability of the country rest on the successful implementation of at least some of these projects. Viability and stability also rest on whether the new Investment Law makes the country more attractive to foreign multinationals looking to take advantage of the location, labor force and market accessibility.
The new legislation aims to promote investments in Tunisia, especially foreign direct investment, by enhancing the freedom to invest and investors' protections, explains Kaouther Bouzamitta, director of the Legal Department of the Central Bank of Tunisia, in a brief prepared for TRENDS.
As one example, the new law resolves factors such as non-discrimination, meaning that it provides that, under comparable conditions, a foreign investor will not be treated less favorably than a Tunisian domestic investor. (In FDI parlance, this is sometimes called 'national treatment'.)
In practice, this means the requirement for prior approval, formerly applicable to some foreign investors, has disappeared under the new law, Bouzamitta explains. In a practical example, the new law sets out the principles of free acquisition, rental and exploitation of non-agricultural lands by investors.
The government plans to adopt a full list of all activities that will require prior approval and to clarify some administrative procedures and conditions required to execute an FDI project in Tunisia.
As well as equal treatment, the law provides equal access to information to both domestic and foreign investors, and the same protection for intellectual property rights. It also prohibits the expropriation of an investor's assets except in the public interest and provides for fair compensation (although it doesn't outline the exact calculation of the compensation).As another appeal, it allows foreign investors greater freedom in areas such as recruiting foreign management. The previous code allowed recruitment of up to four foreign managers for a business, but the new code allows more leeway, so a business may have foreign managers for up to 30 percent of management during the first three years and ten percent afterwards.
With all of this in place, if it gets the politics and economics right, Tunisia may achieve its goal of becoming a regional hub, going on to compete with Morocco and Egypt.