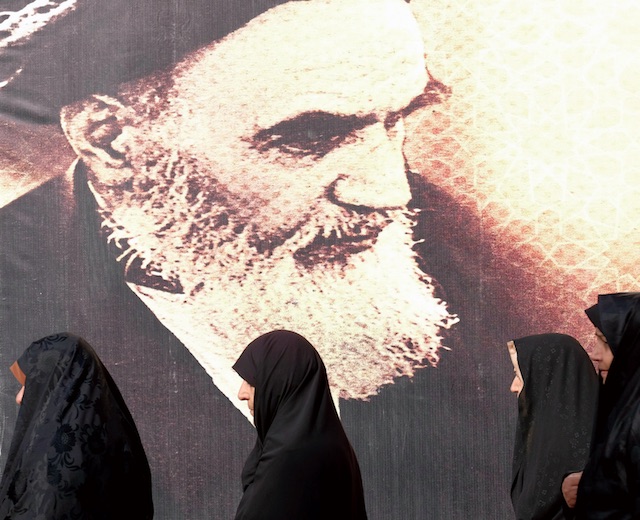 The Iranian presidential election, due next year, has a long run-in and plenty of scope for surprises. Critics of last year's nuclear agreement with world powers are far from exhausted, the region is unstable, with Shia-Sunni tensions running high, and Iran's whole political class waits warily for November's presidential election in the United States. The nuclear agreement – unprecedented in terms of political and technical complexities – required a specific set of circumstances, including presidents in both Tehran and Washington prepared to endorse, compromise and face down domestic opponents. Hassan Rouhani has shown that whoever occupies the presidency matters in Iran as well as the US.
"There can be major shifts from time to time in any polity," Sir Richard Dalton, British ambassador to Iran from 2003 to 2006, told TRENDS. "The choice of boss is one of the factors that determine when and whether, issue by issue, there will be."
Dalton locates four policy options along a spectrum. "The first is to carry on with little or no change," he said. "The second is to add to policy in an outward direction, to be more radical. The third is to add to current policy in an inward or conservative direction. The fourth is to do something new and risky. So, there are basically two outliers and two in the middle.
"The choice of president can shift the predisposition of the boss and officials along the spectrum. So, Ahmadinejad stuck with the first on the nuclear policy, except on the Turkey-Brazil initiative [a 2010 proposal for Iran to export nuclear fuel] when he went for the second. Barack Obama saw how futile the first was once sanctions were in place and went for four. With November's US presidential election approaching, he is now stuck with the third – basically standing pat or being tough on Iran. If Saeed Jalili had beaten Rouhani [in the 2013 presidential election], we would have had the first or second over the nuclear issue, where Rouhani went for the fourth."
State of play
Rouhani's supporters did relatively well in February's elections for parliament and for the Experts' Assembly, which chooses the supreme leader, but the president may face a more serious challenge next June. The principle-ists have been regrouping, trying to unsettle the president with a variety of means centered on rallying poorer Iranians. Encouraging 'morality policing' to enforce the codes of Islamic dress has been one tactic employed to squeeze Rouhani.
"The principle-ists have their own ways of reaching their social base among the poor and more conservative people," Saeid Golkar, consulting Senior Fellow at the International Institute for Strategic Studies and lecturer at Northwestern University, told TRENDS. "Morality policing pleases the more conservative part of society. If you talk to people in south Tehran, even men who peer at girls in the street say they want more hijab and that boys and girls are being corrupted." Finding a balance over the hijab, as middle-class supporters look for relaxation, is one of several challenges facing Rouhani. The last thing he wants is rising tensions, but in Iran, many issues can be used for political factionalizing.
"Rouhani has a China or Singapore model in his mind – a strong economy with some social liberties," said Golkar. "He doesn't want confrontation, he doesn't want the police on the streets bothering people; he doesn't want to lose his middle-class social support, because people think he's doing nothing [about social reform]."
Pushing populist egalitarianism, then, makes sense for Rouhani's principle-ist critics in the countdown to the presidential election, especially because, according to the Statistical Centre of Iran, inequality and poverty increased in the Iranian year that ended on March 20.
February's Parliamentary poll saw low turnouts in Tehran's poorer districts, where people feel no economic benefit from the nuclear agreement, leaving the capital's turnout at 50 percent, lower than the 62 percent nationally.
Golkar closely follows social media chatter among the principle-ists, especially those in the Basij, the volunteer militia with at least four million members. In their search for a charismatic candidate to beat Rouhani, he says many principle-ists are arguing for the return of Mahmoud Ahmadinejad, who was ineligible to run in 2013 as the constitutions bar anyone from three successive terms as president. In office, Ahmadinejad's populist egalitarianism led to policies of subsidized loans, infrastructure projects around the country and cash handouts. "Inequality has increased under Rouhani," said Golkar. "People in rural areas remember Ahmadinejad for the subsidies."
A poll last August found Ahmadinejad had an approval rating of 61 percent, down from 67 percent in July 2014, but way ahead of a disapproval rating of 35 percent. The poll highlighted the problem the principle-ists faced in the 2013 -election, when 23 percent of respondents did not even recognize the name of their main candidate Saeed Jalili, whose positive rating at 43 percent was not so far ahead of a negative rating of 28 percent.
Ahmadinejad has been slowly returning to the public eye in recent months, making a series of speeches contrasting the noble sacrifices of the 1980-88 Iraq War with the inequality and selfishness in the country today. Websites supporting him have put forward statistics illustrating the supposed successes of his presidency compared with Rouhani's record, for example, over the stretches of rural roads being paved.
But the chances of Ahmadinejad running are diminished by memories of the battles during his second term with both Ayatollah Ali Khamenei, the supreme leader, and with senior clerics. Ayatollah Mohammad Taqi Mesbah-Yazdi said in 2011 that he was "more than 90 percent certain" that Ahmadinejad had been "put under a spell".
The watchdog Guardian Council barred from the 2013 presidential election Ahmadinejad's first vice-president, Esfandiar Rahim Mashaei, who had stressed Iranian nationalism even above Islam and was widely seen as the center of a "deviant current". There is a good chance the council will bar Ahmadinejad from next year's poll.
"I don't think Ayatollah Khamenei will let Ahmadinejad come back, unless Rouhani has made the situation very unhappy for him," said Golkar. "There is a possibility, but they have other candidates in their mind. In social media, they are talking about someone from the Revolutionary Guards, like Ghassan Soleimani, who is very popular. They've made him into a superstar; he's loyal to Ayatollah Khamenei."
Soleimani in the spotlight
The head of the Iranian Army of the Guardians of the Islamic Revolution (IRGC)  overseas branch, Al-Quds brigade, Qassem Soleimani emerged into the light of publicity in 2014 with pictures of him organizing resistance to Daesh (the Arabic acronym for ISIS). By 2015, he was being openly profiled in the Iranian media.
In pictures at funerals of commanders killed in Iraq, Soleimani has often appeared as the fatherly representative of the nation. He seems a far stronger candidate for president than the two other military figures who have previously crossed into politics from the IRGC, Mohsen Rezaei and Mohammad Bagher Ghalibaf.
Where Soleimani fits into Iran's factional mosaic, however, is far from clear. In February's parliamentary election, he publicly endorsed Ali Larijani, the parliamentary speaker who was then standing for re-election in the holy city of Qom. A consummate regime insider, Larijani played a crucial role in managing opposition to the nuclear agreement within Parliament and, if he remains in the post of speaker, he may well support Rouhani's plans for economic reform. This suggests that, while Soleimani might be expected to do more to protect IRGC interests, including its many businesses, he might not be so very different from Rouhani as chief executive.
So far, Rouhani appears to be the favorite to win a second term next year. As president, he has delivered the nuclear deal, while maintaining better relations with Parliament than either Ahmadinejad or his reformist predecessor Mohammad Khatami. He looks like a safe pair of hands. But Rouhani could become vulnerable if Iran's problems persist in surmounting remaining US sanctions or with any kind of economic or political upset at home or in Washington.
Translations of books by both Donald Trump and Hillary Clinton are on sale in Tehran's bookshops. In general, Iranians are apprehensive over the possible consequences of a Trump White House.
Ali Khorram, former Iranian ambassador to the United Nations European headquarters in Geneva, recently wrote in Etemad, the reformist daily newspaper, that Trump would "not have the same positive approach and goodwill that President Barack Obama and Secretary of State John Kerry have toward Iran and the [nuclear] deal".
A large part of Rouhani's appeal has rested on the economic benefits of the nuclear agreement. With a volatile electorate, Golkar will not rule out the chance of a dark horse emerging to repeat the kind of sudden but sweeping success enjoyed by Ahmadinejad in his 2005 landslide victory.
"In the US, many people in the Republican party have already supported Trump," Golkar said. "Ordinary people can change their minds very easily and be swayed by populist politicians. Humanity needs to grow up and this takes time."