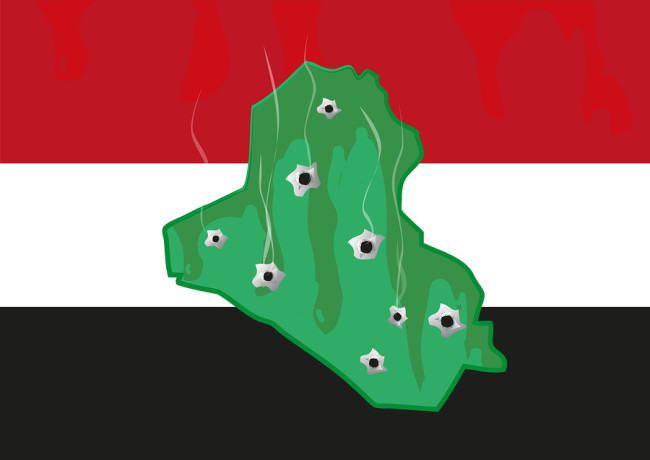 With politicians struggling to bring stability to Iraq, ever-intensifying violence and foreign powers swaying aimlessly with indecisive rhetoric does not mean well for the country.
If Sunni and Shia could not live in the same street they could hardly share a common identity," wrote Patrick Cockburn, the Iraq correspondent of the London Independent, in his 2008 book Muqtada al-Sadr and the Shia Insurgency in Iraq. "The disintegration of Iraq has probably gone too far for the country to exist as any more than a loose federation".
At that time, much of the country had already been 'ethnically cleansed' and two million Iraqis had fled the country, largely due to sectarian violence.  Since then, agencies have lost track of the numbers. In June, the UNHCR said one million Iraqis had been displaced this year alone.
Figures for fatalities are just as approximate. The US body Just Foreign Policy has put violent deaths at over 1.45 million since the 2003 US-led invasion, extrapolating the 2006 study by the Lancet with media analysis carried out by the Iraq Body Count.
Oil and the economy
The march of Isis – the Islamic State of Iraq and the Levant – in taking over a swathe of north-western Iraq from retreating government forces may have confirmed the view of pessimists that Iraq cannot recover as a state, much less give security to its citizens. But ironically, the Isis surge came when the economy was starting to make the progress envisaged when Saddam Hussein was overthrown in 2003 and sanctions ended. Oil production reached three million barrels a day (b/d) in 2013, and the IMF had forecast real GDP growth of 5.9 percent this year.
The Isis offensive led to reassessments of economic prospects. In a June report, the Paris-based International Energy Agency (IEA) cut its estimate of Iraq's oil production capacity by 2019 by 470,000 barrels a day (b/d) to 4.54m b/d, far less than the government's official plan for up to nine million b/d. Maria van der Hoeven, the IEA's executive director, wrote in the report that Iraq's position as "the main source of most of the expected [Opec] capacity growth…looks increasingly at risk".
On the ground, there was little panic in the industry. Iraq's overall production and exports have remained steady at around 3.3m and 2.6m b/d, respectively. This is largely because around three quarters of output is in the south, with the bulk of exports going through the port of Basra – all away from Isis – while other oil fields are either part of the autonomous Kurdish area or in the region around Kirkuk seized by Kurdish forces in June. By contrast, much of the energy infrastructure in the region is over-run by Isis – with the exception of the Bayji refinery, Iraq's largest, still contested as TRENDS went to press – had been destroyed by earlier insurgent attacks.
The chance of a split
With the Kurds behaving more and more like a separate state and with Isis declaring a caliphate, regional and international powers are considering the prospect of Iraq breaking into three states. Paul von Maltzahn, German ambassador to Iran 2003-06 and to Iraq 2009-10, told TRENDS that such a change would be a "long and difficult process".
Certainly, a Kurdish state appears far more economically viable than an Isis one. The Kurds' seizure of Kirkuk adds – according to Bloomberg – 8.9 billion barrels of reserves to the 45bn, a quarter of Iraq's total, under Kurdish control. And the Kurds are already developing these resources.
Despite Baghdad's opposition, the Kurdish Regional Government has attracted around 50 western oil companies, including Total, Exxon and Talisman Energy, and has started building a new pipeline to the Turkish city of Ceyhan. Baghdad's insistence that it has an exclusive right to make oil deals, and its warnings to international companies of legal action, appear increasingly hollow, even though in May, Baghdad filed for arbitration with the International Chamber of Commerce in Paris to halt Turkish imports from the Kurdish region on the grounds they violate the 1973 Iraqi-Turkish pipeline agreement.
By contrast, the call from Abu Bakr Al–Baghdadi, the Isis leader, for Muslims to emigrate to the new caliphate rather ignores its inability to support them. "The areas they are talking about do not have enough arable land, water or electricity among other things to support even a marginal increase in population," Paul Sullivan, Professor of Economics at the National Defense University in Washington DC and Adjunct Professor of Security Studies at Georgetown, told TRENDS. "Water is a huge constraint. Imagine western Iraq with 20m or 30m people and you can see the issue immediately."
In any case, said Sullivan, leadership of such a Sunni Arab entity would have to shift from Isis to others. "Isis will be heavily sanctioned and will be a constant cause of instability in Iraq and beyond if they are not contained and, better still, ended," he said. "The [Sunni] leadership would have to come from tribal leaders and others of more moderate views, more acceptable to the people of the region and to the world. Possibly 'former' Baathists would have to be involved, and tradeoffs, that would make many uncomfortable, would need to be made."
The Turkish and Saudi reactions
Regional reaction to the possibility of the break-up of Iraq is still in its early stages. Von Maltzahn said Turkey was "adapting to a new reality" in Kurdish Iraq. "Amazing as it seems, in the light of the politics of a few years ago, the drive for an enlarged Kurdish state may be accommodated by the Turks," he said. "Perhaps they have not finally made up their mind, but it may be better for them to live with the devil they know."
Von Maltzahn told TRENDS he thought that among the regional countries, Saudi Arabia was least open to Iraq's fragmentation. "This is partly because their natural allies [the Sunni Arabs] would be on the losing end [in terms of natural resources]."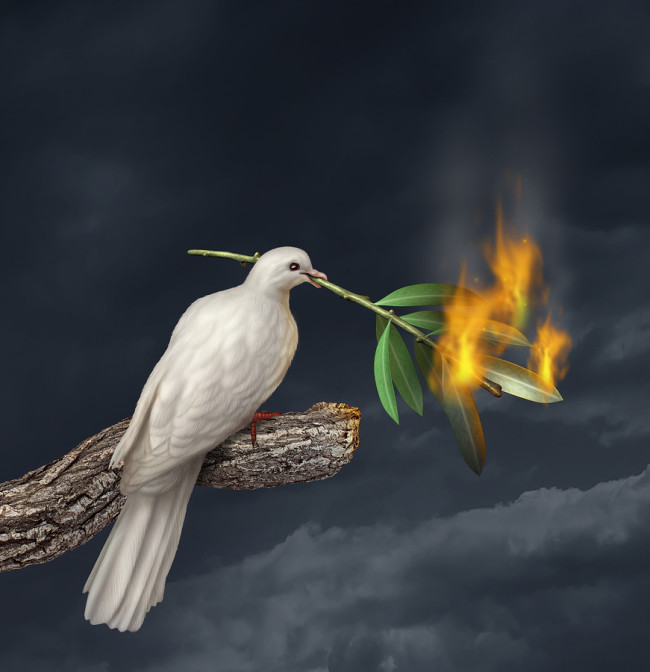 Unsurprisingly then, while King Abdullah Bin Abdulaziz ordered "all necessary measures" to protect Saudi Arabia from any threat from Isis, the Saudi position is nuanced. A commentary in Sharq al-Awsat by Abdul Rahman Al-Rashed, the General Manager of Al-Arabiya television and close to royal circles, suggested that "what is now happening in Iraq is a genuine revolution against a sectarian, repugnant rule".
Al-Rashed was presumably reflecting the official Saudi position in calling for "an acceptable, strong and centralized regime in Syria and Iraq" that needed to be "imposed" with Sunnis "mobilized to cooperate and fight against the extremists" and produce "strong central governments in both Baghdad and Damascus with American, Western and regional support".
Similar rhetoric comes from Ahmad Jarba, President of the Syrian National Coalition, which claims to be the main anti-Assad group, who has described the Sunni "resistance" in Iraq as "a mix of the Iraqi army from the days of [former Iraqi President] Saddam Hussein and a large number of clans and tribes" whose "uprising against [Nouri al-] Maliki", the Shia prime minister, had been usurped by Isis. This, he said, mirrored "exactly what happened in Syria".
The Iranians
The prospect of Iraq splitting into three states has caused alarm in Tehran, although the initial reaction was one of concern about Isis's threats relayed by both the Iranian traditional and social media, against Shia shrines in Iraq and even against the holy Iranian city of Mashhad.  Isis's atrocities evoked memories of the 1980-88 war when Saddam Hussein unleashed Iraq's powerful army against Iran. Even those too young to remember air-raids and mass slaughter at the front have grown up in a society shaped by that conflict, and more recently, thousands of Iranians lost loved ones who perished in attacks on Iranian pilgrims in Iraq after the 2003 US-led invasion.
But there have been different opinions in Iran as to what to do. Ayatollah Ali Khamenei, anxious to reassure Iranians and to forge domestic unity, has shown characteristic caution, declaring that Iraq's "government and people … along with its religious leaders, have the full capability required to put an end to all attempts at sedition." He has rejected calls for US intervention and any notion that the conflict results from religious beliefs.
By playing down any religious dimension, Khamenei is probably trying to mitigate tension with Saudi Arabia and the Sunni-led Arab states. But this is a challenge, with Iran's conservative media rife with talk of Salafi extremism and of conspiracies against Iran and the Shia. The paper Siyasat-e Ruz carried out an analysis warning Masoud Barzani, the Kurdish leader, against any attempt to establish an independent state as part of a "US-Zionist plot", and an editorial in Jumhuriye-Islami said "the plan to divide Iraq" was designed to create three countries "each of which would be a juicy morsel for the colonialist powers".
More pragmatic figures in Iran have reacted differently, with Shargh, the reformist newspaper, discussing the need for a government of national unity in Baghdad with greater involvement of both Kurds and Arab Sunnis. Khabar, a moderate conservative website, suggested Iran had been "too in love with Maliki's government" and needed to "accept that there are other players in Iraq".
Iran, like Turkey, has much at stake economically. The head of the Iraqi Chambers of Commerce and Industry, Jaafar al-Hamdani, recently put bilateral trade at $12bn in 2013 and suggested it might double in the coming years. Among Iranian investment, Iran Khodro, the vehicle company, has recently announced a plan to open a factory south of Baghdad to produce around 20,000 cars annually.
Economic interest is one reason, von Maltzahn told TRENDS, why Iran's "first option" for Iraq would not be a break up. "I think Iran would still have more of an interest in maintaining an Iraq where the Shia community plays a predominant role. The question is whether this role is possible, and maybe then of whether they go for the second best."
But, von Maltzahn insisted dialogue between Saudi Arabia and Iran over Iraq remains possible and desirable. "The Saudis can be very rational, and see that some accommodation with the Iranians over Iraq – and by extension over Syria – might be beneficial for themselves and the Iranians. The Western community should try and work on this. Even if the common denominators are not as large as we would wish, the Saudis and Iranians objectively have common interests."
So, the former ambassador believes, as do the Iraqis themselves, "I have been struck by the strength of tribal feeling in Iraq, but also of a strong sense of being Iraqi. I'm not sure if this will be thrown overboard overnight. The Shia government needs to be more inclusive, but a large degree of autonomy for the Shia and Sunni parts – leaving out the Kurds – would still be probably better than having completely separate entities that might not survive. They all speak Arabic and have a common past. Whether they have a common future remains to be seen."