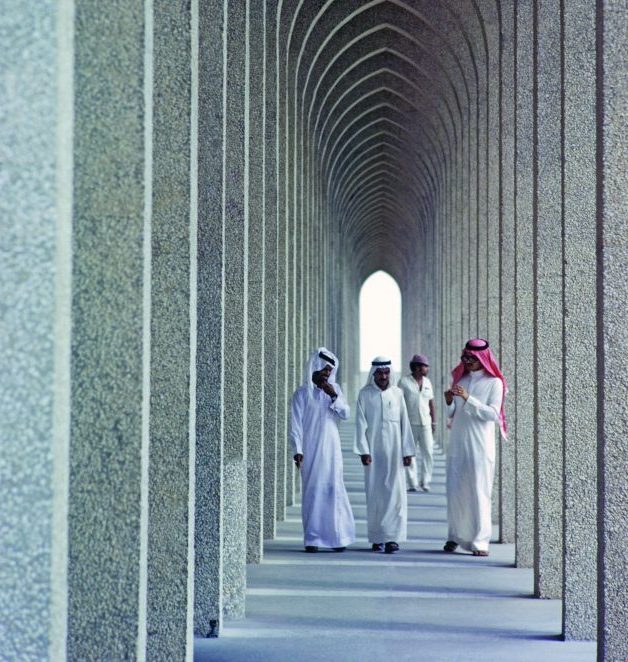 As a geopolitical study in how three seemingly unconnected factors can converge and provoke sudden change, the Kingdom of Saudi Arabia provides a textbook case. The drop in the price of a single commodity – in this case oil – combined with the centuries-old Sunni–Shia divide and the American decision to dial back its influence in the Middle East changed the country's entire outlook.
These stresses and strains have affected Saudi Arabia's economy, its political outlook, regional foreign policy and military expenditures. Saudi economic affairs arguably present one of the country's biggest challenges, as it posted budget deficits of $79 billion and $367 billion in 2016 and 2015, respectively. The deficits and other financial challenges largely (but not exclusively) stem from the global drop in oil prices. The calculation known as the break-even price of oil means that an argument can be made for considering the stress more of a problem for Bahrain than for Saudi Arabia, since the projected 2017 fiscal breakeven price of oil for Bahrain is $92.30 but $77.70 for Saudi Arabia, according to the International Monetary Fund (IMF). While still serious, the drop presents a lesser crisis for the UAE which has a fiscal breakeven price of $60, also projected for 2017.
While diversification is the oft-cited solution for the drop, Saudi Arabia has not achieved the wholesale diversification necessary, explains Atif Kubursi, economics professor emeritus, president of Econometric Research and a former Undersecretary of the United Nations.
"One thing that seems to have become ingrained into the operating systems is that they talk a lot about diversification, but apparently they have not succeeded in diversifying," he says, adding that true diversification would mean developing good sources of income that are not directly or indirectly dependent on oil revenues. The drop in revenues has other implications, he adds: "If oil income goes down, (factors such as) the banking system contract."
Moreover, the effects of falling oil revenues do not stop at the Saudi border, with several impacts occurring across the Gulf Cooperation Council, such as a potential threat to tourism revenues for Dubai as Saudi visitors have less income. Tourism expenditures fall into what economists term the 'income elastic' category, meaning that they are vulnerable to the incomes of the individuals involved.
"I would estimate the direct and indirect impact of oil on the Saudi economy to be in excess of 80 percent. If you are only looking at the direct impact, you are not appreciating the wealth of activities developed as offshoots of the income from oil," Kubursi says.
No one doubts the value of diversification in principle, but Vision 2030, Saudi Arabia's blueprint for the post-oil boom world, calls for growth in non-oil sectors of the economy, including resource extracting, housing, construction, retail, ecommerce, healthcare, education and, perhaps surprisingly, tourism.
"They really want to increase the number of people coming for Umrah, the lesser pilgrimage that runs throughout the year," explains Graham Griffiths, analyst for Saudi Arabia, Yemen and Kuwait at Control Risks Group in Dubai. He suggests that while diversification targets appear feasible and make eminent sense, the plan may be too ambitious for the time projected.
"The time frame they are looking at is too short for the kind of transformation that is required," he says during an interview from Dubai. "They will make progress toward those goals, but (as for) actually achieving them, when you look at the kind of growth rates they would need to achieve, it's kind of off the charts."
The Sunni–Shia divide has had many effects on regional foreign policy in recent years, had a central role in the rise of the Islamic State in Iraq and Syria (ISIS) and the increased antipathy between Sunni Saudi Arabia and Shia Iran. The divide has split Islam and simmered for fourteen hundred years but has widened and become more overt in recent years. Expanding Iranian influence in Syria, Yemen, Lebanon, Iraq and elsewhere amounts to a challenge to Saudi Arabia's primacy in the region.
"The Saudis are trying to counter it and the only way they can do that is by spending their money on opposition," Kubursi explains. The dialing back of the US role in the Middle East during the Obama administration, the subsequent decline of American influence in the region and the Iran nuclear deal have all contributed to changes in the region's political structure, as Iran moves to assert itself as a regional power.
Militarily, Saudi Arabia's resources are spread across the region. Its invasion of Yemen appears unsolvable at the time of writing. Reacting to many motives, including a fear of the implications of its porous border with Yemen, a desire to support deposed Yemeni president Abdrabbuh Mansour Hadi – deposed by Houthi forces – and a belief that Iran, a Shia nation, was aiding the Houthis, Saudi Arabia formed a coalition with its Gulf allies and began aerial bombardment. At the time of writing, the Saudis have not achieved their targets. "They took the decision to intervene in Yemen without really getting permission from the US," Griffiths recalls. "Now they don't have a lot of leverage in the region."
"The Saudis have not achieved a decisive military victory and, given that the military campaign has got bogged down…the Saudis and the Emirates need a resolution they can portray as victory," Griffiths says, adding that the coalition needs more battlefield victories to prompt such concessions from the Houthi.
As well as in Yemen, Saudi Arabia's forces are fighting in Iraq, Syria and Lebanon, meaning huge outlays of resources. "You could really think that the Sunni–Shia divide is absorbing enormous efforts, energies and resources from Saudi Arabia at a time when they can least afford it," Kubursi says.
Pillar of strength
Notwithstanding some of these stresses and strains, the puzzle contains positive elements that flow from Saudi Arabia's overall strengths. In spite of rating downgrades, it raised $17.5 billion in its bond issue last October, a record issue by a sovereign bond issue to date in an emerging market. This move had several implications, according to Griffiths. It provided needed cash (to help cover the budget shortfall). "(It also) gave them more confidence that they can go to the international bond market to borrow if they need to," he explains, recalling that the bond issue was heavily oversubscribed.
On another positive note, while the Saudi government's financial affairs lack total transparency, it appears they now control expenditures more than previously. "They have been somewhat successful in controlling expenditures," Griffiths explains. "They realized at a certain point in early 2015 that spending was completely out of control and that they had committed themselves to unknown quantities of spending by giving ministries approval to go ahead with projects (and didn't know how much they were committed to)," he says.
Foreign direct investment inflows, while not hitting pre-2014 highs, have remained strong. They hit an astonishing high of $39,455,863,929 in 2009, started decreasing in 2010 to $29,232,706,666, decreasing again to $8,864,603,333 in 2013 and have remained in the $8 billion-plus range since then, according to World Bank figures. (At the time of writing, the Bank has not released 2016 figures but they can be expected to be in the same range.)
The place of FDI represents another sea change in modern economics. In earlier years many considered it emblematic of foreign control, but more recently it has become an area of competition between countries. FDI inflows into a country represent a proxy for the confidence in the country held by foreign governments and multinational corporations.
The government has also reduced some stresses and shored up its finances with previously unthinkable moves, such as cutting subsidies on gasoline, imposing new visa fees and, along with other members of the Gulf Cooperation Council, instituting a value added tax (VAT), currently scheduled for implementation in 2018. This move, while very necessary, may amount to bad timing, Kubursi says, suggesting that the worst time to levy a new tax is when the economy is having trouble, when many individuals are unemployed or working for reduced incomes. That means while incomes decrease, individual taxes will increase. "It's a double whammy," he says.
Banking on growth
On a positive note, Moody's Investors Services recently brought a small bright spot to the series of ratings downgrades in the region. It revised its outlook for Saudi Arabia's banking system to stable
from negative. Moody's rationale included easing funding pressures and improving funding and liquidity conditions, while warning of continued softening in profitability.
Meanwhile, Saudi Arabia continues its central role in the affairs of Bahrain, given its concern that without its aid, Bahrain could become destabilized, Kubursi explains. This means the expense involved in keeping a military contingent there, as well as economic expenses, amounting to another drain on its resources. Saudi Arabia's rulers believe that if left on its own, Bahrain may not be able to contain unrest and could become destabilized.
While Saudi Arabia continues dealing with domestic and regional difficulties, at least some of its multinational relationships continue unscathed. Sheikh Mohammed Al-Amoudi retains his status as one of the most significant investors in business in Ethiopia, explains Melissa Cook, Managing Director of New York-based African Sunrise Partners LLC.
In her brief provided to the TRENDS, Cook explains that the main investment vehicles are MIDROC Ethiopia and MIDROC Ethiopia Technologies. As outlined in her brief, the companies have clearly stated objectives of creating local employment and utilizing training and technology to boost productivity and the manufacturing of goods for the export market.
These companies also are investing in agriculture, mining, infrastructure, manufacturing, fuel distribution, real estate and other sectors, Cook explains, adding that this is an example of a Saudi Arabian investment that has a positive impact (in this case on the Ethiopian economy), creates jobs and boosts critical sectors of the economy.
Many outcomes of the Saudi geopolitical puzzle remain unclear at present and indeed may not crystallize for months, or even years. However, at least two outcomes appear certain: the Kingdom's place in the MENA geopolitical picture has changed forever and, at the same time, some of its relationships with other regional powers and Western nations have also changed permanently.