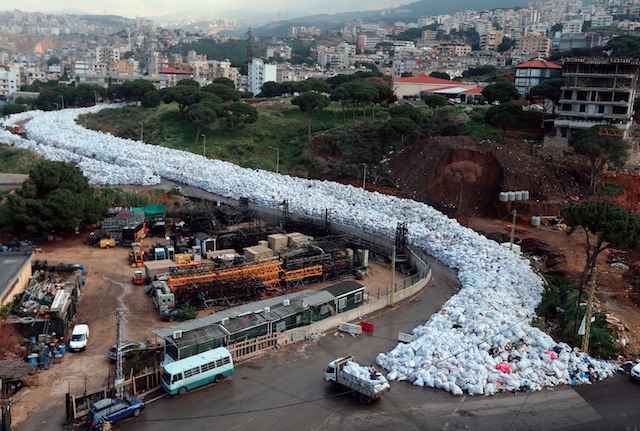 There are still a few swimmers in the sea at Beirut. Ibtissam Kamel, 65, takes a dip every day and insists she will keep doing so. "Nothing scares me when I'm in the ocean," she told TRENDS. "The sea always cleans itself."
But others are deterred by the plastic bags, cartons, melon skins, diapers and even shoes washed onto the shore or accumulating in every inlet. "Organic garbage doesn't harm the sea or marine life, but chemicals, oil and diesel are another story, as are all the plastic bottles and packages that damage the fishermen's nets and block the fishes' nests," said Mehyeddine Al-Haalabi, 57. When Mustapha Awad, 40, arrived home from Niger to see his family, he nearly turned around at the airport. "I could smell rubbish as soon as I got off the plane," he said. "No electricity, no water, no law and now garbage everywhere. If I wasn't so keen to see my children, wife and mother, I'd go back to Niger tomorrow. Walking by the sea and seeing this rubbish is depressing."
Gaining worldwide notoriety
Its garbage crisis last year brought Lebanon a new worldwide notoriety. CNN and Al-Jazeera were among broadcasters featuring a 'river' of plastic bags slowly moving, after heavy rain, toward the sea. 'You Stink' demonstrators linked the piles of rubbish to Lebanon's political leaders being "past their sell-by date".
Lucien Bourjeily, a 'You Stink' organizer, told TRENDS the protests were a rallying cry for everyone angry at a wider malaise in Lebanon: "It was not only people opposing the government who took to the streets. Some went against their own parties, who are in government. This changed the political landscape. In Lebanon in general, we haven't seen many people go out of their confessional or partisan affiliation. But a new line was drawn between the people and the oligarchs."
The garbage crisis began in 2015 with the closure of the landfill at Naameh, just south of Beirut, after 17 years and the expiry of the 23-year rubbish contract with Sukleen, a private-sector company, covering Beirut and Mount Lebanon. But there is wide agreement that the causes run far deeper. "All of the deals done with the Lebanese state are corrupt, but the corruption with rubbish was blunt," said Bourjeily. "Everyone knows Sukleen is taking so much more money than they are supposed to. Everyone agrees garbage is piling up in the street as a result of corruption."
Worldwide, waste breeds dodgy dealing. "In the past century, in the United States, this was the business of the mafia," Samir El-Dahir, economics advisor to former Lebanese Prime Minister Najib Mikati and a former World Bank official, told TRENDS. "In my country, there are also political mafias that try to divvy up every kind of business. They came to a point where they called for tenders and then did not agree on who was going to get the contracts. Depending on the region, the [proposed costs] were between $125 and $200 per ton, which is way above what was being paid to Sukleen at $90, which did hardly any compositing or recycling, but was simply paid for every ton put in the dump."
Matters were further complicated by payments to Sukleen coming out of the Independent Municipal Fund, a state budget intended for the whole country but channeled into the company just for rubbish collection in Beirut and Mount Lebanon, with municipalities elsewhere left to make their own arrangements.
Michael Young, senior editor at the Carnegie Centre in Beirut, told TRENDS that while he had no specific knowledge of garbage collection, he believed a general downturn in the economy had put "the whole system of patronage under pressure".
If there is a consensus on the existence of corruption, a lack of transparency leaves garbage collection in a fug of obscurity. Various figures are bandied about on how much has been paid to Sukleen, which is owned by Dubai-based Averda, a parent company chaired by Maysarah Sukkar, who, like his family friend and former Lebanese Prime Minister Rafik Hariri, spent much of Lebanon's civil war years (1975-90) building up business and contacts in Saudi Arabia. One Beirut-based analyst told TRENDS he believed the closure of the Naameh landfill was prompted by Walid Jumblatt, the Druze leader, who wanted to set up a rival company in partnership with a prominent Syrian.
Bourjeily dismissed this. "There is a conspiracy theory and there's what really happened," he said. "Local residents who were fed up with smell, sickness and rising levels of cancer camped outside the landfill and stopped the trucks coming in. There had been a deal that the landfill was supposed to end and the last extension was until July 17, 2015. This is how the crisis began. All of the garbage of Lebanon was being taken in one location and people were starting to die."
Government measures
Since summer 2015, the government has followed a series of temporary, ad-hoc measures. At first, it planned to pay two European companies to export waste to Eastern Europe, Africa and elsewhere in the Middle East: Howa BV of Holland quickly withdrew, but Britain's Chinook Urban Mining International persisted with efforts for months.
A scheme developed with Durban-based company Veriworkz to shift 2.4 million tons of garbage to South Africa fell in the face of objections in South Africa that it would violate three international treaties, including the Basel Convention, to which Pretoria is a signatory, governing the international movement of waste.
Meanwhile, garbage continued to build up, with the average Lebanese producing a ton of rubbish per year. Lebanon shows scant effort to recycle or even cut down on plastic bags, which are dished out liberally by the smallest corner-shops and the largest supermarkets. The consequences have become very obvious since the summer of 2015 as, in both cities and villages, along roadsides and in forests, piles of garbage have been set ablaze, with plastics and petrochemical products releasing toxic fumes.
More and more rubbish is also tossed into the sea. In May, Mounin Hamze, secretary-general of the National Council for Scientific Research in Lebanon (NCSR) suggested this waste could drift to other countries. An NCSR report published in October 2015 found acute chemical and bacterial contamination of rivers and the sea, while an NCSR affiliate has consistently found water in many Lebanese resorts too toxic for swimming to be safe.
In March, the Naameh landfill was reopened for two months as an emergency, but the continuing scale of the problem had destabilized a political system based on voter loyalty to sect-based political parties run on patronage. In Beirut's local elections in May, a new coalition of activists and technocrats, Beirut Madinati (Beirut My City) took on a list supported by former Prime Minister Saad Hariri that united sect-leaders who had long been rivals. Rubbish had become a political issue.
To the surprise of many observers, Beirut Madinati won 40 percent of votes, although 60 percent was enough under the 'first past the post' electoral system to give all 24 seats to the traditional parties. "We supported Beirut Madinati and some of our members were on the list," said Bourjeily. "This is an ongoing fight and could take years."
This summer, the government approved plans for 'sanitary' landfills at Costa Brava, immediately south of Beirut, and Bourj Hamoud, a mainly Armenian district in the capital's northern suburbs. Both decisions were criticized for a lack of transparency. Trash being dumped in preparation in nearby spaces led to reports from places near Costa Brava of a mysterious flu caused by tiny mosquitoes, while the proposed dump at Bourj Hamoud prompted members of the mainly Christian Kataeb party to walk out of Cabinet. Lara Saade, a legal adviser to Kataeb leader Sami Gemayel, told the Beirut Daily Star in June that the plan would lead to garbage being thrown into the sea and a 15-meter-high "mountain" of waste blocking the waterfront.
The two landfill contracts were, according to reports in the Beirut media, issued by the state body, the Council for Development and Reconstruction (CDR), but no details were publicly released of any tendering or bidding process. The tendering for the Bourj Hamoud landfill was reportedly done according to a process drawn up by the United Nations Development Program (UNDP), with the Interior Ministry requesting that the bidding process remain confidential. Outgoing Beirut mayor Bilal Hamad said he had "approached the United Nations Development Program, [who]… issued a tender document that listed the pre-qualifications the companies should have".
CDR's role
The CDR has long taken a prominent role in dealing with garbage. Beirut's new mayor, Jamal Itani, who topped the Hariri-backed list in May's municipal elections, has been both a senior manager at Solidere, the company linked to the Hariri family responsible for developing Downtown Beirut, and has worked at CDR. Itani has publicly expressed support for converting waste into energy through incineration.
In 2012, CDR commissioned a study from the Danish group Ramboll on possibilities for incineration and generating electricity. But there is widespread skepticism about incineration, both as a way to generate power and on health grounds.
Lebanon's electricity grid currently has daily outages of at least four hours every day in Beirut and far longer outside the capital. While the problem began with Israeli attacks on power stations in 2000 and 2006, it has persisted due to the interests of suppliers of small diesel generators offering electricity at high cost to consumers. Funding from Gulf countries for restoring past power operation – Saudi Arabia alone pledged $500 million for reconstruction in 2006 – seems to have produced no tangible benefits and, despite the lack of supply, Electricité du Liban is losing $2 billion a year.
Raja Noujaim, spokesman for the Civil Coalition against Waste Incinerators, told TRENDS that incinerators for energy would need to be near population centers, which would have health implications. "If you don't incinerate near a power plant or a transformer station, you will have to build them," he said. "But nothing in incineration is 100 percent; they will never be a solution for the micro-particles, which are carcinogenic. This is what you breathe; they can go into your body. On health grounds, the further away [from population centers] the better and the incinerator should not be affected too much by wind."
Noujaim also pointed out that Lebanon's waste is currently unsuitable for incineration, because it is not sorted at collection. "The main problem comes in the burning process, with mixtures of organic and non-organic petroleum products and organic products," he said "When they are together, their formulas change and they react against each other to produce a third product that is dangerous."
Also, the waste would not be easy to burn, he argued. "The waste is 55 percent organic and 75 percent of this is water," Noujaim said. "Incineration is not feasible unless you incinerate a minimum of 85 percent of production – this is the result of the Ramboll study [the Danish consultant commissioned by CDR]. So, with Lebanese waste, you need to use outside energy [to burn it]. So, we would be adding energy to produce energy!"
Setting up garbage plants
The practice of separating waste and recycling it has begun on a small scale in Lebanon, with Ziad Abichaker, an environmental engineer and entrepreneur, developing plants away from Sukleen's reach in Lebanon and Mount Lebanon, particularly with municipalities in the south. After spending seven years in New Jersey in the US studying industrial and environmental engineering, Abichaker returned to Lebanon in 1996 and set up Cedar Environment, a company that has established 11 garbage plants with municipalities.
Before 2006, ownership of the plants transferred to the municipality once they were built, but, since then, Cedar Environment has retained ownership. "We found the municipalities cannot properly run recycling facilities. They don't have the right attitude or competence to do it," Abichaker told TRENDS. The company charges the municipalities $59 per ton, which is less than half the $140 he says is paid to Sukleen, although this includes $15 for collecting the waste, which Cedar Environment's figure does not include.
But, in sharp contrast to Sukleen, Cedar Environmental proclaims what its founder calls "the zero waste mantra" and has, he says, developed "all the necessary technologies" to avoid any need for dumping in landfills. "What really makes me tick," said Abichaker, "is that my company has four patents for technologies to combat pollution due to waste."
The first is for accelerated compositing, using a machine that produces compost in three days. The second treats slaughter-house waste using only the energy present in the materials, with no need for added power. The third transforms plastic bags into panel boards. "These become green standing walls, a structure 20cm-wide we fill with red soil and then plant, and so we create vertical gardens for all kinds of ornamental plants and even vegetables," said Abichaker. The fourth patent is for the embedding of pharmaceutical pills in plastic panels, with no residues escaping into ambient air or water.
With the current crisis in Lebanon, Cedar Environmental is working on its first plant outside the south, in Beit Mery in Mount Lebanon. But Abichaker said he is happy to grow slowly: "It's not on my agenda to expand quicker. People think I'm crazy in that sense and maybe I am. Bigger is not always better. Happier is always better. Our goal is for a good daily tonnage and, after that, we don't want anything else."
Abichaker's success to date comes from working within localities and Noujaim argued that Lebanon's over-centralization is part of the problem. "Why do we have problems with electricity and water?" he asked. "Corruption comes from centralization. The people in charge have no personal interest in the areas [that are not central]. The people in power don't want to give up power to the municipalities; they make the municipalities appear to be failures. Changing this is the fight today."
Skepticism
Bourjeily, on the contrary, is skeptical of local solutions. "You can deal with municipalities, small areas, but we're talking about 3,000 tons of waste in Beirut alone every day," he said. "Garbage is big government. It is hard to privatize – there are massive ecological and health issues. Who will control it? This is exactly why governments should exist in any civilization, to treat garbage: how to reduce, how to recycle, how to dump in a sanitary and specific way. Small initiatives can set an example for the government, but they aren't enough. This is what we did in Lebanon with private generators, so people are paying two bills. The generators are bad polluters because they run on diesel… The guys who run the generators became a mafia."
Samir El-Dahir said he is wary of solutions offered by "amateurs" and agreed that overall solutions have to come from the government. He added that plans for dealing with Lebanon's garbage were drawn up long ago and just need to be implemented. "The crisis of last year produced a civil society movement and a number of organizations, NGOs and a proliferation of people prominent in the media, who became de facto experts on waste management, proposing a solution of 'zero waste' and saying there was no need for any dumps," he said. "But [in reality] any country is able to dump only 50 percent. This is a great achievement."
The government produced a National Plan for Land Use in 2005, El-Dahir said, with sites for dumps worked out, wherever possible on state land, on an aggregation of settled areas, reducing the need for transporting waste. "There is a standard operation and research program for this; it's mathematical," he explained.
"All solutions have to involve the ministry of the environment, the CDR, which is the consulting and contracting arm of the government, and the municipalities. The 2005 plan divided Lebanon into 11 zones for the purpose of dumps and identified 11 suitable places. This was approved by the government in 2010 and I haven't heard about it since," he added. "The Ministry of Environment has done further work, divided the country into 28 regions with 28 dumps, each with an environmental assessment study and each with a recycling line and a composting line: I have the map."
So far, government studies have not led to sustainable solutions, despite the UNDP funding ten to 15 experts in the Ministry of Environment. "If the UNDP is having more leeway than it should, this is part of the collapse of the state," said El-Dahir.
Rubbish, he mused, is caught up with the wider failure of the political system. "The Lebanese state has been unable to prepare a budget in ten years, cannot protect its own borders, is destroying the environment and has failed to devise a policy on Syrian refugees," he pointed out.
But how long will the Lebanese continue to tolerate this? "People don't feel like demonstrating any more. This is the general mood," Bourjeily said. "But there is a lot of frustration. At any moment, something could trigger the next wave."
By all accounts, the people of Lebanon have now had enough of this rubbish – in every sense of the word.