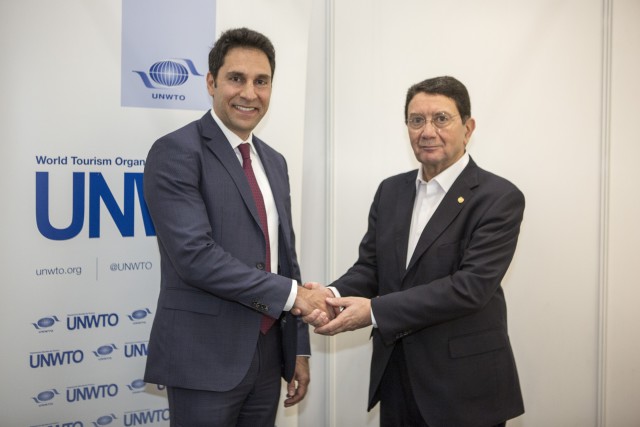 Ras Al Khaimah Tourism Development Authority (RAKTDA) has committed the emirate to support the United Nations' 2017 campaign that aims to promote a more sustainable global tourism landscape.
Marking the launch of the International Year of Sustainable Tourism for Development, RAKTDA CEO Haitham Mattar joined the United Nations World Tourism Organisation and tourism peers during the Spanish Tourism Fair, FITUR, in Madrid.
The campaign theme, which coincides with the 'Road Map for Celebrating Together', "presents a unique opportunity to explore and highlight tourism's potential to help transform our world into a place of prosperity and wellbeing for all," according to UNWTO.
UNWTO secretary general Taleb Rifai said: "We are happy to have Ras Al Khaimah's support and sponsorship as we begin our International Year of Sustainable Tourism for Development. Tourism growth, if managed responsibly, ethically, and in collaboration with each other, can contribute not only to economic development but also to the establishment of more stable societies, as well as the promotion and protection of the world's natural and cultural resources."
Following signatory of its support, Mattar said the Authority will now look to drive awareness of tourism's economic and socio-economic role throughout all its 2017 initiatives. RAKTDA is responsible to develop the RAK's tourism infrastructure and it initiates its domestic and overseas promotions.
"It is increasingly important that the vital contribution the industry makes to worldwide development, both social and economic, is understood so the sector is given the recognition and support it deserves and continues to require," said Mattar.
"Tourism creates jobs and wealth and a greater sense of wellbeing. In Ras Al Khaimah for instance, our abundance of natural assets – including our impressive mountain terrain – clearly sets us apart. With vision, we are transforming these natural gifts into adventure tourism assets to benefit all."