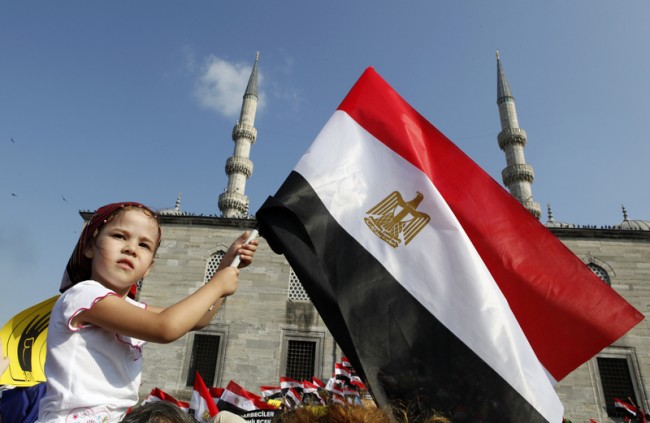 In the midst of violent clashes following the usurp of Mohammad Morsi, Egypt looms on the periphery of economic meltdown and bloody civil war.
Apparently the police came last night and threw everything outside the mosque and prevented family members from seeing their dead relatives," explains Ahmed El Degwi, a 21-year-old Muslim Brotherhood member, who frequently prays at the Iman mosque, and participated in the 45-day pro-Morsi protest in Rabaa Square, and was with Muslim Brotherhood leader Mohamed al-Beltagy when he received news that his daughter had been killed by security forces in the square.
Some people are carefully reading through a long list of handwritten names on cardboard panels hooked to the mosque's fence; they are hoping to find their lost relative or friend missing since Egypt's armed forces stormed the two pro-Morsi encampments, including the one in Giza's Nahda Square near Cairo University, also on August 14.
Particularly after that deadly confrontation, the subsequent clash three days later in Cairo's downtown Ramses Square when the armed forces stormed the Fateh mosque where hundreds of pro-Morsi protesters had barricaded themselves, the situation in Egypt appears increasingly volatile, and the country more deeply divided between the Muslim Brotherhood supporters and the army backed government.
In the midst of the growing uncertainty about where the country is heading, conflicting opinions are flourishing about the army's reputation and ambitions, the legitimacy of their coup, the future of the Muslim Brotherhood, the potential threat of a civil war, and the country's sinking economy.
Certainly one main element of deep contention is the excessive use of force by Egypt's armed forces during last month's clashes, which triggered further anger and consternation in the country and around the world. "This is not a crowd clearing operation, it's a military assault," tweeted one man on that fatal August morning. Others simply called Egypt's security operation a "massacre."
Retired intelligence officer Diaa Khairalla thinks otherwise. "There were minimum human losses, there could have been a lot more dead," he says. His estimate was that 5,000 people would die that day.
In his opinion, the decision to break up the sit-ins came late. "It should have been done before, but the interim government wanted to take time to do it in a peaceful way; they were not able to find a solution," he says, insisting to assess the situation in its larger national context.
"Military officers in Egypt have a special religion," explains Khairalla, eagerly recalling the indoctrinating allegiance inculcated during his military college days. "They told us that we only had God, our country, and orders, and that our blood is for our land, not for anyone else."
The Muslim Brotherhood do not have this patriotism he says. "They don't belong 100 percent to the land, they belong to an idea," he adds, referring to their dream of returning to the Islamic Caliphate that ended with Ottoman Empire.
"The US also wants to create chaos between Shia Iran and Syria, and Sunni Egypt, that way Muslims are fighting each other and Israel is very happy about that, and sits and just watches all the chaos," adds Khairalla.
Prominent Egyptian economist and author, Galal Amin, strongly supports the liklihood of foreign interference. "I suspect external forces are causing the mess to continue," he says. "I often remember a statement by Condoleezza Rice about "constructive chaos" and I wonder if this situation in Egypt is what she meant." Rice introduced the term in 2006 in the context of a roadmap for the "Greater Middle East".
Beyond such theories, for some average Egyptians the July coup instigated by the army is simply an insult to their casted vote. "Before the 2011 revolution, I did not care about who came and who went, who would be president, who would be in the government, and I think this was the same for most Egyptians," explains Cherif, a 38-year-old accountant, who asked that his last name not be mentioned. "But after the revolution, we started to go to elections and we found that we could change things by voting," he adds, pointing out that he is neither an army nor a Muslim Brotherhood supporter. "But then with the coup all this was destroyed in one minute." Cherif also believes that the deposed president was not given a fair chance. "How can I judge somebody who has only a quarter of his time in office?" he asks.
This is an opinion with which UK Muslim Brotherhood leader Dr. Hani Eldeeb concurs. "I would like to see any country move forward in one year, after 60 years of corruption," he explains during a telephone interview. More importantly, if Egyptians were not satisfied with the way Morsi was running the country, he says there was a legitimate way to bring about change. "It is more than about reinstating Morsi, he is just a man, he is not a God," adds Dr. Eldeeb. "It is about elections, the constitution, and a civil state."
According to retired officer Khairalla, Abdul-Fattah el-Sisi who had been appointed by the then-Egyptian president Morsi as the general commander of Egypt's armed forces, advised Morsi over the past year  to change his way of governing the country to be more inclusive of all Egyptians. "Morsi listened and agreed with him,"  explains Khairalla.
"But when Morsi went to the Muslim Brotherhood leaders,  they refused and insisted that he follow their instructions."
Morsi was accused during his year in office of not including secular forces in his government, of supporting militant Islamists, and of neglecting the country's critical state of affairs – unemployment, inflation, lack of security, electricity and gas shortages, and  dwindling investments.
On July 3, Sisi removed Morsi, dissolved the country's constitution and parliament and called for new elections.
In a recent editorial entitled "Egypt's Revolution at the Crossroads," Egyptian journalist and novelist Mansura Eseddin wrote: "The Muslim Brotherhood has, as a consequence of its obstinacy and radicalization, lost more in the space of one single year than previously in two decades of repression."
Analyzing the course of these events retrospectively, Dr. Eldeeb explains: "Morsi himself had accepted to go for early elections – parliamentary elections in three months and after four or five months presidential elections – and stated this to General Sisi three days before 
the military coup."
According to him the army, however, wanted early presidential elections after only 15 days. "How could they expect Morsi to do that?" For some Egyptians, Morsi's legacy is bleakly clear. "Morsi's year in power will go down in history as a period of paralysis," opines Eseddin.
However, among Morsi's supporters, like El Degwi, the youth leader of the Muslim Brotherhood in Cairo's suburb of Heliopolis, the narrative sounds quite different.
"The Muslim Brotherhood are working on the ethics and basics of Islam," explains El Degwi. "They are present in many countries and compared to normal people have experience in dealing with the outside world and Egypt." He firmly believes that the police, the army, and the media colluded against Morsi and contributed to his declining popularity, and removal.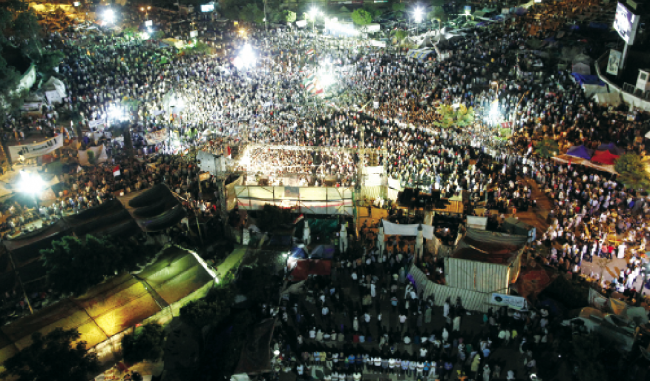 After the wave of bloody unrest across the country following the August 14 incidents, the state of emergency was reinstated, a night-time curfew imposed and many Muslim Brotherhood members arrested.
Acclaimed Egyptian author Alaa Al-Aswany, best known for his novel The Yacoubian Building, welcomes the idea that political Islam may be falling apart, but now warns against a return of the old rule. "The old regime might take over again," he said during a recent interview with Qantara. "This danger is imminent," he adds. "Mubarak's regime remains intact, just without its head."
In fact, as this article went to print, news channels reported that Hosni Mubarak, the former autocrat who was deposed in February 2011 after ruling Egypt for 30 years and was later sentenced to life in prison on corruption charges and for the killing of demonstrators during the bloody protests leading up to his removal, may be set free.
Such a decision could trigger even further violence and ignite greater social disobedience across the country.
"We need to reject the binaries that we are forced into," said Khalid Abdalla, Egyptian activist and actor, best known for his lead role in "The Kite Runner," during a recent televised BBC interview. "They [the Egyptian military and the Muslim Brotherhood] are both fundamentally and utterly wrong, and both fundamentally fascist organizations," he added.
Some political analysts are stressing that what is really missing in Egypt's current political landscape is an alternative narrative, a third political tier.
Chehade, who is also an activist, strongly advocates for a truly revolutionary grass-roots opposition. "What is needed in post-revolutionary Egypt is broad-based anti-imperialism and anti-imperialist political struggle," she writes in her essay "Egypt's Elections and the Stillborn Revolution." She not only blames many "so-called Islamist political parties" of imperialist collaboration, but also warns of the dangers of such a political scenario propagating. "The only thing worse than a religious government, would be one that is also (either secretly or openly) allied with imperial forces and the Egyptian military," writes Chehade.
Now the question on many Egyptian minds, as the confrontations between the two camps continue and the death toll rises, is will the country spiral into a civil war.
Khairalla foresees a period of instability for the coming year in the country. "The Muslim Brothers are going to make trouble," he says. "They will carry out terrorist acts—put bombs in some places, kill people, media figures."
Some Egyptians are even convinced that General Sisi will be sworn in as Egypt's next president. "All the Egyptian media are talking about him like a superman, giving him a very good image," says Cherif. "I would never accept him as a president because we did not have elections and vote for anyone yet."
Meanwhile, as the political turmoil escalates Egypt's economy is almost on its knees. The figures are grim according to the World Bank.
Egypt's economic growth for this year has dropped to around two percent, as compared to an average of 6.2 percent during the last five years of Mubarak's regime. Foreign exchange reserves also continue to decline and are now less than three months of imports. In addition, the country's budget deficit has risen to 11 percent of the GDP and the jobless rate has climbed to 13.3 percent of the country's total labor force, according to Egypt's state-run statistics body CAPMAS.
Tourism, which accounts for approximately 12 percent of the Egypt's economy, has been brought to a near standstill as many European holiday companies have recently suspended all trips to Egypt.
To make matters worse, in response to the violent crackdowns exerted by Egypt's security forces over the past few weeks, the European Union is considering suspending $6.7 billion in aid pledged to Egypt, while the United States is also thinking of withholding for now the $250 million in annual civilian economic aid to Egypt. "Egypt's interim government is responding defiantly and pinning its hopes on continued assistance from the Gulf," reported Al Ahram Online, on August 19. Oil-rich Gulf countries, opposed to the Muslim Brotherhood, have already injected aid pledges totaling $12 billion to boost Egypt's economy shortly after the country's armed forced deposed Morsi in July.