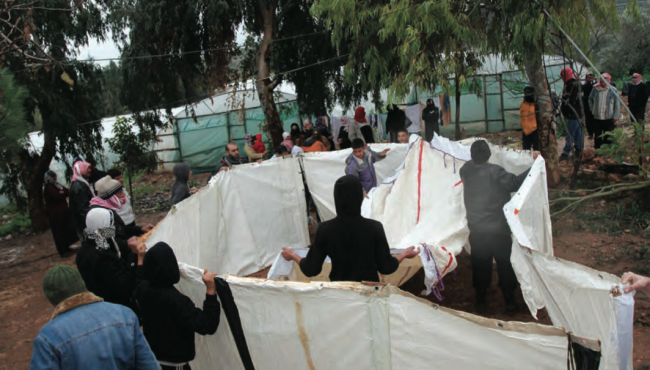 Syrian refugees in Lebanon are afraid to speak out against the Assad regime, but they are adopting ways to mingle with Lebanese people. Is the regime stronger in Beirut than in Damascus?
In a roundtable at the World Economic Forum in Davos, Najib Mikati, Lebanon's prime minister, said in January the Lebanese were "dissociating ourselves from what's going on in Syria by all means". Speaking alongside the new premiers of Libya and Morocco, Mikati said Lebanon's closeness to Syria in history and geography meant "if we'd take any position really, we would be more boosting the division in our Lebanese society and dividing the Lebanese citizens".
Criticizing the leading powers, Mikati said no answers were being offered to three questions: "When is it going to finish in Syria? How is it going to finish? And what's next? … Believe me. And, always, in my discussion with all world leaders, nobody is answering when, how and what's next. Who can guess?"
Mikati, who separately told Al Arabiya television, he had not spoken to his friend Bashar Al Assad for two years, reflected growing concern that continuing violence in Syria is a major threat to stability beyond its own borders. Lebanon is particularly vulnerable because of its sectarian make-up, with Sunnis sympathizing with the Syrian rebels and Shiites, at least in part, with the Allawi-led regime of Bashar Al Assad; and the Lebanese economy is also fragile, as the important tourism sector collapsed due to the absence of Gulf visitors deterred by their governments' travel warnings of last year. But the picture is not a simple one. In many ways, and despite its own political parties taking partisan stands over the conflict in Syria, Lebanon has shown remarkable resilience in both politics and economy.
Recently released Central Bank figures show the crucial banking sector chalked up in 2012 an eight per cent annual increase in assets and deposits, and a 10.4 per cent increase in volume of loans. A banking-assets-to-GDP ratio of 340 per cent and financial inflows – remittances, foreign deposits and direct investment, tourist spending – of $15.3 billion hardly points to any great crisis.
And yet there is a palpable sense of fear in Lebanon. Syrian businessmen in Beirut contacted by TRENDS were unwilling to talk. "People are afraid," said an Arab journalist based for many years in Syria, "almost as if the regime is now stronger in Beirut than in Damascus."
Despite the presence of approximately 200,000 refugees, there has been little increase in the number of Syrians begging in Beirut. But many of those already living off the streets are imitating Syrian accents and styles of dress to benefit from public sympathy. "Syrians come and ask to work, even for low wages," said a grocer in the Hamra quarter. "These are Kurds and gypsies pretending to be Syrian." Raafat, a Syrian boy in a mini-market in Karakul Druze, West Beirut, complimented their accents: "Even I don't know immediately they are not Syrians," he said.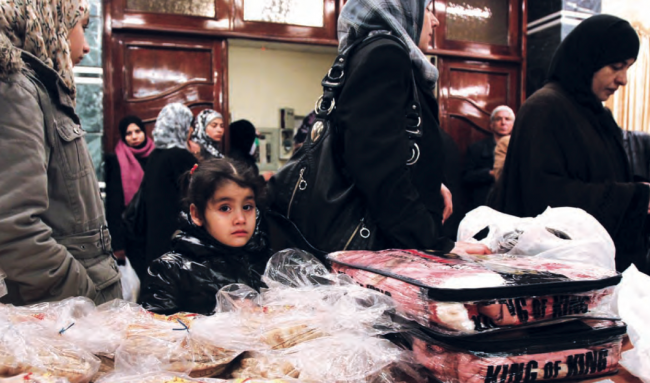 Syrian business is wary for the future, partly because of the extent of the violence and party because the alternative to Bashar Al Assad is unclear. A fragmented opposi tion has done little to outline plans and has failed to form a provisional government, ostensibly on the grounds of cost. Jihad Yazigi, editor in chief, of the widely respected 'The Syria Report', and who left Syria for Beirut late last year, told TRENDS that while he expected a new state to be "less centralized and less authoritarian", there had been "nothing really comprehensive or serious yet" of thinking about the future of the economy among the opposition groups. This included tackling corruption and the rentier structure of the state under the Assads.
"Many of the problems the Syrian economy has faced have been related to the lack of accountability of government officials," Yazigi told TRENDS. "Some were related to economic policy and others to the structure of the economy which is, to a large extent, a rent economy. To change how the economy is run will require strong political will and an economic vision."
Violence and a will to survive have led the regime to reverse plans to liberalize the economy, including the IMF-backed scheme to phase out state subsidies on items such as petrol and electricity. Subsidies are thought to have absorbed at least 30 per cent of the record $27bn the government budgeted for 2012, forcing the authorities to crack down on traders reselling state-subsidized cooking gas and diesel well above official prices.
Costs of the war are considerable. A report by the Syrian Center for Policy Research (SCPR) published in late January put losses to the economy over 22 months at $48.4bn – the equivalent of 81.7 per cent of the GDP in 2010. Mining and tourism alone lost $8.9bn, with $20.8bn lost in damage to capital stock, mainly destroyed equipment and buildings. The SCPR said oil production had fallen by 47 per cent since the introduction of U.S and EU sanctions and the withdrawal of foreign companies in October 2011.
The report predicted the crisis would lead to an 18.8 per cent decrease in GDP for 2012, with government deficit leading to a public debt at the end of 2012 equivalent to 40 per cent of GDP, up from 23 per cent in 2010. The London-based Business Monitor International recently projected a more modest contraction of GDP of 7.8 per cent in 2012 and 3.4 per cent in 2013. While the government has refused to reveal what currency holdings it has left, the SCPR estimated a decline in foreign assets from $18bn in 2010 to $2bn, lower than a figure from the London-based Economist Intelligence of around $4.5bn.
But the variations in analysts' calculations do not obscure consensus on the seriousness of the situation. "Although it's difficult to provide a quantitative assessment, we can say the economy has been devastated and that all business sectors without exception have been impacted," said Yazigi. "The extent of the destruction is going to render reconstruction extremely lengthy and costly – even if among the few positive points is that to date most of the large industrial complexes such as power plants and oil refineries have remained intact."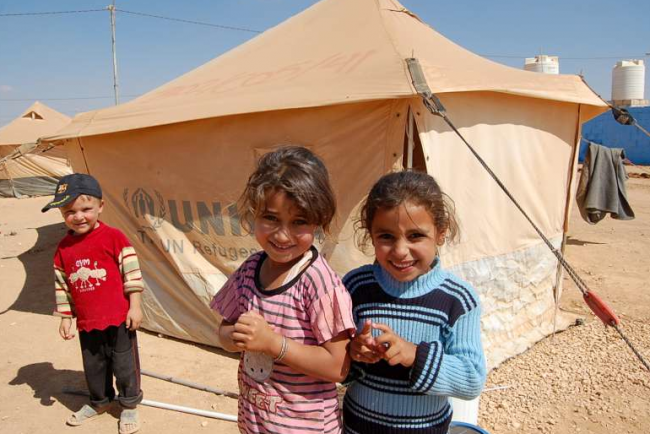 ESCWA, the UN's Economic and Social Commission for Western Asia, recently put Syria's export losses at $4bn in 2012, and suggested $45bn would be required at the end of the conflict to fund reconstruction, while predicting unemployment of 60 per cent, up from a current 24 per cent, if the violence continued until 2015. Abdallah Al Dardari, director of ESCWA's Economic Development and Globalization Division, told TRENDS there were "several initiatives which are planning for a postconflict phase" including the United Nations' Inter Agency Task Force on Syria, and the Regional UNDG Meeting and Coordination on Syria with Syria's UN Country Team."
But the source of finance for reconstruction remained unclear, added Yazigi: "I would expect Gulf money to come although political conditions will be attached." That will mean Qatar and Abu Dhabi, as well as Saudi Arabia. A new, post-Assad Syria will certainly emerge into a new set of regional variations being forged, in part, by the very crisis over Syria. Yazigi played down the extent of any changes in foreign policy, saying that while political ties with Iran would lessen, economic ties to Tehran were already "very weak", and that he expected "little change" with regard to Israel. "Structurally, the Syrian economy will continue to trade and interact with the country's main neighbors, namely Turkey, Saudi Arabia and Iraq," he said.
Again, the extent of changes may depend on how long the conflict goes on. "Due to the attacks on the trucks transporting commodities, and due to security issues, Syria's role in the transit of goods has been reduced," said Al Dardari. "However, after the end of the crisis, and with the normalization of the situation, we expect Syria to resume its role in cross border trade."
But ESCWA has also detected what its report called a possible "reshaping [of] trade and knowledge networks in the region with potentially long-lasting effects". The major trade impact of the violence in Syria, it says, has been decreased direct commerce, with the exception of Lebanon, with whom trade has increased, and the decline of Syria itself for the transit of goods.
"Turkey may have benefitted from the partial reshuffling of bilateral trade flows in the region," ESCWA said. "Iraqi exports to Lebanon and Turkey expanded as well, whereas Jordanian exports, by contrast, appear to have suffered from the precarious security conditions along its border with the Syrian Arab Republic."
Nearly two years on, as the Syrian conflict continues to intensify, its consequences are becoming more and more difficult to predict.