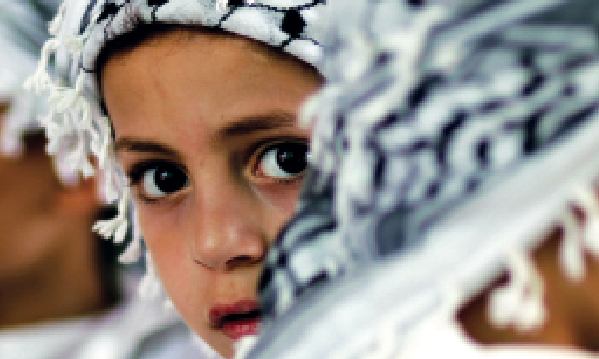 It began with euphoria among Israelis at their stunning military victory 45 years ago in the Six Day War. The triumph brought East Jerusalem and the area of its walled old city, including Judaism's holiest site, the Temple Mount, under the control of Israel.
Claiming to have ''liberated'' the Arab part that includes sites revered in Islam and Christianity, the Israeli parliament voted overwhelmingly on June 27, 1967, to annex East Jerusalem in violation of international law, with even the far-left legislator Uri Avnery caught up in the expansionist mood.'
"I shouldn't have voted for it and I'm very sorry for that,'' Avnery, at 89 one of the oldest figures in the Israeli peace movement, told TRENDS. "There was this intoxication of victory and the huge joy of being in East Jerusalem again. It was not a good time to think rationally.''
Today, the hangover is being acutely felt by many of the 360,000 Palestinians living in the neighborhoods Israel annexed and declared part of its ''eternal, undivided capital''.
Poverty is soaring and the city's former role as a commercial hub for the West Bank is stymied by the massive separation barrier that was prompted by suicide bombings and by the military checkpoints that cut off East Jerusalem from its hinterland.
''The cumulative effects of annexation, neglect, rights violations and the completion of the separation barrier have led to an unprecedented deterioration in the conditions of Palestinians in East Jerusalem,'' a recent report by the Association for Civil Rights in Israel said.
Seventy eight percent of East Jerusalem Palestinians now live below the poverty line, according to figures cited in the report, up from sixty four percent six years ago. ''It's a catastrophe,'' says Daniel Gottlieb, deputy director-general of Israel's National Insurance Institute who says the government is not paying enough attention to the problem. Other Israeli and Palestinian observers warn that crime, violence and residents turning to religion as an outlet for social and economic distress will further accentuate if the situation is not redressed. ''There is no money and no services, and the pressure is taking people to religious fundamentalism,'' says Fakhri Abu Diyab, an activist in the impoverished Bustan area, whose residents also face the threat of having their homes demolished on the grounds they were built illegally.
''The city is dying,'' says businessman Nabil Feidy. ''East Jerusalem has always been poor, but the political situation and the wall have destroyed the economy completely.'' Prime Minister Benjamin Netanyahu's spokesman, Mark Regev, said the government is committed to improving conditions in East Jerusalem, an area Palestinians claim as their future capital, but which, according to 19-year old ''interim'' peace agreements, is off limits to the Palestinian Authority in the West Bank.
Restrictions on entry of people from the West Bank, which Israel says are needed for security reasons, have dried up the customer base, forcing many businesses to close. New ventures are at high risk of quickly going bust.

Two months ago, Rashid Dajani opened a women's clothing store in the new Addar Shopping Mall in downtown East Jerusalem. The hope was that Addar, with some 40 stores and offices, would inject new life into the struggling area.
But instead, Dajani and his peers are now in trouble. There are few if any customers. ''Every day it is empty. I talk to my son and neighbors all day. I've lost a lot of money.'' Some of the new stores have already shut down. Many in the mall are vacant giving it an eery feeling. 
Taisir Jubeh, owner of a men's store, says he has lost the equivalent of $6,500 since he opened five months ago.
"It's very hard to keep open when there are no customers,''says Hani Alami, a telecom specialist who opened a second branch in Ramallah after his Jerusalem store ceased being profitable.
Palestinians are the hardest hit by the deterioration. Some told TRENDS about trying to smuggle baby milk powder and meat with them as they crossed through checkpoints back into Jerusalem from the West Bank. The prices in the West Bank are a third lower, they said.
Abu-Diyab, the Bustan neighborhood activist, says he and his neighbors have to pay fines of approximately $250 a month to the municipality for illegal construction, about a third of the average income in the area of drab concrete blocs and stone houses, he says.
''The jobs people can get in [Israeli]West Jerusalem are mostly just cleaning jobs. Many people with degrees have no work,'' Abu-Diyab says. ''Many people here go to jail for political activities, and after prison [they] won't be taken for jobs in West Jerusalem.'' He adds that the Islamic Movement headed by militant 
Israeli Arab Sheikh Ra'ed Salah has been making inroads, recently renovating a playground across from his house.
''I don't see a future,'' said Hani Dweik, a pipe welder and father of six who lives with his father inside the walled Old City. ''How will I be able to make a house for my sons?'' Rents and home purchases are very high, something Palestinians attribute to Israeli restrictions on granting building permits. Mr. Alami said his flat's rent was recently hiked to $1,250, up from $450 four years ago.
But not only the Israelis are to blame in the view of some Palestinians. Independent Palestinian journalist and blogger Said Ghazali says Arab states are strong on rhetoric about Jerusalem, while not providing the practical assistance that is most needed, such as funds to alleviate the housing crisis.
"To stay in Jerusalem, people need to have houses. The Arab League should be giving people loans, so they can afford housing permits.'' he says.
"Jerusalem needs a master plan 
dealing with poverty, housing, education and how to defend your rights in Israeli law. This kind of approach doesn't exist in the Palestinian Authority,'' he adds. PA spokesman Ghassan Khatib counters, however, that Israel does not allow the PA to function in East Jerusalem preventing it from extending support to Palestinians there.
Menachem Klein, a dovish political scientist at Bar Ilan University, near Tel Aviv, attributes the worsening plight of East Jerusalem Palestinians to what he says is Israeli policymakers viewing them entirely as a threat to Israeli demography and sovereignty. "They don't count, they don't see the people, the people have no face in the Israeli decision maker's mind,'' he says. In Mr. Klein's view "there has been a deliberate Israeli policy to disconnect East Jerusalem from its social, economic and political hinterland through the wall for political purposes and that brings a poverty crisis.'' ACRI, in its report, called on the government to provide special benefits and assistance to East Jerusalem businesses hurt by the construction of the separation barrier.

But Yakir Segev, a city councillor from mayor Nir Barkat's Jerusalem Will Succeed party, views the causes of the poverty differently. He sees it is an outgrowth of Palestinians "having trouble fitting in with the dominant language and culture just as you will see happening with immigrants in any place.'' Segev faults the educational system in East Jerusalem, saying it does not give enough stress to sciences and Hebrew, thus failing to provide graduates with the tools they need to find decent jobs. "No one is limiting their right to work or study,'' Segev says. A Jerusalem municipality spokesman said Barkat's administration is making a "considerable attempt to improve the quality of life of Arab residents in order to reduce gaps resulting from decades of neglect.''
He said the city was building 400 new classrooms at a cost of more than $1 million, allocating $130 million for paving roads, devising new neighborhood plans and opening sports halls and community centers in Arab areas. Still, Meir Margalit, a liberal city councillor says the municipality only spends a tenth of its budget on East Jerusalem, despite Palestinians comprising more than one third of the city's population.
In Klein's view, the status quo of mounting misery is not tenable. "All of this can only lead to greater unrest among the younger generation and greater despair among the older. Perhaps the younger generation will create their own Spring. What it will look like, nobody knows.''
-By Ben Lynfield, Jerusalem