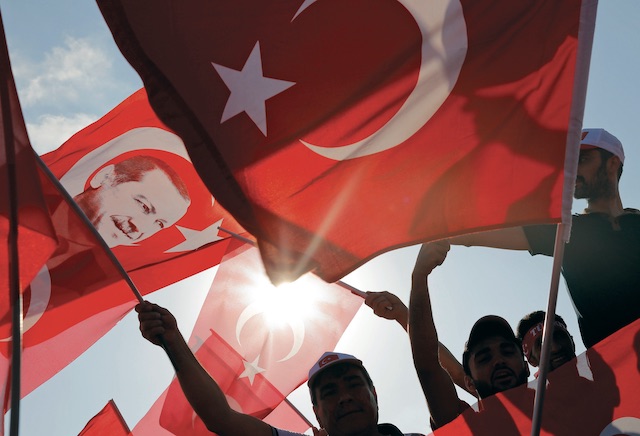 Turkey is engaged in an increasingly heated war of words on many fronts, even as its troops are engaged on the ground in Syria and are preparing to do battle in northern Iraq, against the express wishes of both Washington and Baghdad.
The rift between Turkey and the US over Washington's support of Kurdish rebel groups in Syria has widened since Ankara launched ground operations across the border in support of Free Syrian Army (FSA) forces combating ISIL.
Rift with US
Ankara has been increasingly strident in its criticism of the US backing the military wing of the Democratic Union Party (PYD) as proxy boots on the ground. Turkish ire stems from Ankara's belief that the PYD is affiliated with the domestic Kurdish rebel group, the Kurdistan Workers' Party (PKK), which has conducted a 40-year insurgency against the state.
Turkey's Justice and Development Party (AKP) government fears any legitimizing of the PYD will consolidate its power in Syria and weaken its efforts to rein in its own Kurdish insurrection.
While Operation Euphrates Shield, launched on August 24 as a joint action between Turkish specialist forces, backed by artillery, armor and FSA fighters, had as its declared objective the clearing of ISIL forces from the border region, it also served to drive a wedge between two enclaves carved out by Syrian Kurdish militias.
That goal having been achieved, the momentum of the Turkish-led offensive has slowed, despite the capture on October 15 of the small town of Dabiq, 40km northeast of Aleppo.
This was due in part to increased resistance from ISIL fighters, but also as a result of differences with the US regarding the role that Turkish troops and their FSA allies should play in any further operations that would involve local Kurdish forces.
Ankara has said it will reinforce its commitment to the fighting in Syria on the condition that PYD forces do not take part in any future operations, something Washington does not accept.
Syrian offensive
While Operation Euphrates Shield has clear-cut military objectives, it was also intended to send a message to Washington and the US' own allies in Syria, according to Ahmed Al-Burai, a lecturer foreign policy at Istanbul's Aydin University.
"The most important thing for the Euphrates Shield operation was to tell the US and the Kurds that Turkey would never accept its red lines to be crossed," Al-Burai told TRENDS. "That is why it was not just against ISIL; it was also against the Kurdish militias and the PYD, telling them, 'We are not allowing you to establish your autonomous state'."
However, rather than suggest that the Turkish government is sending a message to the US, the leader of Turkey's main Parliamentary opposition party said the country has instead backed itself into a corner over its Syrian policy.
Speaking at a recent press conference, Kemal Kilicdaroglu, the chairman of the Republican People's Party (CHP), said the government's own policies had reduced its ability to influence events in the region through its former lack of flexibility and its backing of some hard-line anti-Assad groups.
"The government's foreign affairs policy was 180 degrees wrong and now they are shifting and maneuvering in this area," Kilicdaroglu said in response to a question put by TRENDS. "However, Turkey has been sidelined both by Russia and the US in its Syria policy."
That policy has seen the AKP government commit to expanding the FSA zone of control to roughly 5,000 sq km, though it appears likely that this objective will take a long time to be achieved.
After moving quickly on the launching of Operation Euphrates Shield, rolling back ISIL forces that retreated rather than make a stand against the vastly superior firepower of the Turkish regular forces backing the FSA, the advance appears to have stalled.
Within weeks of the offensive opening, Turkey's government announced that 960 sq km of Syria had been liberated from ISIL control. By the second half of October, however, there had been little change in the area held by the FSA and Turkish forces. Even with the advances made, Turkey and its FSA allies have not achieved the declared result sought from this offensive. One of Ankara's stated objectives for the campaign was to secure the border and prevent ISIL attacks on Turkish settlements close to Syria, which had come under rocket and mortar fire on numerous occasions.
Recent incidents in the region, including rocket strikes on the Turkish city of Kilis and bombings close to a crossing point into Syria, show that ISIL has not lost its capacity to hit targets inside or near Turkey.
Another line in the sand
While Turkish troops and civilian targets are still coming under fire inside Syria and just across the border, respectively, it is on another front that the war of words between Turkey and its nominal allies is heating up.
As preparations for the Iraqi-led, US-backed offensive against Mosul, the last major urban stronghold of ISIL in Iraq, were being finalized, Ankara and Baghdad were exchanging verbal fire over the presence of Turkish troops in the town of Bashiqa, just to the northeast of the city.
Turkish troops have been stationed at Bashiqa for some three years, originally at the request of Iraqi officials, to provide training to local Arab and Kurdish militias. However, earlier this year, the government of Iraqi Prime Minister Haider Al-Abadi called on Ankara to withdraw all of its forces from Bashiqa and other bases inside Iraq, a request Turkey rejected.
After a lull, the issue resurfaced in the lead-up to the Mosul offensive, with Al-Abadi describing the Turkish troops in Iraq as an occupying force.
Further demands in mid-October for their withdrawal, backed by the twin threats of taking Turkey to the UN Security Council and the possibility of Iraqi troops using force of arms against the Turkish units, were also rejected, with Turkish President Recep Erdogan telling the Iraqi leader to "know his place". "It's not important at all how you shout from Iraq," he said. "You should know that we will do what we want to do."
Turkey's Prime Minister Binali Yildirim had already waded into the debate, saying Baghdad was wasting its time fixating on the presence of Turkish troops in Iraq.
"Iraq's reaction to Turkey's military presence at the Bashiqa army base north of Mosul is incomprehensible. No matter what the Iraqi government says, Turkey's military presence in Iraq's Bashiqa will continue, to ensure the demographics of the region are not altered," Yildirim said on October 6.
Ankara is concerned that the operations in and around the city will weaken the Sunni presence in Mosul. As many of the Iraqi regular and irregular forces committed to the Mosul offensive are Shiite, Turkish officials foresee a tectonic shift in the population balance in the city after its recapture, a change that would reduce Turkey's influence in the oil-rich district.
Both Baghdad and Washington have said that Turkish troops, which are not seen as part of the coalition formed to combat ISIL in Iraq, will be excluded from any offensive in the region.
However, on October 14, when he again launched a blistering attack on Al-Abadi, Erdogan said Turkish troops would take part in the offensive against Mosul, whether this was sanctioned by Iraq and the US or not.
While the US is increasingly at odds with Turkey over the situation on the ground in northern Iraq, with officials saying Washington fully supported Iraqi sovereignty, there have been some efforts to ease one of Ankara's concerns, that of PKK militants being involved in any operations to recapture Mosul. On October 13, State Department spokesman Mark Toner said Washington held the same position as Ankara on the Kurdish rebel group.
"We clearly view the PKK as a terrorist organization so we would not be supporting them," he told a press conference, adding that the Kurdish militants had no role to play in the assault on Mosul.
Any acceptance of the PKK as a legitimate force in Iraq, as is the case with the PYD in Syria, is a major concern to the AKP government, said Mustafa Sonmez, author of a number books on Kurdish issues. "There is the worry that the PKK could ally with Baghdad and Iran, thus raising the possibility of increasing its power in Turkey," Sonmez told TRENDS.
Though the PKK may not be involved in the Mosul operation, Turkey's leader is adamant his own country's troops will be. On October 17, after the coalition offensive to retake the city had begun – without the participation of Turkish forces – Erdogan said Turkey would be part of the operation and would demand a place "at the table" to discuss future developments in the region.
Looking north
The cooling of Turkish ties with the US coincides with a warming of relations with Russia after almost a year of recriminations following the downing of a Russian S-24 fighter bomber along the Syrian border last November.
At the same time that Ankara was sparring with Washington and Baghdad over the presence of Turkish troops in Iraq, it was hosting Russian President Vladmir Putin.
Fences damaged a year ago were mended, trade deals struck and agreements reached on connecting Russia and Turkey through another multi-billion-dollar pipeline to serve as an export route for Russian gas to European markets.
Putin's warm reception was in marked contrast to Turkish criticism of the US and set off alarms in the West that Turkey could be drifting further away from its traditional orbit. Washington's disregard of Turkey's concerns is driving Ankara away from its long established positions, and could see a radical shift in its political alignment, said Aydin University's Al-Burai.
"There is a genuine disagreement between both of them and that is why Turkey is looking for new alliances, maybe the rapprochement with Russia," Al-Burai said. "It is still premature to say the trajectory of Turkish foreign policy is dramatically changing to that axis, but things are evolving very fast."
Moving forward 
While the rift between Turkey and the US may not be terminal, it is not likely to be healed soon either. Under a Clinton administration, the most probable outcome of the November 8 Presidential election, US support for Syria's Kurds is set to be increased.
In mid-October, Hillary Clinton said she would be prepared to sanction the provision of arms to the PYD's military forces, a statement that prompted Erdogan to say Clinton lacked experience and was a "political novice".
Though Clinton may back one of Ankara's long-held objectives, that of removing Al-Assad from power, a lack of support for other Turkish policies – such as a no-fly zone over Syria and continued close ties with Syrian Kurdish groups – could lead to a widening of the gulf between the two NATO allies.
At the same time, being sidelined in Iraq could force Turkey to take an even more proactive and potentially dangerous stance, says Al-Burai. "Turkey is finding itself more and more pushed to participate externally, to intervene in neighboring countries, which is not a safe policy," he said. How unsafe that policy may be depends on how much pressure Ankara feels it is under, in both Syria and Iraq.