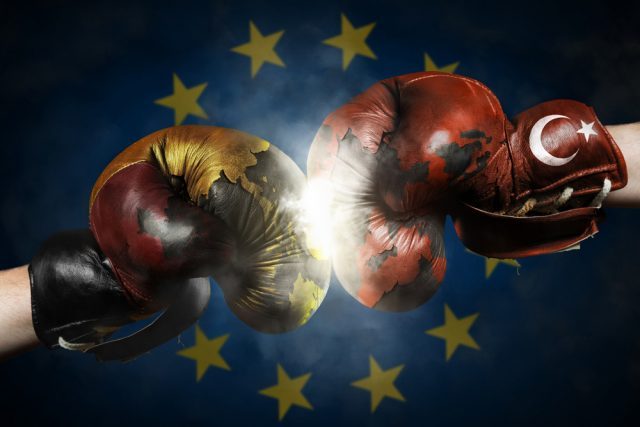 Long-simmering tensions between Turkey and Germany bubbled over this summer, with the once-strong ties approaching historic lows amidst exchanges over espionage, covert support of terrorism and allegations of economic blackmail. While conciliatory noises are coming out of Ankara, it may not be until late autumn or beyond before the temperature cools.
The two countries risk replacing trade and investment with barbs and insults as the basis of their bilateral relations, with contrasting domestic political considerations, differing sets of values and the mixing of messages all combining to widen the gulf between Ankara and Berlin. Heading into summer, ties had already been strained by a spring of discontent.
Bones of contention
Among the incidents that rankled in either Ankara or Berlin were Germany's banning of Turkish officials from campaigning for a "yes" vote in the April 16 referendum that granted President Recep Erdogan an extensive increase in his powers. Another was Turkey's refusing to allow German parliamentary deputies to visit German troops stationed in a base close to the Syrian border, prompting Berlin to withdraw its forces and relocate them to Jordan. One more bone of contention, one that has been gnawed on repeatedly, is Ankara's claims that Berlin is harbouring terrorists, referring both to followers of Fethullah Gülen, the Pennsylvania-based cleric, whom Turkey holds responsible for last year's attempted coup, and supporters of the Kurdish separatist group, the PKK. On August 7, Erdogan told a rally of his ruling Justice and Development Party (AKP) that Berlin was sheltering those who plotted last year's coup, following reports that hundreds of former military and diplomatic personnel had sought asylum in Germany.
"Germany is abetting terrorists," he said. "We gave (Chancellor Angela) Merkel 45,000 dossiers, but have not received an answer on a single one of them."
Erdogan's latest denunciation of Berlin's policies came just a day after reports appeared in the media that Germany's Foreign Minister Sigmar Gabriel had called on the EU to take a firmer position with regard to Turkey and its leader.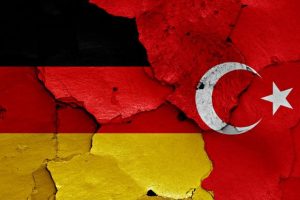 Saying the politics of the Turkish government and Erdoğan were "in blatant contradiction" of the EU's values, Gabriel said the bloc needed to take a harder line with Ankara, sending a clear answer to what he called Turkey's "increasingly aggressive and unconstructive politics".
Gabriel had already flagged that his own country was prepared to make a seismic shift in its policies towards Turkey, signalling a widening of the fault lines between the two in late July.
Citing the detention of a number of German journalists and human rights activists, arrested by Turkey over their alleged links to terrorist groups, as well as claims that Turkish religious officials were spying on Turks in Germany, in addition to a perceived weakening in the rule of law, Gabriel said Berlin would look into erecting further barriers between itself and Turkey if it did not see a willingness to mend fences.
"We want Turkey to be a part of the West, or at least remain in its current position, but it takes two to tango," Gabriel told a press briefing. "I cannot make out any willingness on the part of the current Turkish government to follow this path with us. For that reason, Germany is forced to reorient its Turkey policy. The first consequences will be new travel advisories for German citizens in Turkey."
Along with warning German holidaymakers to reconsider making Turkey their destination of choice, the foreign minister also said German investors should think twice about buying into the Turkish economy. Gabriel's comments may also have been prompted by media reports that Ankara had submitted a file to Berlin containing details of some 700 German firms operating in Turkey that it said had links to FETO – the Turkish acronym for the followers of Gülen – or other groups identified by Ankara as terrorist organizations. Having initially denied there was such a file, Ankara later said the document and the allegations it contained had been withdrawn, neither stance doing much to boost Turkey's position as an honest broker when it comes to German investors.
Trade to the rescue?
Despite the tensions, Germany remains Turkey's leading trade partner, its number one destination for exports and second largest source of imports after China, while almost 7,000 German companies operate inside Turkey. It is economic rationalism, based on the importance of Germany as a trade and investment partner, that may take some of the heat out of the summer standoff, with a number of senior Turkish ministers taking a far more conciliatory and less confrontational approach than their leader.
Addressing a gathering of senior German business leaders at the end of July, Prime Minister Binali Yıldırım said there were no threats to existing or new investments in Turkey. "It is very important to us that you are not a part of this tension and do not suffer any damage from the events," he said. "I am very clear that we do not consider you German companies. We see you as the companies of this country."
Another individual seeking to defuse tensions was Economy Minister Nihat Zeybekci, who played down the reports of Ankara seeking information about alleged links between German firms and FETO, while talking up reconciliation.Calling the news that Turkey had submitted a list of suspect companies to Berlin nothing more than a "misunderstanding", Zeybekci said the current state of affairs was in the interest of neither party. "We Turks wanted to see more solidarity from Germany in the fight against terrorism," he said. "But German-Turkish relations will pass this stress test." With Germans set to go to the polls in September, Turkish officials have privately and
publicly said the wave of criticism and warnings that is washing over ties between the two countries is more about Germany's domestic politics than the true state of bilateral relations.
The forthcoming elections in Germany are a major contributory factor in the recent tensions, according to Yasin Aktay, a parliamentary deputy for the ruling AKP and a former spokesman for the party. "The two countries have deep relations and economic links that cannot be broken," Aktay tells TRENDS. "However, the politicians of Germany are ignoring this fact – are not seeing this is a fact. The point is they are after the votes of a few right-wingers, without seeing the damage they are doing." It is hard for Turks to understand how the German business world is able to let this situation continue, as Germany has much to lose by alienating Turkey, he adds. "Germany needs Turkey and it needs us especially to open to the world and as a link to the Middle East," notes Aktay. "Could all this be sacrificed for politics?"
Business as usual
While Gabriel's warnings may deter some, it is apparent that, at least for others, the answer to that question is no.
On August 3, the renewable energy arm of German industrial giant Siemens and its Turkish partners won a $1.0 billion tender to install and operate 1,000 megawatts of wind-driven generation capacity in five regions across Turkey. The winning bidder was not the only German firm prepared to shrug off Gabriel's cautionary comments, with three other companies from Germany also having lodged offers for the tender. Any damage to economic ties is likely to be of a short-term nature, economist Mustafa Sönmez tells TRENDS, unlike the ripples still flowing as a result of Turkey's rift with Moscow over the shooting down of a Russian plane in 2015. "Turkey has not fully recovered from the Russia crisis," he says. "Merkel does not have the same power as Putin has over the Russian economy, which is based on energy, whereas the German economy is based on private industries and finance, meaning it is not easy for Merkel to overrule and control." While the German chancellor may not be able to exert significant economic pressure on Turkey, she does have other options, Sönmez explains, adding that the EU is a card she could play against Ankara.
Turkey's EU aspirations
That card could be pulled from the deck within the next six months.
Another issue that has been brewing since last year's attempted coup – and one that could bubble up later this year or the next, ahead of Turkey's own general and presidential elections in 2019 – is the scenario that Turkey could repeal the ban on the death penalty, instituted in 2004 as part of Ankara's efforts to meet EU membership criteria. While Turkish officials accuse Germany's politicians of playing politics over the ties between the two countries, there are also some who say the same about Ankara's repeated whipping up of support for a return of capital punishment.
Despite the constant calls from elements of the public for the return of the death penalty and Erdoğan's repeated assurance that he would ratify any legislation putting it back on the statute books, there has been no move to bring such a bill before the parliament. Though the AKP has the numbers in parliament to reinstate the death penalty, thanks to the support of the far-right Nationalist Movement Party, the government may recognize that the first victim of such terminal legislation would be Turkey's EU aspirations.
Even as autumn draws in and the weather cools, this and other issues will continue to play out between the two countries, meaning there is little to suggest that the heat in Turkey's political spat with Germany will ease any time soon.