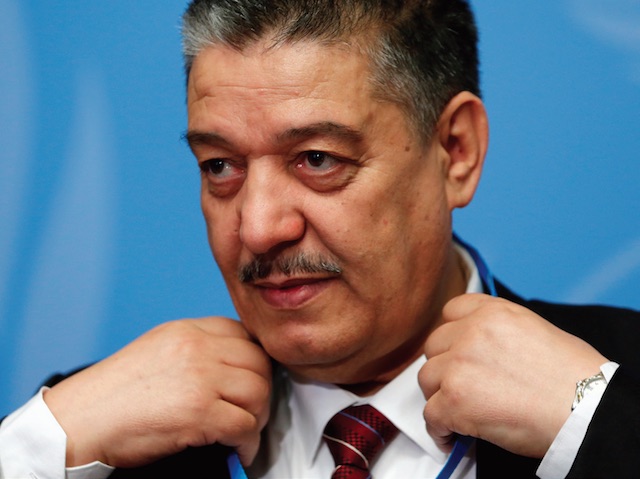 In your opinion, what role can active movements play in developing the health sector? 
We have to benefit from every movement so that we can succeed in developing this important sector.
According to one estimate, there are a thousand local and national associations across the country. They play an important role in alerting officials and making the voices of patients and the disabled heard. They also provide solutions to a number of problems. I would like to seize this opportunity
to call upon all of those associations to work within their specialties, because they are not regular civil society organizations. Each [has] its field of specialty. Therefore, they must cooperate with health officials and professionals in the interest of patients. It is highly important to resort to the media and all means of communication to promote these organizations' activities, which call for a change in behavior by raising awareness and providing health education. Hence, a citizen's health is 'built' by joint efforts and common work.
Some political parties have criticized the new Health Law, saying it jeopardizes free treatment. What do you have to say about that? 
The new Health Law does not in any way jeopardize free treatment. Rather, it promotes public health services that are not social. The new text comprises 470 Articles aimed at improving the health sector's performance. Therefore, free treatment is enshrined in the new Health Law. It is a red line not to be crossed. In fact, the new law includes an Article that explicitly states that treatment is free.
Algeria is a country that is heavily dependent on oil. After the recent fall in oil prices and its impact on Algeria's economy, many called for expenditure rationalization. Does this affect the health sector? 
With regards to the expenditure rationalization measures taken by the government to cope with the oil price decrease in the global market, I would like to note that the Ministry of Health was a pioneer in this direction. In fact, we reviewed the prices of medication. We will implement new recommendations to promote local governance of health institutions. I deny all of the rumors about the removal of subsidies on certain medications… These are attempts at terrorizing citizens. In fact, we recruited 200 new inspectors recently to strengthen control over health institutions.
Breast cancer has recently spread further in the world in general and Algeria in particular. What steps have you taken to fight it? What is the budget you have allocated to cancer and blood diseases? 
Breast cancer is one of the major challenges we are faced with, especially in terms of its prevention, early detection and provision of treatment to the affected. We provide rapid detection and radiotherapy services. Our public authorities attach great importance to fighting cancer and providing support to cancer patients. This is a key priority for our President, Mr Abdelaziz Bouteflika.
Several measures have been taken to end the shortage of cancer drugs and to improve access to oncology and radiotherapy treatments. We completed our National Plan to Combat Cancer, which we started implementing in 2015. We also started the implementation of the new Multi-Sector Prevention Plan. Thanks to these measures, we have come a long way and improved the quality of support provided to the affected. I can inform you that we improved access to oncology treatment through 32 centers and 48 units with 1,913 beds in 48 districts. We also improved access to radiotherapy treatment, with 33 new linear accelerators in the public sectors and six new ones to be acquired soon.
The government has resumed its work on cancer centers in many districts and cities and is establishing new ones. With regard to financial efforts to provide medication, we allocated more than 40 billion Algerian dinars to acquire drugs for cancer and blood diseases. This amounts to more than 60 percent of the total purchases of the Central Hospital Pharmacy, thus providing Algerian patients with the same treatment they could receive in developed countries. We opened two chemotherapy units for cancer patients in Reggane and Timimoun, north of Adrar. This will strengthen the region's services through 450 new paramedics and 50 new specialists to bridge the gap in remote areas. It also provides the region with sophisticated devices. This would never have happened had it not been for the 2015-2019 National Plan to Combat Cancer. It has allowed us to establish a network of centers across the country to ensure access to treatment and strengthen medical institutions with new specialties.
What are the goals of the new 2015-2019 strategic plan you have announced to fight the root causes of chronic diseases?
Yes, we are currently gearing up to combat non-communicable diseases related to our community's social and economic transformations. Hence, there is a need for cooperation among different sectors to fight the root causes of chronic diseases and their prevalence, particularly because of the great cost to the state and the community alike. This plan, which is a part of our health promotion efforts, aims at fighting smoking and promoting a healthy diet and physical activity. It raises awareness of ways to prevent those diseases. The plan includes many basic services, among which is the expansion of treatment by supporting the plan on combating cancer, high blood pressure, diabetes and heart diseases.
The sectoral strategic plan to combat the root causes of non-communicable diseases revolves around four axes, 11 goals, 30 activities and 113 procedures. We established an implementation monitoring committee of 14 representatives from the relevant ministerial departments and six civil society representatives. In addition to that, we have the National Institute for Public Health, the Health and Science Research Agency, and five experts to promote prevention and to support citizens.
Dr Tawfiq Zaibet recently discovered a cure for diabetes. How do you encourage such doctors? 
Indeed. I went to visit him in person in Constantine Province after he had announced his discovery. I let him know how much I admired his important work. We will spare no effort to ensure the registration and the fast marketing at affordable prices of this product once it has officially acquired drug status. This initiative is a major driver for researchers in Algeria to contribute more to scientific research and medicine.
The Algerian government is trying to channel medical specializations toward neighboring clinics to enable university hospitals to fulfill their main educational purpose. How is that going so far? 
Channeling medical specializations toward neighboring clinics will progressively enable university hospitals to fulfill their main educational purpose. This strategy seeks to revive the scientific research aspect in university hospitals. Patients have acquired the habit of going to the hospital for examinations even though there are neighboring clinics in their environment providing the same medical service they seek. Those clinics host different specialists and provide the same medical services as hospitals.
It is important nowadays for citizens to resort to these clinics to ease the pressure on hospitals, which have moved away from their main purpose: training and scientific research. Hence, our instructions to the medical staff in different clinics are to heed the recommendations of specialists in these health structures to set up an examination calendar that fits the needs of patients.
How does Algeria care for people living with HIV and what precautions has it taken to curb the proliferation of this disease?
Algeria is committed to the implementation of the new UNAIDS vision. The state takes care of all HIV-affected people – even those who entered our territory illegally – free of charge. This commitment illustrates our strong political will. It is stressed at the national, international and highest state levels. This political will was translated through a full mobilization of the government and all stakeholders, particularly the civil society, at a multi-stakeholder level through the executive decree of Prime Minister Mr Abdelmalek Sellal to resort to appropriate funding by [using] more than 95 percent of the state budget to provide free medical services to all, including detection and antiretroviral treatment. National prevention is based on a plan recommended by UNAIDS to achieve the goal of '90 percent of people will know their HIV status'. Therefore, we are raising awareness of this lethal disease through ongoing campaigns.
Aside from internal conflicts that have affected the public sector and thwarted some projects, what are the challenges the health sector is faced with? 
The absence of transparency and dialogue has halted these projects, especially with regard to organ transplants. It has delayed the National Plan to Combat Cancer. However, we are now attempting to adopt a long-term plan in line with an urgent plan to right the current course. This requires a revolution in health services. From this rostrum, I call upon all health sector officials to set up information networks to link different medical and administrative departments and to modernize management.
I attribute the decline in health services to the shortage in legal provisions to regulate this profession and to define functions and powers. We have taken a decision in this regard to reform the sector.
We have opened different files and raised some points objectively, mainly the accumulated debt that burdens hospitals; the total absence of institutional control in both the public and private sectors; the absence of efficiency standards in management; the absence of a training strategy; as well as internal conflicts, which have affected the public sector.
However, we spare no effort today to remedy the deficiencies. In fact, in medical rehabilitation facilities, we increased the number of beds to more than 940.
We recorded 1,900 operations, carried out in line with the agreements among the states of the South, and more than 20,000 medical examinations. We established 365 mobile medical teams that carried out 24,000 medical tasks in remote areas. To fight cancer, we opened chemotherapy units and strengthened mechanisms to ensure that cancer drugs are available abundantly. As for organ transplant operations that stopped a few years ago, the Ministry sought to reintroduce this practice. We have recorded 114 organ transplant operations thus far and 422 cornea transplant operations. We will train approximately 59,000 paramedics by 2020 and establish 20 new paramedic institutes across the country. This ambitious program will allow all of the provinces to fulfill their needs for paramedics because these institutes will provide the necessary education to 400 new students every year. As for human resources, specialized medical coverage has reached a national rate estimated at one doctor for every 1,800 people and one nurse for every 300 people.
You recently announced a partnership between Algeria and France to develop healthcare and to finance medications. What do you have to say about that? 
I call for an Algerian-French partnership within a renewed legal framework as strong as the exceptional political partnership between the two countries.
Our health sector is interested in creating a perfect institutional partnership between Algeria and France, as deep as the ties among the two countries' doctors. There are numerous health fields where partnerships are needed and we have excellent trade relations regarding drugs, medical supplies, communication, exchange of expertise and perspectives. Furthermore, the two countries also address important health topics, which paves the way for new cooperation opportunities. It is also important to promote business partnerships.