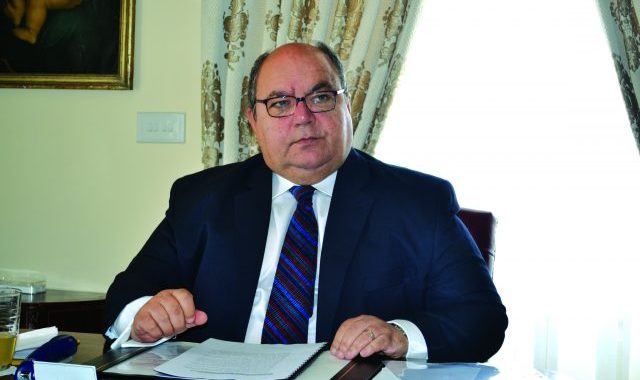 Dr Emanuel Mallia, Malta's Minister for Competitiveness and Digital, Maritime and Services Economy, says oceans have huge untapped potential that can be harnessed using the latest innovations. He speaks to TRENDS in an exclusive interview. Excerpts from the interview:
How do you look at the development of the blue economy in Malta and in the region?
As a country, we strongly believe in good ocean governance and concepts such as the blue economy for future growth. In fact, Malta is renowned as a maritime nation and has huge scope in this sector. We are aware that the present (European Commission) commissioner, Karmenu Vella, is dealing with the concept of ocean governance as one of his pet projects. The sea has a lot of aspects, such as maritime tourism, sea-bed mining and energy. However, we believe that we have still not done enough with it; we have not extracted the full economic value out of it.
Interestingly, 60 percent of the sea does not fall within anyone's jurisdiction. Therefore, we really need to have some governance and responsibility regarding it. Next April, we have a council of ministers meeting here to discuss the subject of ocean governance. And the blue economy is one of the common subjects that are of interest to everyone.
In terms of the blue economy, how are your relations with the North African and Middle Eastern nations?
Presently, we are exploring collaboration with the West Mediterranean region. One of the major reasons behind this is our proximity. We are particularly focused on countries in the North Africa region that are part of the West Mediterranean sea basin and which share shores with the sea.
However, this does not mean that we would not like to extend our relations with the Middle East. There are some problems in the Middle East region, but things are gradually settling down.
As a country, we consider the Middle East as a very important region. With FinanceMalta (a public-private initiative set up to promote Malta as an international financial center), I have led a delegation to Abu Dhabi and Dubai. FinanceMalta has signed an MoU with a chamber (trade body) in Abu Dhabi. Now they have good relations and capitalizing on the initial contacts. A lot of Maltese have business interests in the Middle East. Some parts of the region could have some problems, mainly because of the variation in oil prices, but it is still a very healthy territory for us, from a trade point of view.
How can innovation help ensure the robustness of the maritime economy?
We are great believers in the blue economy. It has huge potential to create new jobs and ensure a better economy in the whole region. Last year, Malta launched its National Integrated Maritime Policy and we identified a number of economic sectors that can be exploited further.
Our government believes that innovation can play a vital role in exploiting the maritime economy. Working in this direction, we are assisting academics and entrepreneurs to come up with creative and innovative ideas. We will offer financial aid to help them transform their ideas into business concepts, hoping for eventual commercialization.
What is your take on the digital single market drive in Europe?
The digital single market is one of our main priorities, as we strongly believe in this concept. Working in this direction, from June 15, roaming will be abolished and I think this will be a big achievement for the European Union.
European citizens were hindered by the huge cost of using data, calls and SMSes in some other country in the Union, receiving hefty bills on reaching their home country. From [June], there will be no roaming charges.
However, it was not an easy process, as all operators had to agree upon a wholesale rate and negotiating this rate on data was not at all easy, because there was a difference of opinions and views between northern and southern European countries. But gradually everyone has come to a consensus. Now there is a political agreement that, by the date (decided by the commission), there will be an abolishment of the roaming charges. This date will also coincide with our digital assembly, which will be held on the same day in Malta. It is the flagship event of the commission and we will be having more than 1,000 participants at the conference.
We are also working on easy Wi-Fi for the European Union. It is another initiative of European Commission President (Jean-Claude) Juncker. The aim is that by 2020 Wi-Fi will be available in most public places. Malta is a front-runner in this drive (being a small nation) as we have approximately 300 hotspots, 4G networks all over the country and a fiber-to-the-home network in approximately 50,000 households. This will be a very important dossier for EU citizens, as free Wi-Fi means all people, even those who could not afford it (earlier), will have access to this facility all of the time.
Why is attaining a digital single market status so important for Europe?
The EU has been suffering politically and, recently, we saw what happened in the UK. Therefore, the digital single market and all of the important things related to it matter a lot for European citizens. We really want to be a leader, not only in telecom and ICT, but also in the 5G concept. It's not only a step further from 4G, but an idea behind having strong communication for many other things that we are discussing at this moment, such as automated cars. Without strong connectivity, you won't be able to have such innovative concepts. It is especially very important for Malta, as we are an island, so good connectivity is crucial for us. If there is no connectivity, we won't be able to succeed in other industries, such as online gaming, financial services and banking.
Do you think the advent of the Fourth Industrial Revolution will make many jobs obsolete?
We have to depart from the traditional ways of seeing things. The whole idea is that new technology will create more jobs – and not only in the field of technology. We are also experiencing this in general commerce. A small grocery shop has been replaced by a big supermarket; likewise, we have seen the computer era progressing very quickly.
Today, technology is changing within a week's time, so there is a rapid transition, which is changing many things. But this also raises many questions, such as: If you have automated cars, then will you still have chauffeur-driven cars? Would there be jobs for chauffeurs? However, we have to see it from the other side and look at the scope of creating more jobs.
Most importantly, it will bring better connectivity. Talking about connectivity, even some European countries' rural areas face some difficulty. So, wider connectivity will bring a single market that will eventually generate more work, more business and more jobs. But the jobs could be different, as we are talking about the need for more data analytics or scientists. We will need experts in certain fields and some traditional jobs will be replaced, but our task is to prepare our youth for the future.
Right now, approximately 40,000 foreigners are working in Malta and we have to fill more jobs with locals in the coming years. Therefore, we are investing in our youth to prepare them for tomorrow. It is the responsibility of our youth to start thinking about these new phenomena of digital transformation, which are opening new jobs and new trainings. For that, they have to change fast.
Malta is doing very well in the online gaming sector. How is this industry contributing to your economy?
We have a very strong online gaming industry. It contributes nearly €1 billion to our economy every year and employs nearly 9,000 people. We also have a very efficient regulator and a strict jurisdiction. We were the first to legislate this industry in 2004. Time has shown that when you have serious regulator, it will automatically attract people to invest. We are seeing a good deal of interest from investors and entrepreneurs who are coming to Malta to invest in this industry.
How advantageous is Malta's geographical location for its economy?
We are focusing on projecting Malta as a digital destination, as it has its own advantages. Huawei is here, doing their tests for 5G. As Malta is a small country, it is a good place to do such tests; it offers quicker contacts and quicker results. Moreover, English is widely spoken and the climate here is also good. These are some of the advantages investors look at when they think about Malta.
Also, Malta is in a very strong position geographically and historically to understand the North Africa region. We have an affinity as far as language is concerned and Maltese have been doing business for centuries with countries like Tunisia.
So, Europe normally sees us as a bridge to North Africa and vice versa.
The UK used to be one of the biggest supporters of the EU in various pursuits, especially in the drive toward achieving a digital single market. How do you think Brexit will affect your prospects?
As far as Brexit is concerned, regardless of our individual opinion, the sovereign power in the UK chose to move out. So, as per our democratic principles, we have to accept that decision. Obviously, this will have certain implications. As a government, we have been discussing these implications and carrying out our own analysis. Everyone knows Malta has long-standing relations with the UK; I'm sure these will remain the same. We are also a member of the Commonwealth, another bond we have with the UK. In fact, many things are going on in Europe at this moment that will have their own impact. Right now, everyone is following the upcoming polls in France, Germany and the Netherlands.