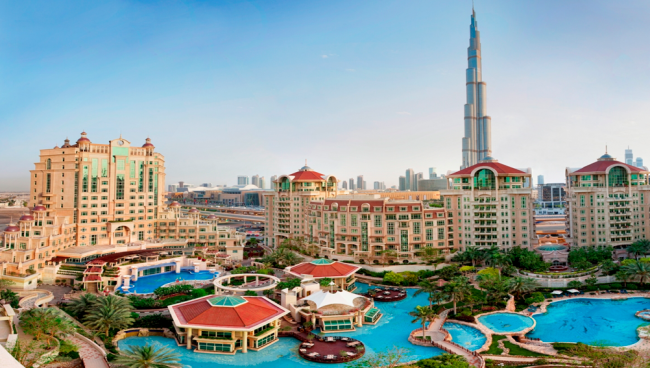 Dubai can be the bridgehead for the integration of the Middle Eastern economies into China and Central Asia's global supply chain, says Hamad Buamim, president and CEO of Dubai Chamber of Commerce and Industry, while speaks to Mujeeb Rahman of TRENDS about Dubai's trade ties, property market, Expo 2020 and more.
Q: As we see there is an increased enthusiasm in enhancing Dubai-CIS trade ties. What is behind the sudden quest for new markets? Are both sides ready in terms of infrastructure?
A: I don't think this is a sudden development. We have always been much focused on identifying new markets to promote trade and investment linkages, whether it is Latin America, Africa or the CIS region. This is a part of our expansion strategy in order to explore promising markets for our members and the local business community.
We have been holding meetings and trade missions with the CIS countries for some time now to introduce business opportunities in these emerging markets to Dubai's business community and to empower them to explore these new export destinations, develop mutually beneficial trade relations as well as enhance their competitiveness in the global business arena. And for this very reason, we organized the CIS Global Business Forum in February 2016. The Forum was particularly significant in view of the strong trade ties between the UAE and the CIS region over the years. By 2014, Dubai's exports to the CIS region reached close to AED 10 billion with electrical machinery, sound recorder and parts accounting for the largest share. On the other hand, imports from the CIS region to Dubai crossed AED 11 billion in 2014.
In the first half of 2015, bilateral non-oil trade between Dubai and the CIS region had already reached AED 8 billion. As the CIS countries look towards diversification, there is a lot that Dubai can offer in terms of expertise. At the same time, the CIS countries have a lot of untapped potential, which businesses in Dubai can explore.
How does Dubai view China's "One Belt One Road" initiative in terms of trade opportunities?
China is our largest trading partner and, therefore, a very important country for us. China is the third-largest FDI investor in the world, investing more than $100 billion a year.
The UAE's relations with China received a boost in December 2015, following the visit of HH Sheikh Mohamed bin Zayed Al Nahyan, Crown Prince of Abu Dhabi and Deputy Supreme Commander of the UAE Armed Forces, resulted in the signing of a number of agreements worth $10 billion. China's investment in the UAE is close to $2.33 billion with 200,000 Chinese living here and 4,000 Chinese companies operating in the country.
From May 2016, Emirates will start flying four times a week to Yinchuan and Zhengzhou, China. The airline already flies to Beijing, Shanghai and Guangzhou. This, again, will give a big impetus to trade relations between Dubai and China. Also, China's growing interest in Europe and Africa positions Dubai as a major crossroad hub. Therefore, this initiative is very advantageous for Dubai and the region and opens up a gate of opportunities for Dubai Chamber members to build up new contacts and seek joint cooperation ties with members of this historic international cooperation corridor which covers Russia and Central Asia, South Asia, Southeast Asia, Europe, Africa and the Arab countries.
Dubai can be the bridgehead for the integration of the Middle Eastern economies into China and Central Asia's global supply chain. Given its location, international connectivity, growing linkages to Africa, the quality and efficiency of its infrastructure, Dubai is ideal nodal point for trade between Asia and Africa.
Experts say India is going to be the fastest growing economy this year. Has Dubai Chamber got plans to explore the opportunities in the huge market of the South Asian country?
Dubai shares a very special relationship with India, which goes back in time and we have been closely associating with the country over the decades. Indian businessmen and traders have contributed significantly to the economic fabric of Dubai while Indian professionals also occupy important positions in various banks, private companies and business establishments in the country. While Dubai itself is a major investment destination, it also has an important and growing presence in India. For instance, Dubai Ports (DP) World, which plans to invest $1 billion in India in the coming years, operates at Nhava Sheva International Container Terminal Private Limited, Chennai Container Terminal Private Limited and India Gateway Terminal at Cochin. The Rajiv Gandhi Container Terminal in Vallarpadam, developed and operated by Dubai Ports World is the first International container trans-shipment terminal in India.
The recent visit of HH Sheikh Mohamed bin Zayed Al Nahyan, Crown Prince of Abu Dhabi and Deputy Supreme Commander of the UAE Armed Forces, reinforced the importance of India. Dubai Chamber has already plans to open a representative office in India soon to be a gateway to UAE investments in India and vice-versa.
The Chamber, on its part, has been closely associating with the Indian Business & Professional Council to support the Indian business community in Dubai. Currently, we have over 22,000 Indian members, a far cry from the 802 we had in 1981. We have also been actively taking trade missions to India to explore business opportunities and build trade and investment linkages over the years, and will continue to do so.
Where is Dubai's property market going? Another 2008 in the making?
The real estate sector is going through a market correction, which is normal in any growing market.  After a sharp rise in property prices in 2013 and the first half of 2014, prices stabilized in the second half of the year, alleviating concerns of a property market overheat. In 2014, we saw the percentage share of real estate sector to Dubai's GDP go up by 3.6% from 2013. In Dubai, residential property prices increased by 16.5% y/y in December 2014, compared to 23.8% y/y in December 2013, while they fell slightly during 2015. The current ease in the price growth thus reflects a correction, rather than a deterioration.
It is also a result of new supply of units entering the market in 2015 and 2016 and in the long term, the sector is bound to stabilize.
Is Dubai overbuilding in the run up to Expo 2020? Is it something that will be sustainable post the mega event?
I believe it is definitely sustainable and the government, as always, has a long-term vision post-Expo 2020. We must not forget that Dubai is a world-class destination for hosting global events and we are building on our MICE industry. Being a regional and international business and trade center, Dubai hosts hundreds of local and international fairs and exhibitions every year providing an ideal platform for businessmen and investors to exchange ideas and forge new business deals. This sector will get a fillip in the lead up to the Expo and will continue to grow post the event, too.
With our aim to reach 20 million tourists by 2020 there will be very high demand for hotel rooms, tourist attractions and retail outlets and we will be prepared to deal with it. With mega developments such as Motiongate, Bollywood theme park and Legoland which are part of the Dubai Parks and Resorts, which is set to become the Middle East's largest multi-themed leisure and entertainment destination, Dubai will be the ultimate year-round international tourist destination, thus making all this infrastructure development sustainable.