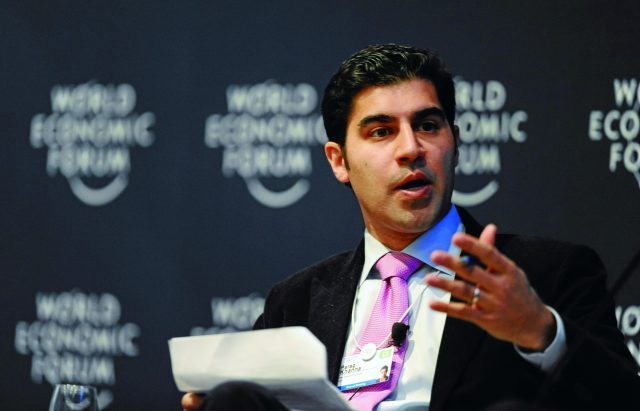 Ritika Sharma, Dubai
TRENDS speaks to Parag Khanna, Global Strategist and Managing Partner of Hybrid Reality, Singapore, about changing world maps and dynamics of future cities such as Dubai and Singapore.
In your research, you look at world maps to assess the changing infrastructure globally. Is the world map still changing?
The map of the world is always changing – and that is the fundamental point. It is a notion that world borders are the most important lines of a map and that the map is dictated by existing countries. But that's not really true, because otherwise we would not have four times the number of countries in the world now than 50 years ago.
The reason is that we are always fighting over borders and changing the lines of the map. More importantly, with the volume of the infrastructure that exists today – like the oil and gas pipelines, the railways, the highways etc. – all this is 150 times more than the world borders put together. So clearly, those are the most important lines of the map. My new book Connectography is a study of these.
You are currently living in Singapore and have also resided in the UAE. If we compare Singapore and Dubai, what are the significant differences when it comes to attracting investments?
Well, the most apparent difference between the two cities is climate – Singapore is humid while Dubai is arid. However, they are both maritime cities. I must say that the most important thing is not their contrast – but it's their connection.
The fact is that when we use this term – New Maritime Silk Road of 21st century; that is from Dubai to Singapore and that is underpinned by the new patterns in trade.
In the 1970s the main trade was done through shipping across the Atlantic Ocean in Europe and America. Today, approximately 75 percent of the world's shipping is done across the India Ocean – and Singapore is at one end of it while Dubai is at the other. So this route is the center of all trade activities.
Can Dubai and Singapore learn something from each other?
One of the important dimensions to these cities is the learning dimension – Dubai has been modelled in many ways to become the Singapore of the Arab World and it is also doing very well. It is doing exceptionally well with infrastructure, special economic zones and stimulating SMEs and entrepreneurship in a very big way. Dubai is also doing some great work toward establishing smart cities, green buildings and incorporating sustainability and so much more.
One thing about different cities is that, if they are not in the same region, they don't compete with each other – they enhance each other's value. Singapore benefits from Dubai because of more investments coming from the Arab world – in short, the more Singapore prospers, the more good lessons Dubai will learn.
Dubai is located in a volatile region. Does this make any difference in terms of attracting investments?
Dubai and Singapore might look very different because of this reason, but the fact is that South East Asia, until recently, has been a very volatile region geopolitically – don't forget the Vietnam War, the instability of the Asian financial crisis a couple of decades ago and the dangerous South China Sea. There has been different kinds of volatility. Yes, there haven't been state collapses like Syria, Iraq and Libya – but yes there were instabilities in their own ways. The key issue common between the both regions is the fight to safety – if you are a safe city in a volatile region you will always be prosperous.
Remember that Dubai is not Dubai because of just Jebel Ali Free Zone and Sheikh Rashid's vision – it is also because Beirut was falling apart. Lebanese money started coming here and the discovery of oil brought guest workers from India and Pakistan to work in industries here. So the main focus is to remain stable, if you can remain stable, no matter how dangerous the rest of the region gets, you can always prosper.
Your recent book, Connectography: Mapping the Future of Global Civilization, deals with the transformation of the world. Can you tell us some more about this?
Connectography is a story of super-scaled investment infrastructures around the world in urbanization – in cities like Dubai – and in connectivity networks in transportation, energy and communications – in fact all of our infrastructures fall into this category. This book is about how we go from becoming a world of nations and borders to a world of cities and connections.
Global cities in particular play a very important role in connecting us. Dubai is now a top-ranked global city in the Arab world; in fact it is the only global city in the Arab world. Over the years, it has become the gravitational canter in the region, but its geography has not changed. But yes it is the degree of connectivity that has changed. So my book is about the physics of global infrastructural connectivity.
You have made use of some rare maps and graphs…
The book has been very well received. It contains dozens of maps, which are all unique and no one has seen or studied any of these maps before. Each of the maps has been custom designed as data visual interpretation to capture the trends around infrastructure and to sketch out a set of flows like financial, demographic or data flows. Each of these maps have turned into works of art.