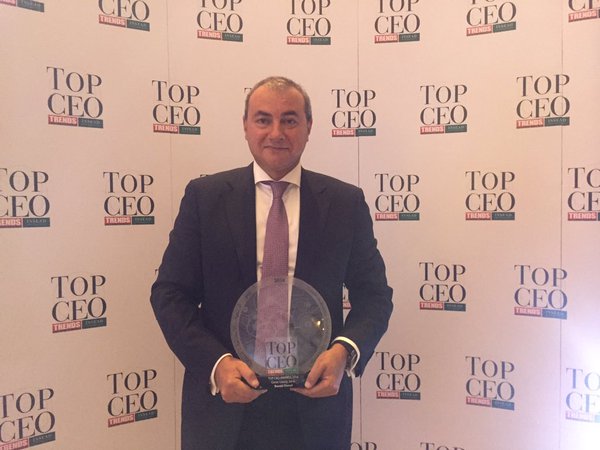 "To be honest, this award has come as a surprise," Bassel Gamal, CEO, Qatar Islamic Bank, told TRENDS after being ranked the number one CEO in the GCC at the prestigious Top CEO Awards 2016 at a glittering event at the Westin Dubai Mina Seyahi on April 5. "But I am really honored and flattered."
He added: "I like this event. It is one of very, very few events that I attend – for one simple reason: it has credibility. In addition, it has complete transparency and it does not depend on sponsorships and all those sort of things to win an award. Because this award is not driven by sponsorship, it is accurate.
"Besides, Hawkamah and INSEAD are involved, auditors are involved and the criterion is very well known. So, nobody can raise questions about the rankings. That is why I am very proud of winning this award.
"But it is not just me, I am representing 1,000-odd staff who have contributed to this achievement and also the tremendous support of my board. Without their collective support, this achievement would not have been possible. I am just representing my colleagues and my board, and collecting this award on their behalf. That is how I see it," Gamal said.
Under the patronage of the Dubai Economic Council, Top CEO Awards 2016, the definite platform that celebrates business leadership and acknowledges senior industry executives and CEOs in the GCC markets, announced the 100 best-performing companies and CEOs during the awards ceremony at the second edition of the event. 

The flagship event focused on recognizing top industry leaders exclusively from the companies listed on GCC stock exchanges across different categories.
The awards were bestowed after a stringent assessment procedure and candidates were evaluated based on criteria including exceptional business acumen and performance. In addition, Top CEO recognized the very best in GCC business leadership while continuing to set the standard for business awards programs in the region by honoring only leaders from publicly listed companies.
"We are glad to celebrate with the winners. TRENDS and INSEAD's transparent and stringent selection process and open evaluation procedures make Top CEO the foremost leadership awards program in the region and a benchmark for business heads and their companies," said Julien Hawari, Co-CEO at Mediaquest, the media company organizing the event and publisher of TRENDS magazine.
"We are delighted to partner with TRENDS magazine and formally honor those industry heads who contribute to the region's economic growth," added Miguel Lobo, INSEAD's associate professor of decision sciences and director of the Abu Dhabi campus, on the business school's association with Top CEO.
The Top CEO ranking was first launched in 2011 and, since then, it has stood out as a uniquely distinctive ceremony as only the CEOs of listed GCC companies are evaluated. The awards are bestowed following an analysis of the financial statements of these companies, with the assessment process being fully audited and transparent.
TRENDS magazine works with INSEAD to make sure that the ranking formula is accurate and with Hawkamah to ensure that corporate governance is part of the overall ranking. Applying an evaluation process of the highest standards makes Top CEO one of the most credible business leadership awards in the region.
This event is held under the sponsorship of Dewitt, Jaguar, DHL, Deloitte, HP and INTEL. The event's content partners are Hawkamah and Pearl Initiative, while the broadcast partner is Sky News Arabia and the media partner is Al Rai.