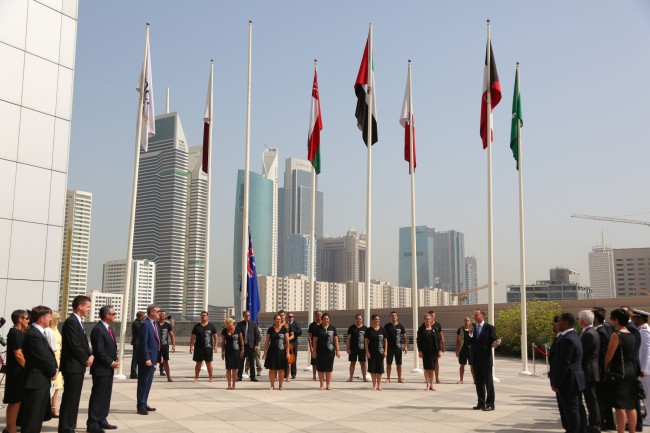 A New Zealand–GCC FTA (Free Trade Agreement) could double Kiwi exports to the region in the years to come, said Tim Groser, New Zealand's Minister of Trade.
Speaking to reporters at the Emirates Towers in Dubai after Prime Minister John Key officially opened the new premises of the New Zealand Consulate-General, the trade minister reckoned that the value of exports from his country to the region would reach $4 billion in the next ten years.
"Currently, we export roughly $2bn worth [of merchandise] to the GCC and it has been growing at a CAGR (compounded annual growth rate) of ten percent in the last three or four years," Groser said. UAE at $1bn comprises of half of that. 
Negotiations between New Zealand and the GCC on the FTA are "complete"; however, the process needs to be vetted by legal experts before an official agreement is signed, the minister confirmed. The formalities, while unlikely to be completed in the course of this visit, will be wrapped up "as soon as possible," Groser added.
"I appreciated the confirmation that the UAE supports the finalization of the New Zealand–GCC FTA, and I will continue to press New Zealand's case throughout the Gulf," Prime Minister John Key said in a brief statement before hoisting the New Zealand flag at the new premises.
The GCC is now New Zealand's fifth largest export market, even bigger than the United Kingdom, which, a few decades ago, constituted more than half of all Kiwi exports globally.  However, with emerging markets led by China (with whom the country has a fully functional FTA) increasingly becoming more important from a trade perspective, New Zealand is in the middle of a "huge transition," Groser said, adding that he looked at the GCC opportunity as a "smaller China play".
Halal meat and dairy products comprise the largest chunk of New Zealand's exports to the region currently. Going forward, however, the country wants to strengthen bilateral ties in other areas such as tourism, education and renewable energy as well, Groser said.
"We are getting the authorities responsible for fisheries management to set up a sustainable fisheries plan for the region," he added.