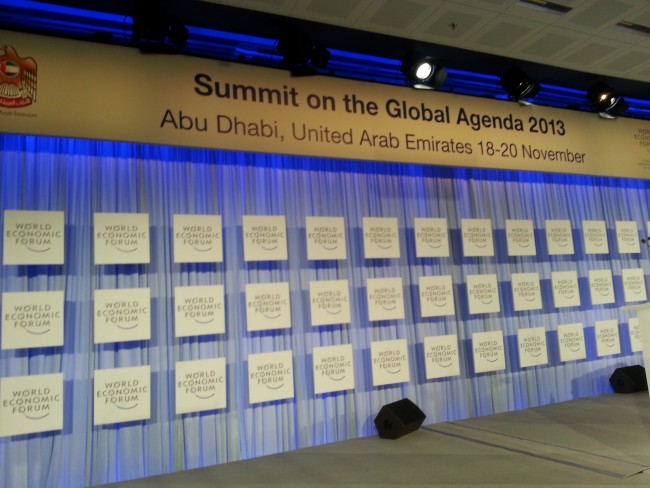 The UAE continues to work toward further improving regulatory environment in the country to boost economic growth and attract investors, said Sultan Al Mansouri, Minister of Economy of the UAE.
Speaking at the opening plenary session of World Economic Forum's Summit on the Global Agenda in Abu Dhabi earlier today, Al Mansouri said that fine-tuning of the regulatory framework is a work in progress. "We continue to reform the system", and the results are there for everyone to see. "In this region, the UAE tops the list of countries in ease of doing business, and 25 per cent of the world's top 500 companies are present in the country," he said, adding the UAE is the leading export market in the region.
"The UAE also leads the Arab world in literacy rate, high life expectancy and gender equality," he said. Female employees account for 65 per cent of the total government workforce in the country and 75 per cent of the university graduates in the UAE are women," said the minister of economy, touching upon the subject of gender equality.
Also, UAE is a nation of generous people. The country is ranked as the 30th largest economy in the world, but according to a OECD report, is the world's 16th largest aid donor.
On a lighter note, Al Mansouri referred to a recent report that said the UAE is 14th happiest place on earth, and the happiest in the Arab world. "Keep smiling and be happy as you are in Abu Dhabi and the UAE," said the minister.
Focusing on the global picture, Klaus Schwab, founder and executive chairman of World Economic Forum, said the political and business leadership across the world should think and plan long-term. "Short-term initiatives are no solution to the problems faced by the world of today. Governments and leaders have to stop thinking with the mind set of crisis management and begin a more holistic approach," he said. He challenged the delegates to reintroduce the world to visual solutions and come up with long-term formuli to global problems. "The UAE is a perfect and a rare example of the long-term sustainable planning," said Schwab.