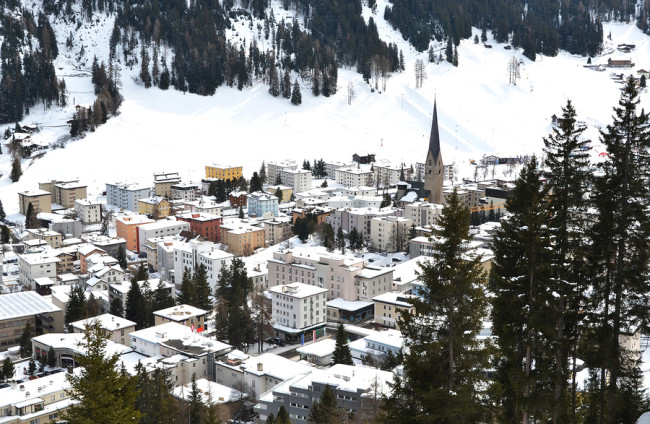 High joblessness among Arab youth was a hot topic at the World Economic Forum (WEF), held in the alpine town of Davos, Switzerland from January 21 to 24.
Advancing youth employment and heightened geopolitical uncertainties were also key areas of focus in a special session titled The Arab World Context. Several corporate leaders spoke of the importance of tackling the issue with great urgency.
Nigerian billionaire Aliko Dangote, President and CEO of Nigeria-based conglomerate Dangote Group was quoted by CNBC as saying that youth unemployment could cause destruction if not addressed, citing the 'Arab Spring' revolutions in North Africa that toppled several governments as an example.
"We need to attack this issue on all fronts," Dangote is quoted by CNBC as saying. "There are going to be a lot of reforms. The government, private sector and civil society need to sit down and take this more seriously than just 'talk shop'."
It is a view the World Economic Forum's October 2014 report Rethinking Arab Employment has endorsed. "The demographic 'youth bulge' represents one of the greatest opportunities, as well as one of the greatest challenges, faced by the Arab World. With more than half of its population less than 25 years old and the world's highest regional youth unemployment rate, the Middle East and North Africa region stands at a critical juncture. This youthful populace can turn into either a 'youth dividend' or a 'youth liability', contingent upon the region's ability to create an enabling environment in which young people's aspirations can be fulfilled," the report noted.
According to the World Economic Forum's Outlook on the Global Agenda 2015, the top three regional challenges in the MENA region are listed as; persistent youth unemployment, managing political transition and societal tensions
Literature prepared in the run-up to the yearly gathering has continued harping on the criticality of addressing this issue. Writing for a series jointly produced by The Huffington Post and WEF, Ron Brunder, Founder and Chair of Education for Employment (EFE) says: "…Across the Middle East and North Africa (MENA), more than one in four youth is locked out of the labor market. For women in the region, the statistics are especially sobering: less than one in five are currently employed (OECD, 2013)… Collectively, we need to prioritize youth employment in the MENA region as both a social and economic imperative, and recognize its momentous power: to throw the region into discord, or to elevate it to new levels of dynamism."
Youth unemployment in some of the MENA countries fluctuates between 25 percent and 60 percent, and close to 85 million jobs are required to be created simply to reach the global youth unemployment average according to EFE and Citi Foundation. According to Crescent Petroleum, quoting World Bank figures, the problem in the wider region "is the highest and fastest-growing in the world, with an average of more than 30 percent of young people without a job."
"We need quick and urgent economic action to address the issue of high youth unemployment in the region," Majid Jafar, CEO of Crescent Petroleum, told the gathering at Davos. "Insufficient economic growth has led to massive youth unemployment, in some areas more than 60 percent. This is turning into a long-term demographic and economic crisis.
"The recent fall in the oil price is also a warning that the region cannot be over-reliant on energy resources for GDP growth. We must create long-term sustainable economic growth. Employing our youth is the key to unlocking our true natural resource. We cannot achieve political stability without economic stability."
Among the several systemic solutions and frameworks suggested to tackle this problem, some advocated technology investments as holding the key to solving high youth unemployment.
Dany Farha, Chief Executive Officer of BECO Capital, a regional venture capital firm focused on technology investments in the Arab region, said while attending discussions in Davos that more investments in technology and the digital economy, both at private sector and government levels will, over the mid to long term, help alleviate the economic, social and political risks associated with youth unemployment. Such investments will help create more and better jobs. At the moment, The Arab region has circa ten times less money invested in venture capital per capita per annum than India, 15 times less than China, 35 times less than Europe and 200 times times less than the USA.
"The region's governments and big businesses have spent their job-creating currency. It's time we close the gap with the rest of the world and increase investment in the technology sector by backing the firms who can invest, coach, support and unlock tremendous value, create valuable white-collar jobs and contribute to improving lives and humanity in our region," concluded Farha.