WEF Davos recap: Focus on responsible leadership
---
Recently held against the backdrop of two major developments in Europe and the United States – Brexit and the ushering in of the Donald Trump era, respectively – the World Economic Forum (WEF) at Davos, Switzerland, assumed greater significance in giving a glimpse of the changing dynamics of world economics and politics.
Business and political leaders from nearly 100 countries held discussions with the central theme, "Responsive and Responsible Leadership", at a time when there is widespread antipathy toward immigration and multilateral trade pacts, when the future of Europe looks uncertain, when globalization is being questioned, when the US is looking to pursue protectionist policies and when the Gulf's economies are on the path of transformation.
The European Union (EU) is yet to recover from its shocking break-up with Britain. Differences over immigration and refugees from war-torn countries in the Middle East make the EU a divided house. Even as British PM Theresa May tried to reassure a large gathering of financial leaders at the Swiss Alps town, multinational companies were looking to downsize operations and staff in London.
The US under President Donald Trump was also a curious subject of discussion, as free trade pacts and the Paris climate accord come under threat – not to mention the rise of xenophobia. At the forum, the then US Vice-President Joe Biden didn't evoke much confidence and have convincing answers on the future role of America. "Whether we reinforce the ties that bind us, or whether we unravel under the pressure, these choices have to be made about every single nation," he said.
Africa surprises, Gulf rises
Surprisingly, the "Africa Rising" narrative that had captivated Davos in previous years was completely absent this time around. African nations seemed pushed to the margin Davos. PwC's 20th annual survey of CEOs worldwide, released at the forum, reflected corporate leaders' waning confidence in the African region.
CEOs and investors found social unrest, political uncertainty, corruption, a volatile market and many other factors plaguing the African nations unsettling for the industry. Seemingly justifying such concerns, the continent clocked a growth rate of 1.6 percent last year – the slowest in two decades – according to the World Bank.
Amid the gloom, however, the Gulf Cooperation Council (GCC) countries and China emerged as bright spots. Xi Jinping, the first Chinese President to visit Davos, seized the opportunity to announce that Beijing was eying a bigger role in the changing world order. Leading the largest-ever Chinese contingent, he stressed Beijing was more than willing to fill the void if the US were to step back from its responsibilities. Xi also defended economic globalization despite the growing discontentment and backlash against it in the West.
President Xi's overtures found support from Saudi Arabia, which saw China's rise as a source of global stability, not conflict. "As China gets integrated into the world and into the [global] financial and economic systems, it has a tremendous interest in the stability of those systems," Saudi Foreign Minister Adel al-Jubeir said.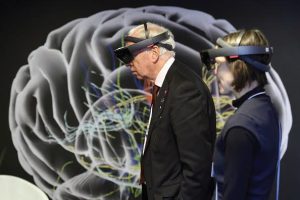 Spotlight on the Arab world
The forum's focus on four critical leadership challenges for 2017 – reimagining global cooperation, revitalizing global economy, reforming capitalism and preparing for the Fourth Industrial Revolution – gave Arab nations an opportunity to present themselves as responsible states and the next growth engines, with immense potential to turn around not only their economies, but the global economy at large. Saudi Arabia and the UAE formed the biggest contingents at Davos, while Qatar, Bahrain, Kuwait and Oman led smaller delegations.
Bringing focus to bear on the Arab world, WEF's MENA Regional Business Council launched a report, Accelerating Economic Reforms in the Middle East and North Africa, a Private-Sector Perspective, calling for bold reforms in the region. The research highlighted high levels of unemployment among Arab youth – which is being seen as a major driver of continued instability – and the rigid labor regulations as the biggest constraints on the private sector and job creation in the region.
Despite these pain points, however, the overwhelming consensus was that good times are in store for the Arab world, thanks to the GCC nations' focus on diversifying their oil-reliant economies by implementing stringent austerity measures and ensuring a greater role for the private sector.
The International Monetary Fund (IMF) predicts a three percent growth rate for the GCC in 2017 (against a global rate of 3.4 percent). The UAE is expected to achieve 2.5 percent GDP growth in 2017, against 2.3 percent in 2016. Meanwhile, Saudi Finance Minister Mohammed Al-Jadaan said he expected to register a growth of more than one percent in the next fiscal year, better than the IMF's prediction of 0.4 percent. However, the fund sees a two percent recovery of Riyadh's non-oil sector this year.
"Even though our natural resources have kept us in good financial health, Saudi Vision 2030 has laid a clear roadmap to achieve sustainable development in the years to come. Economic reforms and the restructuring process will help the Kingdom cope with fluctuations in the global oil market strongly," Saudi Prince Saud Bin Abdullah Bin Thunayan Al-Saud, Chairman of SABIC and the Royal Commission for Jubail and Yanbu cities, told TRENDS.
At the forum, besides discussing diversification and restructuring, MENA business leaders also emphasized upon implementing key reform measures.
High on the agenda were six key reform areas to boost private-sector investment in the region: enhancing the efficiency of regional labor markets; modernizing bankruptcy and insolvency regulation; simplifying the process for start-ups; reducing bureaucracy; creating better mediation and arbitration procedures; and promoting systems for good corporate governance.
Majid Jafar, the CEO of Crescent Petroleum, UAE, explained that, although regulatory structures in some countries have been holding the MENA region back, nations such as the UAE, Qatar, Bahrain and Morocco had already introduced some reformative measures.
Digital disruption
One aspect of the digital revolution that captured everyone's attention at Davos was virtual reality (VR). Fast becoming the face of next-generation technology, the VR industry is expected to be a $150 billion market by 2020.
At the Davos summit, tech giant HTC Vive announced a VR fund of $10 million "to drive VR content and technologies that will create positive impact and change". The money will be used in conjunction with the United Nations' "Sustainable Development Goals by 2030" platform. Meanwhile, the UN Virtual Reality program aims to use latest VR technologies to tackle poverty and other social issues across the world.
Meanwhile, Blockchain, the company responsible for introducing the digital currency Bitcoin, sees a great scope for investment in future technologies in the Arab world. The region is already undertaking several initiatives in this regard: Tunisia is introducing technology in public health and primary education, among other sectors, whereas the Saudi telecom sector is focusing on policies facilitating digital transformation to enhance network agility, while offering high-speed data. Other MENA nations, too, are quickly hopping onto the technology bandwagon.
Last year, at the inaugural meeting of the Global Future Councils, hosted by Dubai, the UAE's Cabinet Affairs and Future Minister, Mohammed Al Gergawi, pledged to set up the first permanent policy unit to push the Fourth Industrial Revolution – a new era in the global economy that promises huge opportunities that will arise from the convergence of digital information and technological advancements in various fields.
At Davos this year, Al Gergawi and WEF's executive chairman, Klaus Schwab, unveiled a report titled Global State of the Future, which highlighted the new trends in science, technology and communications.
The report forecast that electric cars would comprise 90 percent of all vehicles on the road by 2035, as the use of clean energy becomes essential. It added that, by 2053, without a power outlet or a cable, people would be able to send and receive power just like data today; by 2042, artificial intelligence will play a major role in companies, perhaps even taking a place on a firm's board of directors and making many of its financial decisions.
"In many of the emerging markets, technology will be the key driver of economic growth in 2017. Digitalization will create more jobs," says the chairman of Boston Consulting Group (BCG), Hans Paul Burkner.
"Automation and technological intervention are dramatically affecting the industry, which is, conversely, creating more valuable jobs. This means we need more young engineering graduates. Besides, the increasing use of technology in cities is giving Saudis more freedom in terms of transport facilities and better living conditions," Fahd Al-Rasheed, executive director, King Abdullah Economic City, told TRENDS.
Head of MENA, member of the Executive Committee, WEF, Mirek Dusek, noted that the current momentum of reforms in the MENA region had created an opportunity for governments to initiate inclusive sustainable development and boost private participation to achieve prosperity for all.
By effectively promoting the private sector, GCC economies could generate $114 billion in revenues and avoid $165 billion in capital expenditures by 2021, says a report by the Ideation Center, a Middle East think tank.
Also, increasing the private sector involvement (PSI) can enable GCC nations to achieve operational efficiencies of ten to 20 percent, reducing budget deficits. Kuwait, Dubai, Oman and Bahrain have already incorporated plans to boost PPP in their respective national plans.
Europe's GCC love
In the fast-emerging new global order, European nations, especially Britain, have expressed a keen interest in entering into free trade pacts with Gulf nations. UK PM May said at the forum that Gulf states would play a major role in her pursuit to build a truly global Britain, stressing a fresh approach to make globalization work.
Amid US President Trump's protectionist trade policies and populist political movements around the world, Europe sees a ray of hope in the Arabian Gulf, which is its fourth largest export market. People from the Middle East will continue to contribute to the economy – a European Commission report forecasts that migrants would add 0.2 to 0.3 percentage points to European GDP growth in 2016-17.
"Despite its fair share of challenges, Europe has great leadership in Germany. We have good leadership in the Nordic countries and so on, to keep the continent economically viable. We have many companies in Southern Europe and there will be a huge demand for skilled people in the near future," BCG's Burkner told TRENDS.
Many people are acting to fill the gap. For instance, in Austria, Iraqi immigrant Fatima Almukhtar co-founded an online job platform to connect immigrants with companies seeking to employ people of varying skill levels.
Meanwhile, after the Brexit referendum, British officials have made several visits to the GCC region, looking to strike possible free trade agreements. The EU is also seriously aiming to strengthen its ties with the Gulf further. European Commission vice-president Jyrki Katainen was in the UAE recently to lay the foundation for a trade and investment dialogue between the EU and the GCC. Support for SMEs and cooperation on research and collaboration in sectors such as renewable energy, education and health, are on the agenda.
Katainen said Europe was keen to ensure that Gulf companies were able to invest in the continent through renewable energy, research and development and realize untapped trade links.
Conversely, the euro offers the GCC nations an alternative to fulfill their debt requirements, which have largely been dependent on the US dollar peg. According to a report by S&P, sovereign financing needs could reach $560 billion by 2019. Last year, sovereign borrowing – both loans and bonds – grew to reach $50.3 billion from $9.1 billion in 2015. So it makes sense to explore the euro-denominated bond market, which issued bonds worth approximately $1.1 trillion last year against $2.7 trillion in US dollars, to ensure greater liquidity and stable diversification.
Another important development at Davos was the International Finance Corporation's (IFC) agreement with WEF to help entrepreneurs forge relationships with business leaders, government officials and representatives of international institutions. Over the past two years, IFC has provided close to $50 million in funding to tech companies and start-ups in the region, working in tandem with leading accelerators and venture funds. IFC is also working with agencies and private education providers to equip students with the skills they need to find work in a fast-changing labor market. IFC and the WEF will also promote a dialogue about the challenges faced by start-ups, which often struggle to get the advice and financing they need to thrive.
Next stop: Jordan
Amidst a changing landscape, the Arab world is seen as an answer to new geopolitical and economic challenges. After the summit at Davos, the focus now shifts to the World Economic Forum on the Middle East and North Africa, which will take place in Jordan from May 19 to May 21.
More than 50 countries, including the US and several from Europe, as well as other stakeholders, will focus on economic reform efforts, geopolitical and humanitarian challenges, the Fourth Industrial Revolution and youth empowerment in the region.
The 100 best Arab start-ups will get an opportunity to attend the Jordan summit, where they will receive training on how to start and manage business. This will go a long way in promoting the MENA entrepreneurial ecosystem, where nearly one-third of youth are jobless. According to the WEF's Global Shapers survey, young people view the UAE and China as the top emerging market destinations where they can get ahead in their careers.
Dusek believes it is a "critical and exciting time for the region" as Gulf states remain committed to transforming their economies and forging trade ties with European and Asian nations.
However, it would require at least ten to 15 years to rebuild the region in line with its true potential, says Jordan's Minister for Planning and International Cooperation, Imad Fakhoury – a period long enough to reshape the world's economic landscape and redefine globalization.
Comments
comments