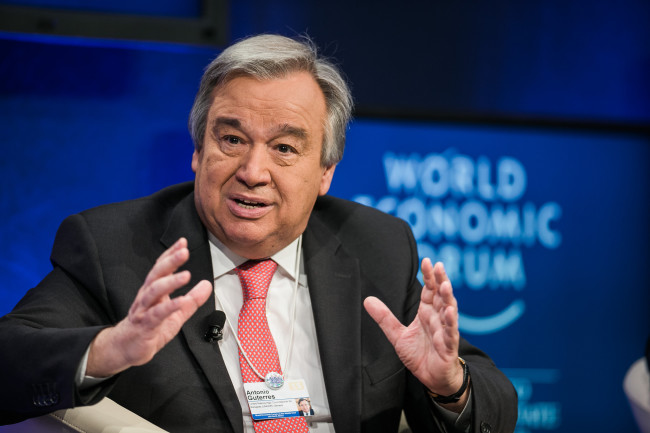 With millions of refugees fleeing Syria for neighboring countries, host nations, at the World Economic Forum on the Middle East and North Africa, appealed to the international community, to help them deal with the world's largest humanitarian crisis.
"We need a Marshall Plan to provide support," said Imad Najib Fakhoury, Minister of Planning and International Cooperation of Jordan, referring to the US initiative to rebuild European economies after the end of the Second World War. Fakhoury said his country has opened its border to refugees, but the burden has become too much for Jordan to handle on its own.
"We have more than 1.4m Syrians and this is creating challenges," he said, noting that such an increase in the population is putting a huge strain on social services and resources in a country with limited resources to begin with.
António Guterres, the UN High Commissioner for Refugees, commended Jordan for taking in such a large number of refugees and said that the world must do more. "The international community is not coming together sufficiently to support the humanitarian needs of the Syrians and the Iraqis."
According to the UNHCR, there are close to 4m registered Syrian refugees in Egypt, Iraq, Jordan, Lebanon, Turkey and North Africa; Jordan alone has 1.4m Syrian refugees, almost half of them are not registered. There are also hundreds of thousands of Syrian refugees in Kurdistan, in addition to 1.2m Iraqis who have fled their homes because of war.
"We have seen our population increase by 28 percent. This is an extra burden on a region that already has its own issues and instability," said Ali Oman Sindi, Minister of Planning of the Kurdistan Regional Government. "We are managing the emergency, but now we need to talk about resilience."
Gordon Brown, ex-Prime Minister of the United Kingdom (2007-2010) and Co-Chair of the meeting, warned of a lost generation, noting the vulnerability of 2m child refugees from Syria who lack shelter, healthcare, food and education. "This problem is huge, it's not temporary and will last for years," he said, adding that the average period of a refugee out of one's country is ten years. Brown stressed the need to provide education for all Syrian refugees. "When children don't get education and are stuck in a camp for years, we are building problems for the future."
While appeals for humanitarian assistance are often directed toward government, companies also have a role to play. "The private sector is underutilized in humanitarian responses. We could bring solutions," said Elaine Weidman-Grunewald, Vice-President of Sustainability and Corporate Responsibility at Ericsson. She cited an initiative that uses mobile technology to assist refugees to find one another other once they have fled their countries.