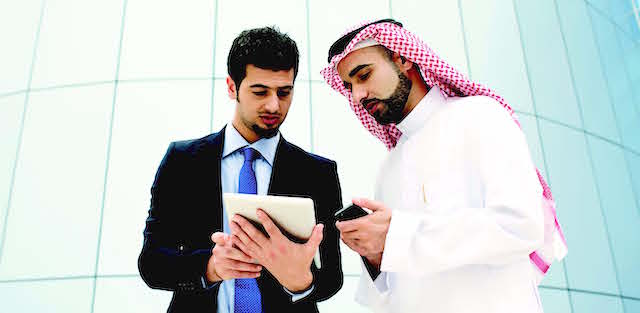 The main theme of discussion in Davos this year was the Fourth Revolution – the digital transformation. What is STC doing to incorporate new developments in the digital arena?
The success of the digital revolution primarily depends on many things. One of the most important factors is reliable and robust infrastructure – telecom infrastructure, both wireless and fixed. That is the way you will be able to connect people to people, people to machines and machine to machine.
Therefore, any country or any -industry that is serious about digital transformation does need that reliable infrastructure. Now, for us, that is not enough. We are investing heavily on our infrastructure to provide our -traditional telecom services. Along with -creating a strong infrastructure, we are building what we call an enablement platform. That enablement  platform has a number of components. So you have the Cloud part, you have the IoT platform, then you have the security platform. These platforms are the ones where you can build applications and services.
On top of that platform, we will be building partnerships in different industries. So, you have education, health, security, logistics and transportation.
We see our role in Saudi Arabia and in the markets we operate in as a major enablement partner for the government or for the different industries that we deal with. We are working and putting [in]the right models to ensure that the infrastructure needed is there.
Clearly, you need investments in not only the wireless side where, in Saudi, for example, we are providing wireless almost everywhere. So, in terms of 2G and 3G coverage, we are in the space of a little less than 100 percent. For 4G, we are close to providing approximately 90 percent coverage to the population.
Fixed-line services and fiberizing the country are areas where we have been investing. But we are also looking for a partnership with the government and ensuring that we provide connectivity almost everywhere.
How is this changing the revenue-­generation model for telecom companies in the Arabian Gulf countries and especially for STC?
Well, there are two fronts. One, you have to monetize the data side and that requires clearly making sure that you have the right regulatory environment – and that is -essential. Second, where we expect double-digit growth is [on] the enterprise side, where we are not only working with the government and large enterprises, but we are also focusing on SMEs.
Through our model, we are able to help enterprises in their capital expenditure requirements and turning [that] into an operational expenditure requirement, which is less straining, especially at times such as now, where we have a difficult economic situation.
What have you learned this year from your interactions with the delegates in ­Davos?
Digital transformation is a reality now. Clearly, there are challenges. I have mentioned one that has to do with the infrastructure, but there is also the governance aspect, which is very important. Third is [that] industries need to look into their business models and their processes. I think that once all the three are there, we will be in a completely new economy.
How you are planning to move ahead on taking full control of your Kuwaiti affiliate, VIVA?
STC is moving ahead with its offer to buy all shares of VIVA not currently owned by STC, at the announced offer price of KWD1.00 [$3.34] per share. The offer price is based on an extensive study of VIVA's future business plan, as well as the growth opportunities in the Kuwaiti telecom market and investments needed by VIVA to compete in the market.
There were rumors about STC increasing the offer price. We have no intention to increase the price. Since VIVA's  establishment, STC has offered all the technical, financial and strategic support that -enabled VIVA to grow in a very competitive market, benefiting from STC's experience and status as the largest integrated telecom company in the Middle East.
STC posted consolidated revenues of SAR50.8 billion [$13.54 billion] for 2015. It was a great year for STC. How do you see this?
The 11 percent increase in consolidated revenue and the 3.8 percent increase in EBITDA for the 12-month period -compared with last year confirm that STC's -strategy is working well.
Meanwhile, the decline in net profit for the 12-month period is mainly attributed to STC's continued investments in programs that will have positive outcomes in the near future, such as the early retirement program and the disposal of old assets.
Also, [it was] due to the FX losses (non-operating and non-cash) related to the significant depreciation of the Turkish lira against the US dollar during the 12-month period compared with the same period last year and the two months' salary expenses (one-off) booked during the first quarter of 2015, which was made as a gesture to follow the initiative of the Honorable Royal Decree.
STC has an important role in leading the knowledge-based economy by developing platforms and solutions that [will] contribute to increase productivity and improve institutions' efficiencies, allowing the speedy introduction of high-quality services.