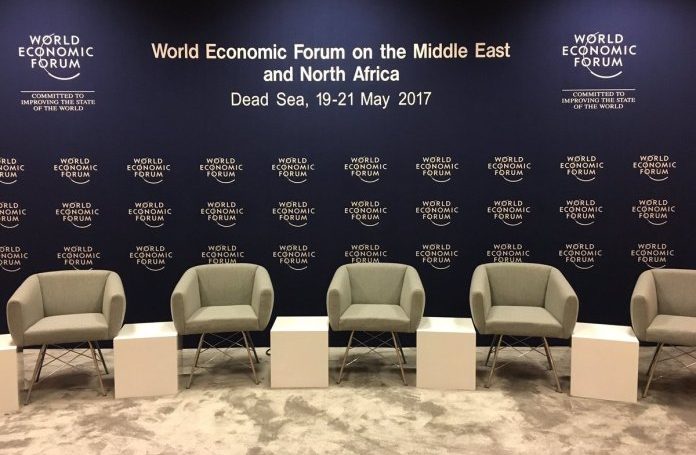 Launching a $100 million fund to revamp the Palestinian education system; reiterating the principles to ensure a healthy relationship between Jordan and Iraq; addressing the immediate needs of refugees; discussing the humanitarian crisis; tackling Mideast youth unemployment problems; ensuring gender parity and focusing on building inclusive economies to generate new jobs in the region – these were just some of the discussions on the agenda on the opening day of the World Economic Forum (WEF) on Middle East and North Africa 2017, held at the Dead Sea, Jordan.
Themed 'enabling a generational transformation', the three-day conference was officially opened on Saturday by the Crown Prince Al Hussein bin Abdullah II of Jordan. More than 1,100 delegates were in attendance.
Fourth Industrial Revolution; boon or bane
Discussions of the conference centered on the repercussions of the technological advances of the Fourth Industrial Revolution; will such a revolution threaten jobs or will it, in fact, open new employment avenues in the future?
As stated in a report issued by WEF, called The Future of Jobs and Skills in the Middle East and North Africa, only a few regional economies are indeed ready to tackle the upcoming disruption and fast-approaching technological transformation.
And while there are some changes being made, growth is often too slow and benefitting too few.
"As 31 percent of young people in the region are unemployed, new initiatives and urgent action are needed to realize this potential. When skilled talent is present, particularly educated women, it is not being deployed effectively in the workforce," said a WEF spokesperson.
Drafting innovative economic frameworks
Another key discussion underlined how policy-makers need to design new economic frameworks that create value and are accessible to all.
"Once economies are transforming in an inclusive manner, we shall create jobs for the millions of Arab youth entering the labor market every year. A profound economic transformation calls for a massive leap in human-capital development, new strategies for entrepreneurship and industry diversification, and creative ways for to bridge the infrastructure gap," a WEF spokesperson told TRENDS.
Startups gaining momentum
This year, for the first time, the WEF and the International Finance Corporation have joined forces to highlight the foremost 100 Arab-world start-ups. These companies are applying their innovative worldviews to artificial intelligence, advanced robotics, augmented reality and the Internet of things. Examples include a mobile game studio run by a team from Gaza, an Arabic voice-recognition software developer from Syria, and the first e-mobile wallet firm from Libya.
Perfect examples of how innovation can prosper in even the most demanding of geopolitical environments.
However, it's a challenging road ahead and good navigation is needed.
"The current reform momentum in the Middle East and North Africa is promising, but success is not guaranteed," says Mirek Dusek, head of regional strategies in MENA. "Together, with our long-term partner Jordan, the World Economic Forum is hosting its biggest-ever meeting of entrepreneurs and start-ups in the region. We are inviting them to advise leaders on new growth strategies that will bring prosperity and bolster peace efforts throughout the region."
Seizing right opportunities at the right time
The conference also saw a huge emphasis placed on capitalizing on innovation and entrepreneurial opportunities powered by the digital revolution, with Klaus Schwab, founder of the World Economic Forum, predicting "more technological change expected over the next decade than in the past 50 years."
This means the region could leapfrog 20th-century technologies and move straight to advanced technologies of the 21st century.
Adding impetus to Palestinian education system
Aimed at introducing innovative approaches to teaching and initiating new learning methods, a $100 million fund was launched at WEF. This fund will help to refurbish the Palestinian education system, something that is hoped will later be expanded in the entire Arab world.
Entitled the Palestinian Education Trust (PET), this not-for-profit organization was set up by philanthropist businessmen Samer Khoury and Khalid Abdulla-Janahi. Around $10 million has already been pledged.
"The aim was to win the hearts and minds of Palestinians by focusing on liberating Palestinians through education. Our slogan is: Educate a child, liberate a country," said Palestinian education minister, Sabri Saidam.
More than 1,100 political and business leaders from more than 50 countries are attending the World Economic Forum (WEF) on Middle East and North Africa 2017. Among them are: King Felipe VI of Spain; Iraqi President Fuad Massoum; Palestinian President Mahmoud Abbas; Macedonian President Gjorge Ivanov; President of Kosovo Hashim Thaci; President of Niger Mahamadou Issoufou; Cypriot President Nicos Anastasiades; Georgian Prime Minister Giorgi Kvirikashvili; ministers from Arab and foreign countries.