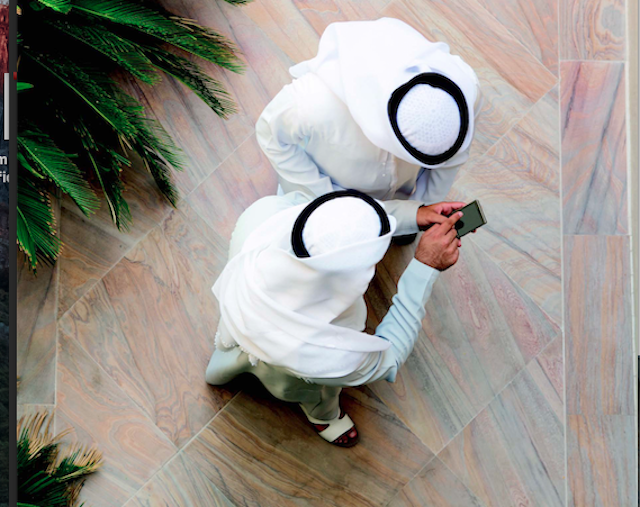 How do you make sense of what is happening in the world economy right now and how is it impacting your industry?
As we are meeting a lot of people in Davos and elsewhere, we are listening to ideas. It is a unique place where you can see the media, the advertisers, the technologies, the startups, the politicians [and] the NGOs, so it is a unique place to pick the brains of people, to feel the trends. And then, back at home, you sort them out, you pick and choose and you apply. Every year, I am doing this and, every single year, I find either a new contract or a new contact or a new idea.
The current situation of the world economy is not very positive. Has the media industry also been impacted?
It is not very positive, but if you refer to what has happened today and the stock market, I think it is exaggerated that operators are overreacting and the reality of the situation is well known to everyone.
We knew since a while that oil was going down. We knew that China was not delivering, we knew the situation of Russia and we knew the situation of Brazil.
When you look at it, there is no new news. I do not understand why people are feeling so strongly about a slowdown where all the indicators were easy to read and all indicators were already saying what the situation is. For me, it is not a big new news and I believe that we have made the right investments.
We have acquired Sapient with fantastic operations in India and we have the capabilities to now take the new trends as a key target and to build a new business line on this.
We feel pretty good about the situation, despite the fact that the global economy is not exactly where we wish it to be. Obviously, I would have preferred that we have 3.5 per cent growth and that China is at eight or nine percent, but we cannot deal with that; it is not a deep-priced economy. We are not in depression. There are some areas that are difficult and some areas that are good.
Which are the positive parts for you around the world? 
The United States is still very strong. Europe is coming back quite positively. We have a strong position in India, which is doing well. Africa is growing, but it is a small market. We are still doing extremely well in China. The difficult spots are Brazil, Russia and some of the Latin American countries.
What about the Middle Eastern countries and the GCC, more specifically?
In the Middle Eastern countries, we have a position that is very good in Dubai and in the United Arab Emirates. Our position in Egypt is rather solid, even if we are not the number one. In the other markets, our exposure is relatively limited. We have no agency in Syria and we have no agency in Iraq. So, in the hotspots, we are a little bit behind.
What about Iran? Do you see an opportunity there?
We have the Minister of Foreign Affairs of Iran here. That is Davos – you ask a question and behind you is the Minister of Foreign Affairs. We had a conversation with him at the IBC (International Business Council) and he was very open about what Iran is doing and very welcoming [about] foreign investment. We are cautious because it is just starting, so we are not rushing.
It does not matter if we are not the first to dedicate an agency in Iran. We prefer to see how things are evolving and we prefer to see that the international companies are coming and that they are investing, because we are working a lot with our clients and we prefer to come with our clients rather than to do local business in an area and a country that we do not know very well.
We do not know its culture and the Iranian market has been closed for so many years. So, it is extremely difficult. It is a little bit like if they were coming from space and from the moon, because they have been cut from the economy, they have been cut from the world, they have been cut from the competition. They are in their inner environment, so we have to be extremely cautious.
What is the new trend that you see in the advertising industry in 2016?
The new is old, which is mobile communications. This segment is growing extremely fast. Mobile communications [represent] more than 90 percent of the growth of the market. Everything is around data and the combination of what we call the alchemy of creativity and technology.
The new trend is really about this combination and the one which is emerging quite strongly is on content, where we see that content is becoming a little bit like news and not only advertising. So we have a lot of things that are happening on content and are quite interesting.
How is Publicis located in this particular domain vis-à-vis its competition?
We had too many initiatives and we have a very strong production operation. Besides this, we have a very strong content company, plus Rolex['s] news, which is working like an agency and giving a lot of news for the sites of our clients in many areas: leisure, tourism, beauty, cosmetics, etc. We believe that we are in a very good position.
One last question on your home market, France. How do you see this?
France is still suffering, but we are trying to come back with all our issues and problems in the economy and there have been the terrorist attacks, which were a really difficult thing to digest for the economy. However, I feel quite confident about the future of France.