Major airlines in the Middle East suffered a blow as Covid-19 resulted in travel bans and a drop in international passenger traffic by 60 percent in 2020. This brought the air travel totals back to 2003 levels.
In its June 29 report titled Effects of Novel Coronavirus (Covid‐19) on Civil Aviation, the International Civil Aviation Organization said as seat capacity fell by 50 percent, only 1.8 billion passengers took to the air during the first year of the pandemic, compared to 4.5 billion in 2019.
The losses by airlines were around $370 billion globally while airports and air navigation services providers, or ANSPs, lost a further $115 billion and $13 billion, respectively.
The global drop in gross airline passenger operating revenues represented losses of $120 billion in the Asia Pacific, $100 billion in Europe, and $88 billion in North America, followed by $26 billion, $22 billion and $14 billion in Latin America and the Caribbean, the Middle East, and Africa, respectively.
In the most optimistic scenario by ICAO, passenger numbers by June of 2021 would be expected to recover to 71 percent of their 2019 levels: 53 percent for international and 84 percent for domestic.
Net losses to come down
The International Air Transport Association said the net losses of the airlines in all regions would come down in 2021 compared with the past year.
The Middle East air carriers suffered a loss of $7.9 billion in 2021 and it would be $4.2 billion in 2021 as the industry is expected to regain its momentum in the H2 of 2021.
Even the net losses incurred in all regions will come down from $126.7 billion to $47.7 billion this year, the IATA said.
The regional carriers are expected to benefit from rapid vaccination rates on home markets. They will be hampered, however, by continued travel restrictions on many of the routes to emerging economies that are served through Gulf hub connections, the IATA said.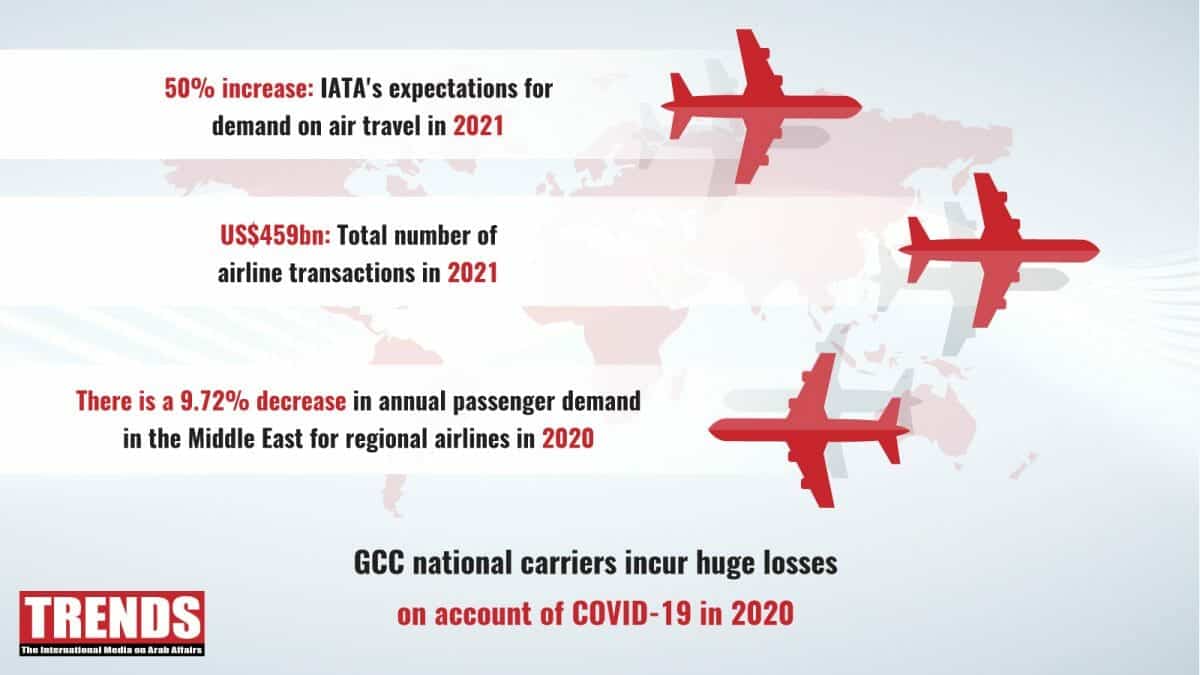 In the Middle East
Abu Dhabi's national carrier Etihad saw its revenues dip from $5.6 billion in 2019 to $2.7 billion in 2020.
The Dubai government-owned airline Emirates reported a revenue loss of $5.5 billion during the same period. The government gave the airline $2 billion last year to help it stay afloat.
According to IATA, the Saudi airline's lost-passenger revenue was estimated at $5.61 billion due to a 39 percent drop in passenger demand that may lead to 217,570 job losses and a $13.6-billion impact on the GDP.
Despite this, Saudi Arabia announced on June 29 that the government would launch a second national airline. The second flag-carrier would catapult Saudi Arabia to the fifth rank globally in terms of air transit traffic, the official state media said.
Royal Jordanian Airlines too suffered, saying its total losses in 2020 reached some $90.14 million.
Egypt's airline industry too incurred a potential loss in revenue of $1.6 billion due to 9.5 million fewer passengers in 2020. Kuwait's Jazeera Air reported a loss of $50.7 million during the first nine months of 2020.
Wide disparity
There has been a persistent disparity between domestic and international air travel impacts resulting from the stringent international measures in force.
Domestic travel demonstrated stronger resilience and dominated traffic recovery scenarios, particularly in China and the Russian Federation, where their numbers have already returned to the pre-pandemic levels.
In all, there was a 50 percent drop in domestic passenger traffic globally, while international traffic fell by 74 percent with 1.4 billion fewer passengers.
Dubai airport's Terminal 1 reopens
After more than a year, the Dubai International airport's Terminal 1 and Concourse D reopened on June 24 this year as the regional hub expects a rise in global air travel demand.
"This move signals our confidence that the outlook for the rest of the year and beyond is one of optimism, as well as being a clear indication of Dubai's intent to lead the aviation industry in its efforts to enable social and economic recovery of the world," Emirates chief executive Sheikh Ahmed bin Saeed Al Maktoum said.
Dubai's national airline Emirates also anticipates stronger air-passenger demand over the summer season, announcing plans recently to ramp up operations and expand services across its network.