Most stock markets in the Gulf region ended lower on Thursday on growing concerns over inflation and recession and as oil prices slumped following speculation that Saudi Arabia would boost production.
The Saudi Stock Exchange's main index ended trading on Thursday, losing 161.46 points to close at 12,605.01 points. The total value of the trading reported was SAR 6.5 billion, while the toll of shares traded was over 178 million, divided into over 362,000 deals.
The Saudi Parallel Market Index (NOMU) ended the day losing 35.17 points, to close at 22,844.08 points, with a valuation of SAR 30 million and an overall tally of more than 345,000 stocks traded and divided into as many as 2,386 deals.
On Friday (June 3, 2022), the Abu Dhabi index finished the week down 0.2 percent, with the First Abu Dhabi Bank stock dropping one percent for the third day in a row. Dubai's main share index, meanwhile, lost 0.3%, weighed down by a 1.3% decrease in Sharia-compliant lender Dubai Islamic Bank and a 1.6% drop in Dubai Electricity and Water Authority.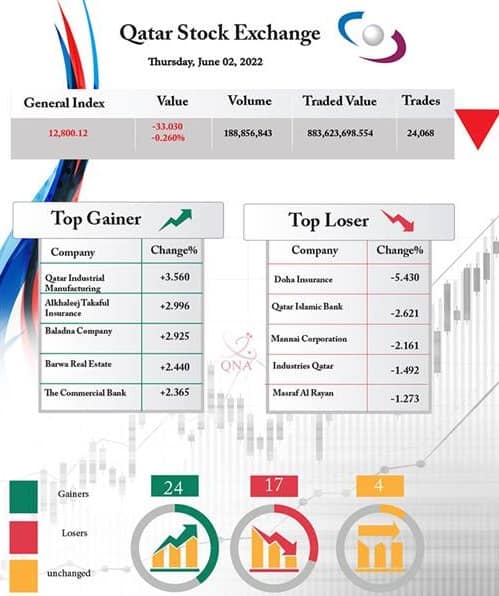 Qatar Stock Exchange (QSE) index dropped -33.03 points, or 0.26 percent, to close trading at 12,800.12 points on Thursday. The volume of shares traded increased to 189,228,576 from 136,478,855 on Wednesday and the value of shares increased to QR886,225,105.30 from QR619,521,990.57 on Wednesday.
The indices of three sectors ended in red zone and four sector ended in green zone today. QSE Total Return Index dropped 0.26 percent 26,218.80, QSE Al Rayan Islamic index lost 0.07 percent to 5,249.54 points and QSE All Share Index down 0.24 percent 4,118.71 points.
Muscat Stock Exchange (MSX) general index (30) on Thursday gained (2.04) points, comprising a rise by (0.05%) to close at (‪‪‪‪4131.87) points, compared to the last session, which stood at (4129.83) points. The trading value stood at (RO 1,783,430), comprising an increase by (15.4%), compared to the last session, which stood at (RO 1,545,967).
The report released by MSX pointed out that the market value went up by (0.158%) to reach about (RO 22.43) billion. The report added that the value of shares bought by non-Omani investors reached (RO 83,000), comprising (4.66%). The value of shares sold by non-Omani investors reached (RO 727,000), comprising (40.75%). The net non-Omani investment decreased by (36.09%) to (RO 644,000).