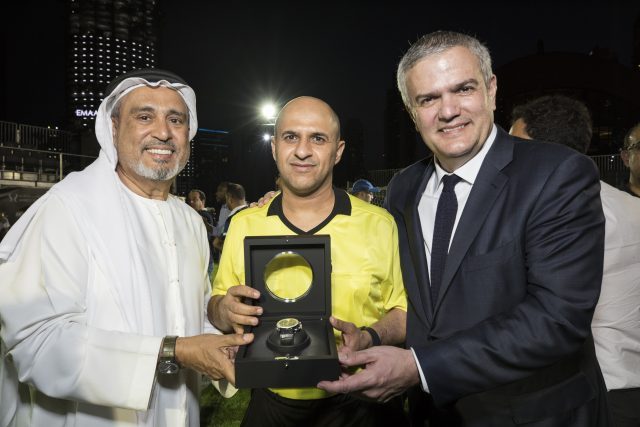 On March 21, with 85 days to go before the first match of the 2018 FIFA World Cup™ kicks off, Hublot brought together friends of the brand to celebrate the beautiful game of football in a Match of Friendship during Baselworld 2018.
Thereafter in mid-April, with 60 days to go before the 2018 FIFA World Cup™, the brand joined hands with its UAE partner Ahmed Seddiqi & Sons to bring together friends of the brand and regional football players for a return game after the tie score at Basel Two one-off teams for an encounter that all football fans could have only dreamed of.
True to its motto "First, Unique, Different", Hublot invited Brand Ambassador Pelé to coach his first football team in Dubai, for this game held at the Dubai Opera Hanging Garden which saw action for the first time since their inauguration. Friend of the Brand, Marcello Lippi, managed the opposing team. The match time was kept by the newly launched Big Bang Referee 2018 FIFA World Cup Russia™ smart watch. There are some sporting moments in history that live on forever and Hublot knows better than anybody how to create these moments.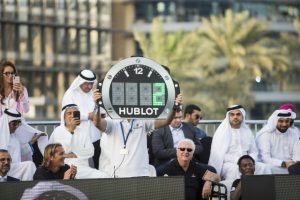 Dubai Opera Hanging Garden turning into football pitch
After the gardens of the Palais Royal in Paris and Hall 4 at Baselworld, it was at the feet of the world's tallest building – Burj Khalifa – and overlooking the world's biggest fountain, The Dubai Mall Fountain, that the Swiss watchmaker blew the whistle to start the special game held in this original location.
"We are happy to kick off here in Dubai, the countdown to this summer's tournament. We share with Hublot and our customers a passion for both watches and football, and this is a great way to unite those two worlds," said Abdul Hamied Seddiqi, Vice Chairman, Seddiqi Holding.
Hublot infused Dubai, the players and the public with a passion for real sport, the beautiful game that unites us all.
"People in the region, just as all over the world, love football. It is a sport that brings everyone together. We try to apply Hublot's Art of Fusion motto in everything we do, and we have succeeded in doing so with the Match of Friendship in Dubai, where we teamed up football legends who had never competed against each other in that formation. We are as thrilled as our customers to have lived this unique experience which was infused with FIFA World Cup fever," said David Tedeschi, Regional Director Hublot Middle East & Africa.