Artificial intelligence (AI), undisputedly the best technological gift of the digital age, together with Internet of Things, blockchain and data analytics is fueling the Fourth Industrial Revolution around the world. And, the Middle East and North Africa nations, especially those in the Gulf Cooperation Council (GCC), have occupied a pioneering position in ushering in the AI-driven future.
The World Economic Forum held its Annual Global Future Councils' meeting in Dubai in November, last year, to develop strategy for a technology dominated future. Earlier in 2017, UAE Cabinet Affairs and Future Minister Mohammed Al Gergawi and WEF Executive Chairman Klaus Schwab unveiled a groundbreaking report titled "Global State of the Future" on trends in technology and communications at Davos. The two global events with the Arab world at the center went on to prove the region is well-positioned to utilize technology, especially artificial intelligence, for business operations and governance and spearhead innovation and creativity.
Be it telecommunications, healthcare, entertainment or government operations, AI wave is making a huge impact across all sectors in the Middle East. Estimated to be worth $66 million in 2017-18, the region's AI market is expected to grow to a whopping $250 million by 2025. The opportunities are immense as AI is already a $233 billion industry. Omar Saleh, Microsoft, Director (Oil & Gas) Middle East and Africa, stresses AI is set to have the biggest technological impact on the oil and gas industry over the coming years.
In 2017, the UAE and Saudi Arabia brought the world's spotlight on the region with their path-breaking AI initiatives. For instance, the UAE became the first country to put forth a clear-cut AI strategy and created the Minister of State for AI, while Saudi Arabia, by granting citizenship to an AI robot, too, announced its intention to make the most of the emerging field.
The New Year will see artificial intelligence — which refers to a variety of technologies such as natural language processing, neural networks and machine learning — become the main engine of growth.
"AI's deep learning and robotic automation brings closer the possibility of 'singularity': the point at which machine thought supersedes human capability. With the rapid developments in machine learning, data mining and cognitive computing, the next decade promises to see huge leaps forward," says Gerard Gallagher, Advisory Leader, EY (Africa, India and Middle East).
UAE — the trendsetter
Among all GCC nations, the UAE has the most ambitious plans to use AI tools and machine learning not only across all sectors but to develop new ones and create a new economy and a smart society. AI, deep learning, and cognitive computing are being excessively used in the fields of banking, customer service, defense, healthcare, and so forth.
In a first-of-its-kind experiment in the region, the UAE government's Smart Dubai Office has deployed a 1.5-metre-tall robot receptionist, Farah, like any other human being to welcome guests, alert employees for meeting and help with security screenings and payments.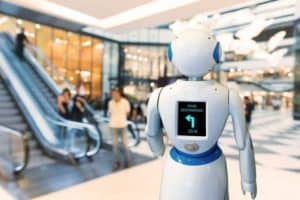 Dubai Electricity and Water Authority (DEWA) has announced the recruitment of five robots as staff, as part of its Customer Happiness Centres. Its office is the first integrated smart customer happiness centre in Dubai which relies on AI and robotics to provide smart and innovative services to customers. Earlier in 2017, DEWA launched a customer-service bot, built using components of Microsoft's cloud-based cognitive services platform. Its virtual employee Rammas responds naturally to customer enquiries, through multiple languages and channels. DEWA is the first government organization to launch an online chatbot in both Arabic and English.
Emirates airline has announced to develop a fleet of AI autonomous vehicles to assist in airside operations. Vehicles will be completely powered by solar or electrical energy and improve operational efficiency by 50 percent. Besides, the airline is using AI to transform cabin crew and develop solutions to "integrate the needs" of Emirates passengers.
Oracle has announced to open the region's first AI lab by January-end in Dubai to complement the government's focus on emerging technologies.
"The lab will show the power of the technology to customers and industry solutions relevant to the region. There's a long way to go as we currently use less than 20 percent of AI in the workspace. This (UAE) is a perfect country as we get all the support from the government," says Arun Khehar, Senior Vice-President (Applications), Oracle Eastern Central Europe, Middle East and Africa.
Saudis not far behind
Likewise, the Kingdom of Saudi Arabia is making concerted efforts to utilize artificial intelligence to give a big push to its economy. While Riyadh's decision to grant AI-powered robot Sophia citizenship created ripples, its plan to develop a robot-run utopian megacity on the shores of the Red Sea has caught the world's attention.
Touted as a $500-billion technological wonder, Neom — meaning 'new future' — will be bigger than Dubai and have a liberal international trade centre, a business hub with advanced
manufacturing, biotechnology and media industries. It will also present the finest example of machine learning, data mining and cognitive computing. Neom will have no supermarkets: automation will seamlessly deliver things directly to people's homes. Besides, a single platform will contain all information even photos, music and details of people's cars and medical information.
Interestingly, Neom envisions having more robots than humans. Crown Prince Mohammed bin Salman says the city's main robot will be named "Neom Robot Number One. Everything will have a link with artificial intelligence and IoTs."
Besides, the Ministry of Municipal and Rural Affairs launched the "application of smart city concepts" early in 2017.  As part of the plan, by 2020, five Saudi cities — Makkah Riyadh, Jeddah, Madinah and Ahsa — will be equipped with smart buildings and transport systems, smart security and safety services, parks equipped with smart communication systems, smart rain and floods drainage networks and smart economy supportive of small, medium and big companies among others.
Expanding landscape
At the first-ever Artificial Intelligence and Cognitive Computing Conference in the Middle East in Dubai in December, industry players discussed the changing digital landscape at an incredible pace. Amid this digital transformation, the focus is now on "democratization of technology". Industry experts believe with virtual and augmented reality (VR/AR) technology, AI market can grow further with maximum autonomy and access to all.
The Middle East this year will be among the first in the world to adopt 5G networks. By 2025, the MENA region will most likely have 50 million 5G connections. Various studies, including that of the WEF, have found that the tech-savvy young population (40 percent of total populace is under 25) across the region could benefit substantially from AI and virtual reality. The combined revenue for the VR and AR segments, according to International Data Corporation, is expected to hit $162 billion by 2020 globally.
AI will also drive the future of cloud computing in the region. A recent Oracle-Harvard Business Review Study shows 73 percent of businesses in the GCC consider VAT deployment from January as a tipping point to the cloud and digital transformation projects within their organizations. Nearly a third of cloud users cite the inclusion of AI as a key requirement of cloud.The cloud investments in the Middle East and Africa will continue to grow in 2018. International Data Corporation (IDC) is forecasting a year-on-year growth of 19.5 percent over 2017 for the market to reach $1.14 billion in 2018.
"Smart City and Expo 2020, Saudi Arabia Vision 2030 and Abu Dhabi Vision 2030 will push the 'cloud-first' approach in the region which will be central to future AI projects," says Megha Kumar, Research Director, IDC.
AI is already integrating into many existing industries, so the potential impact of a barrier-free global AI marketplace extends far beyond applications in tech companies. This convergence calls for a decentralized open artificial intelligence marketplace that can act as a bridge between AI developers and business users. At present, major corporations, such as Google or Facebook, sell AI packages and and there's no discoverability for AI inventors. "SingularityNET is one such blockchain-facilitated system which democratizes the AI landscape and enables small-business owners to brand managers and everybody to connect with AIs and AI developers for niche solutions," says SingularityNET CEO Ben Goertzel.
Automated future
In an ever-increasing interconnected world and platforms like SingularityNet, AI machines, interestingly, can "talk to each other" and exchange data liberally independent of humans. Scientists are now talking about "singularity", creation of artificial superintelligence by 2030 where machines can think exactly like humans. People in the region, too are not averse of this kind of AI-driven future.
According to a report by Pwc Middle East, in the healthcare sector, consumers are eager to take help of AI and robot technology if they receive speedy diagnosis and treatment. The report mentions at least 42 percent of respondents are willing to undergo complex procedures performed by a robot, compared to just 27 percent in the UK. And that's where the next biggest challenge arises. AI and robotics are reinventing the workforce and also creating fears of replacing humans in the value chain, rendering many jobs redundant. UAE Banks Federation Chairman Abdulaziz Al Ghurair says Mashreq Bank may cut as much as 10 percent of its 4,000 workforce in 2018 due to the successful implementation of AI technologies.
A key challenge in the coming years will be that of equipping today's youth with skills to be employable in the high-tech service economy. As students move into higher education, they will need to be introduced to AI as a tool for research and in the devising of innovative businesses models. As part of its national strategy to become an AI leader by 2030, the UAE's Ministry of Higher Education is introducing programs and curriculum that facilitate AI learning at an early stage.
Alef, a technology company headed up by UAE government veteran Dr Saleh Al Hashemi, has launched pioneering AI software to aid classroom learning through immersive, multilingual AI technology that encourages students to self-study school's curriculum at their own pace. It is in discussion with academic institutions to roll out its software across the GCC, Egypt and India in future.
"AI will drive our future. Technological development will create new kinds of jobs. The early adoption of AI will help the UAE deal with any challenges. Negative aspects of AI can be avoided by creating the right legislative framework, which the government is working on," says Minister of State for Artificial Intelligence Omar Sultan Al-Olama.
AI is radically changing industries and societies alike. The Middle East nations seem to be boldly embracing AI disruption and resulting challenges to witness tremendous growth across all spectrums.