KUWAIT CITY — There will be minimal impact of the US banking crisis on GCC banks and corporates as companies in the region have limited or no exposure to the concerned banks in the US, a Kuwait-based expert told TRENDS.
Junaid Ansari, Head of Investment Strategy and Research at Kamco Invest, was referring to the largest bankruptcy crisis in the United States, which had a quick and domino-like effect on world markets.
"The GCC banks' balance sheets remain solid and have a high credit rating profile. The decline in regional indices reflects shaken investor sentiment in global financial markets and the volatility of interbank rates and the uncertainty related to the bankruptcy crisis," he said.
The Arab and Gulf markets were reportedly affected due to their complex links with American and European economies and extensive investments there. However, the impact remained limited due to the diversity of Gulf investment portfolios, and the loss was concentrated in the information technology sector.
In just 48 hours, two major banks in America, Silicon Valley and Signature, collapsed, recording the largest bankruptcy in the United States since the global financial crisis 15 years ago.
Major Bank Failures in the Middle East
• Dubai Bank (2011): Dubai Bank was a commercial bank based in the UAE that focused primarily on Islamic banking. In 2011, it was taken over by the government-owned Emirates NBD after encountering financial difficulties stemming from exposure to the property market and other risky investments.
• Banque du Caire, Egypt (2011): Banque du Caire, a major commercial bank in Egypt, experienced a financial crisis in 2011 due to significant losses in its investment portfolio. The Egyptian government provided a bailout and the bank underwent substantial restructuring.
• Investment Dar (2012): Investment Dar was a Kuwait-based investment company that owned stakes in numerous businesses, including the British carmaker Aston Martin. It defaulted on a US$100 million Islamic bond in 2009, and in 2012 it was declared insolvent and began a debt restructuring process.
• Banque Tuniso-Koweitienne, Tunisia (2017): Banque Tuniso-Koweitienne (BTK), a joint venture between Kuwaiti and Tunisian investors, was taken over by the Central Bank of Tunisia in 2017 due to significant financial difficulties. The bank was later recapitalized and restructured.
• Abraaj Group (2018): Abraaj Group was a Dubai-based private equity firm that was once one of the largest and most successful in the Middle East. However, in 2018, it was accused of misusing investor funds and filed for provisional liquidation. Its collapse was one of the largest in the history of private equity.
• Lebanese Banking Crisis (2019-2020): The banking sector in Lebanon has been hit by a major crisis in recent years, with several banks facing financial difficulties due to a combination of factors including political instability, corruption, and exposure to the country's large public debt. The crisis led to widespread protests and a sharp devaluation of the Lebanese pound.
• Bank Audi (2020): Bank Audi, one of the largest banks in Lebanon, faced significant financial challenges in 2020 due to a combination of factors including exposure to the country's debt crisis and the COVID-19 pandemic. The bank was forced to undergo significant restructuring, including selling off assets and cutting jobs.
Silicon Valley Bank (SVB) was the 16th largest bank in the US, with US$ 200 billion in assets, and was a major lender to prominent startups in the technology sector in Silicon Valley, California.
According to reports, the bank's deposits more than quadrupled in four years, while its loans to emerging companies increased substantially. However, having a much larger deposit base than the loan book was a problem that needed to be solved.
The bank invested heavily in mortgage bonds and treasury bonds at very high prices, and as inflation gained momentum and bond prices dropped, interest rates increased, leaving SVB exposed and prompting customers to withdraw their deposits. SVB was forced to sell every bond in its portfolio at a loss, losing about US$1.8 billion in the process.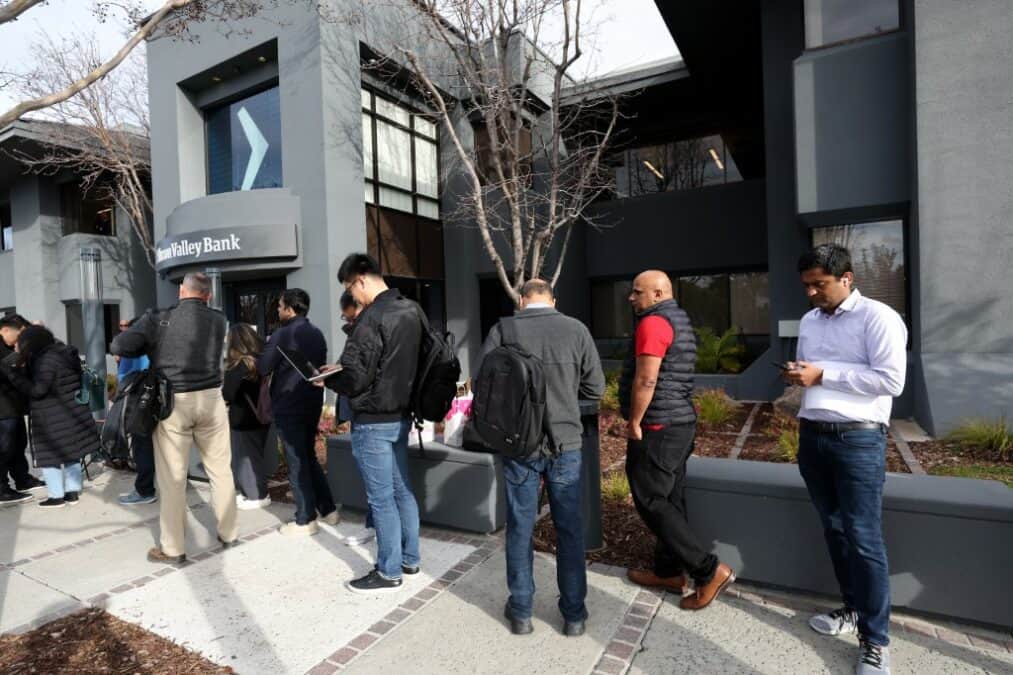 The circumstances surrounding Signature's bankruptcy were similar to SVB, with the New York State Financial Services Administration acquiring the bank on March 12, 2023. As of December 31, deposits with Signature Bank totaled approximately US$ 88.59 billion. Depositors in Signature Bank will be compensated, and taxpayers will bear no losses.
The bankruptcy crisis had serious repercussions on Middle Eastern stock markets, including those in the Arab Gulf nations, which closed lower on March 12, 2023, as a result of declining global stocks due to concerns about the collapse of the banks in Silicon Valley.
While Qatar's index fell 1.6%, the Saudi index fell 0.8%, with Al-Rajhi Bank and Retal Urban Development both experiencing a decline. However, it is expected that the economies of Arab and Gulf countries won't be significantly impacted by the crisis.
The Central Bank of Kuwait, meanwhile, has confirmed that Kuwaiti banks had very limited exposure to Silicon Valley Bank.
US President Joe Biden has vowed to hold those accountable for the failure of Silicon Valley and Signature, while assuring Americans that their deposits in those two banks are secure.