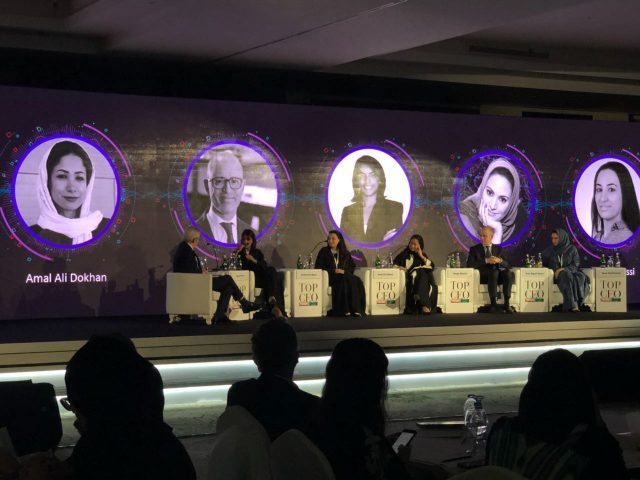 Empowering women entrepreneurs to take risks could be one of the solutions to increase their contribution to the regional economy. However, there are studies that point toward the poor participation of women in the mainstream business activities citing lack of venture capital as one of the major problems.
However, recently released Mastercard Index of Women Entrepreneurship (MIWE) 2018 report highlights the inconsistencies in Middle East and North Africa (MENA) women's business ownership patterns, which indicate that there is much that the region still needs to look into.
Arab Women Forum tackled the issue of women entrepreneurship in the region and had some high-profile delegates contemplating up on what could be done to promote entrepreneurial streak among women.
Silver lining
​Amidst low figures, there is a silver lining as the Mastercard report mentions that despite the poor performance, regional women who own a business are among the most ambitious and capable in terms of growing their businesses further.
Women are also among the most likely to internationalize their businesses: around 29 percent women in MENA are considered international, surpassing their male counterparts. Women in MENA were also found to be highly innovation-driven, being 60 percent more likely than men to offer innovative products and services.
While speaking on the issue of 'Entrepreneurs', Amal Ali Dokhan, Director, The Babson Global Center for Entrepreneurship Leadership, emphasized up on the societal change to bring positive changes.
"Besides various other efforts, we need to educate the society as well. We need to educate them to accept women as entrepreneurs and as leading business-women," said Dokhan.
The ongoing first edition of the Arab Women Forum, at King Abdullah Economic City (KAEC) in Jeddah, is organized by Mediaquest Corp and this is part of the two-day Top CEO Conference & Awards (April 10 and 11).
High hopes
In this regional drive toward women empowerment, Saudi Arabia has taken an apparent lead. Last few months have seen many major announcements inclined toward women empowerment in the Kingdom.
Amr M. Khashoggi, Chief Executive Officer, Omar K. Alesayi & Co. Ltd, told TRENDS, "This (ongoing) is by far the biggest drive in our transformation. Many  Saudi women have been appointed in leadership places whether heading banks or stock exchange or Government agencies or ministries (deputy ministerial level)."
"Women will be able to drive come June, encouraging more women into the work force. And they have already created specific women-driven businesses such as driving schools, training in car mechanics, purchase of cars, etc. The Government is pushing initiatives to equalize pay between men and women. This will attract more women to work," he added.
Dr. Maliha Hashmi, Executive Director of Strategic Partnerships at Neom Project, Public Investment Fund in Riyadh, commented: "There has never been a more exciting time for women empowerment in the region. There have been landmark announcements over the last few months in KSA, including lifting the ban on women driving, removing the requirement for women to have a male guardian to register a business, and encouraging more women to join the workforce."
Startling facts
The Mastercard report also stated that although Ghana and Uganda have high proportions of women business owners, the reverse is observed in Saudi Arabia, UAE, Egypt, Iran, Algeria, Ethiopia, Malawi and Tunisia (less than 10 percent women business ownership share with Saudi Arabia posting the lowest of 1.4 percent).
The findings also highlight that women entrepreneurship in the wealthy economies of Saudi Arabia and UAE continued to underperform last year (2017) due to various reasons. Also, Middle East countries have some of the lowest established business owners among women (less than 10 percent) and the widest gender gap in this indicator. A key constraint in developing the private sector and women entrepreneurs in the region remains the difficult access to credit.