The authorized general distributor for Mercedes-Benz in Abu Dhabi, Emirates Motor Company (EMC) has appointed Mohammad Ghazi Al Momani as its new General Manager.
Momani possesses experience of 20 years in motoring and a degree from the University of Technology in Baghdad, Iraq, local reports have said.
He specializes in strategic planning, marketing, sales, after-sales and operations, along with extensive knowledge of the Middle East's automotive landscape, said the reports.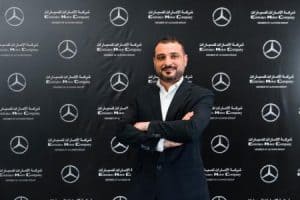 Momani will manage the overall performance of Mercedes-Benz at EMC.
Chairman of Al Fahim Group Ahmed Abdul Jalil Al Fahim said: "His vast knowledge of the automotive industry in the region will be an exceptional addition to the team."
He noted that Momani was a key member of the Al Fahim Group having successfully re-launched several businesses in the UAE incl Abu Dhabi, Dubai and Al Dhafra region.
"I would like to thank Al Fahim for this opportunity. I look forward to helping promote the Mercedes-Benz brand in Abu Dhabi and inspire our customers with the latest products, technology and more," said Momani.