DUBAI, UAE — E-gaming is as popular as any other sports across the Gulf Arab region and is definitely on the rise, bearing in mind that the biggest GCC economies — Saudi Arabia and the UAE — belong to the group of the most digitized countries of the world.
From a growth perspective, the UAE and Saudi Arabia currently stand out as markets to watch. This is because both have hosted e-Sports tournaments.
While the UAE has a strong reputation for developing and setting best practices and infrastructure for tournaments of all descriptions, Saudi Arabia has a large population, and its government is now also showing interest in e-sports through the Saudi Arabian Federation for Electronic and Intellectual Sports (SAFEIS).
According to California-based market research and consulting firm Niko Partners, the gaming market across Saudi Arabia, the UAE, and Egypt is expected to be worth $3.14bn by 2025.
By 2025, the GCC will contribute roughly 1.5% of the income generated by the global gaming sector. With an expected $837 million in gaming revenue in 2019, Saudi Arabia is ranked 19th internationally. From 2019 to 2025, the industry is anticipated to grow at a CAGR of 22.5%.
Many factors contribute to making the region of growth potential for e-Sports, including a relatively young population, good access to technology, high levels of engagement with social media, connection by a common language, suitability for indoor events, and the presence of a solid base of interested and engaged core sponsors.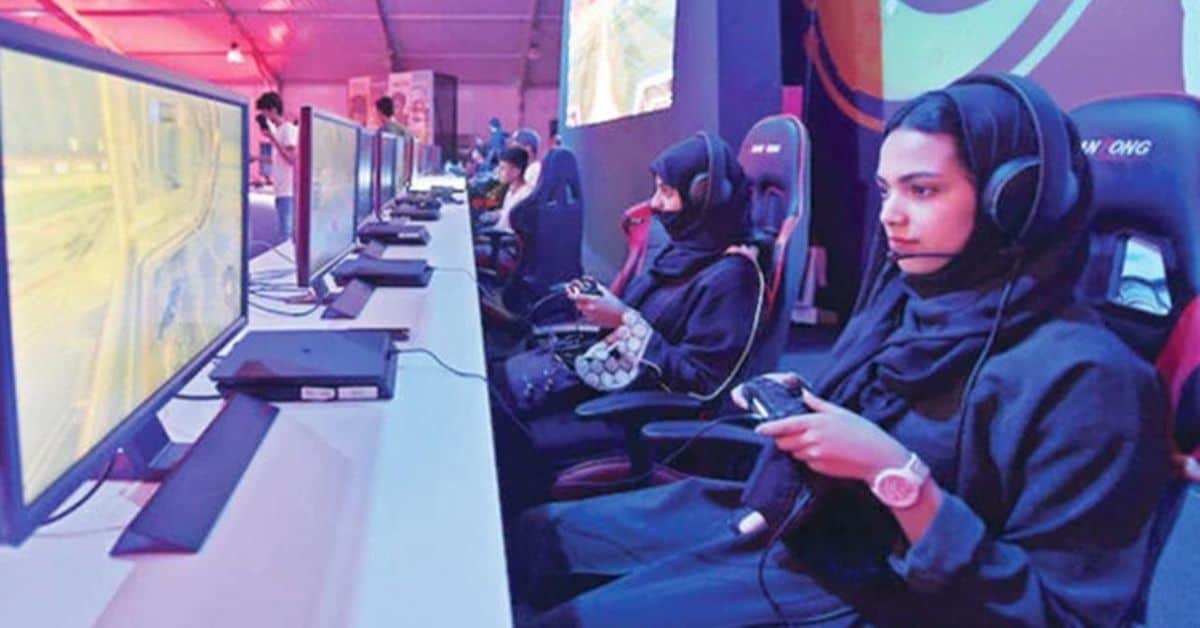 "Sixty percent of the population in both the UAE and Saudi Arabia are younger than 30 years which translates into ample potential for electronic gaming," says Karl Blomsterwall, CEO of PlanetIX, an NFT-based strategy and play-to-earn game to TRENDS.
Blomsterwall added that the growth of this sector is due to the open nature of the GCC economies, which means that players from everywhere can set up their branches in the oil-rich countries and start producing e-gaming versions tailored to the needs of Generation Z and Millennials, as well as cultural sensitivities.
Preferred e-games
Blomsterwall claims that the most popular types of e-games in the GCC are first-person shooter games, sports games, and mobile games. These games are popular with players of all ages and provide a variety of gameplay options, ranging from single-player campaigns to multiplayer modes.
First-person shooter games, such as Call of Duty and Battlefield, are extremely popular among GCC players. These games offer fast-paced, adrenaline-pumping action and a wide range of weapons and equipment to use.
Moreover, sports games, such as FIFA and NBA 2K, are also very popular among GCC players. These games offer realistic sports simulations, allowing players to take control of their favorite teams and compete against others.
New trends
There are several new trends in the e-gaming industry, according to Blomsterwall. These trends demonstrate the e-gaming industry is constantly evolving and changing, and new technologies and business models are emerging all the time. As technology advances, we will see the following innovations and types of games:
– Cloud gaming: Cloud gaming allows players to stream games on their devices without needing powerful hardware or a high-speed internet connection. This technology is becoming increasingly popular and is expected to change the way we play games in the future.
– Virtual Reality and Augmented Reality: These technologies are becoming more accessible and integrated into more games, allowing players to fully immerse themselves in a game's environment.
Sixty percent of the population in both the UAE and Saudi Arabia are younger than 30 years which translates into ample potential for electronic gaming

Karl Blomsterwall, CEO of PlanetIX
– Esports: Competitive gaming is becoming more popular and is being recognized as a legitimate form of sports. Many games now have official esports leagues and tournaments, and there are even schools and universities that offer scholarships for esports players.
– Mobile Gaming: The mobile gaming market is growing rapidly, and it's expected to generate more revenue than console and PC gaming combined. The increasing popularity of mobile games is also pushing the development of more advanced mobile hardware.
– Game Streaming: Game streaming platforms such as Twitch and YouTube gaming have revolutionized the way people consume and interact with gaming content. It's now possible for people to watch live streams of other players playing games and interact with the streamers through chat.
– In-game Monetization: In-game purchases and microtransactions have become more prevalent, allowing players to purchase items or currency in a game to enhance their gameplay experience.
– Artificial Intelligence: Artificial intelligence is being used in more and more games to create more intelligent and responsive NPCs (non-player characters) and to improve the overall gaming experience.
Requirements
Despite that, the regulatory and infrastructure developments will be key drivers in establishing a global base for e-Sports in the region; however, the region definitely has to acquire more talent from across the globe.
"We have seen some expats who left the Gulf during the pandemic returning to their old "homes," but still have huge potential to fill an ample number of jobs in relation to programmers, designers, game testers, community managers, social media managers, and designers" Blomsterwall mentioned.
He went on to say that regarding the regulatory viewpoint, the government's expressed support can be used to create a framework that encourages development rather than stifles it while collaborating with industry stakeholders and advisors. This would address the relative lack of rules compared to more traditional sports.
Moreover, Tax is a potential barrier to the growth of e-sports in the area, but it is by no means a singular problem. For example, the GCC nations are currently implementing VAT; therefore, consumers who buy online material may be required to pay VAT. Also, telecommunications could present another difficulty. Thus, review methods should be designed to reduce annoyance in the transmission of internet information between different jurisdictions because governments throughout the area are cautious in protecting public morals from unsuitable content and are security conscious.