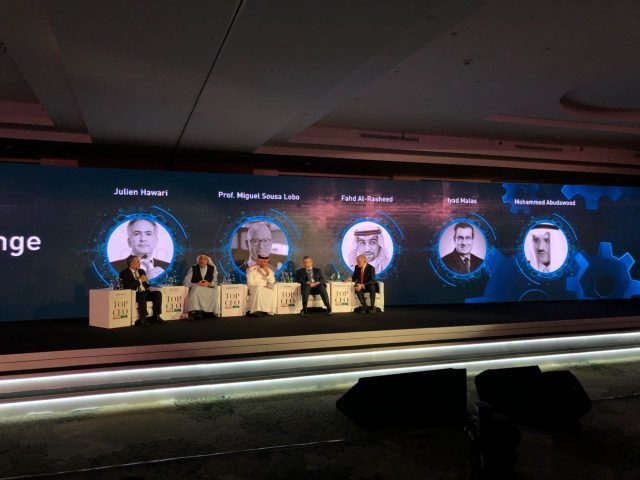 Restructuring businesses in the Gulf and the Middle East has always been a challenge. It was, however, only in 2015 that transformation in the corporate culture started as managements were empowered by their shareholders to achieve the desired efficiencies and return businesses to profitability.
Working in this direction, issue of 'Lean & Mean', focusing on restructuring of businesses, was tackled at the ongoing Top CEO Conference here at King Abdullah Economic City, Jeddah, Saudi Arabia, on Wednesday.
"Yes, doing business and restructuring it has always been a challenge because of the heavy opposition by government agencies and the bureaucracy – through more by an act if omission. Now with Vision 2030 and an energetic Crown Prince Mohammad Bin Salman who is keen to promote the young men and women we hope to see better results. But there is still a long way to go," Khaled Almaeena, Managing Partner, Quartz-Communication Company, told TRENDS.
Huge challenge
Despite various ongoing efforts, as far as restructuring businesses in the region is concerned, it still remains a challenge as many firms are yet to get going. Earlier, with excess staff, but limited leeway for management to cut their numbers, and unproductive relations or deals that shouldn't be looked into, efficiencies were not the priority, but consensus was to be looked for. But the change is in the air.
However, young leadership of Saudi Arabia is keen to bring in positive changes through constructive restructuring.
"We need to find sustainable ways of how to empower the private sector. And we need to find new sectors of growth and capitalize on them. For example, entertainment sector… there are significant economic opportunities and job creation capacity available in this sectors. We really need to go big on such unconventional sectors," said Fahd Al-Rasheed, Group CEO of KAEC, during his speech at Top CEO conference.
Going cautious
The era of abundance, high profitability and unbridled expansions is behind us.
Added pressure from slower market growth and rising foreign competition is leading to declining margins and slower revenue growth for companies in the Middle East. The "new normal" calls for fiscal prudence, restructuring of businesses and operations, in some cases cutting down as well, to absorb the shock waves resulting from economic slowdown and market volatility.
Many GCC corporations have realized the changing scenario and are adapting to the shifting environment by way of restructuring. Deloitte's "Global Outsourcing Survey" has found that 57 percent of organizations prefer the path of restructuring and have taken robot-driven end-to-end solutions. An IBM research reveals that 27 percent of companies are outsourcing to cut costs and 36 percent use outsourcing to innovate. 
Top CEO Awards & Conference
In its fourth edition, Top CEO Conference & Awards offered an exceptional opportunity to network, brainstorm and exchange of tangible ideas. This two-day conference was started on Tuesday with the first edition of Arab Women Forum.
Various burning issues ranging from 'The Execution Challenge', 'Bureaucracy', 'The Private Sector' and 'Maintaining Momentum', were taken up during the Top CEO Conference & Awards.