Russian President Vladimir Putin and Arab political leaders stressed on the importance of strengthening relations in various fields including technology, food security and energy.
Delegates from 141 countries, including entrepreneurs, investors and politicians, attended the Saint Petersburg International Economic Forum 2022.
Grain and fertilizer exports to Africa and the Middle East will be increased, said Russian President Vladimir Putin. He has accused the United States of 'hunting' food in global markets by printing money.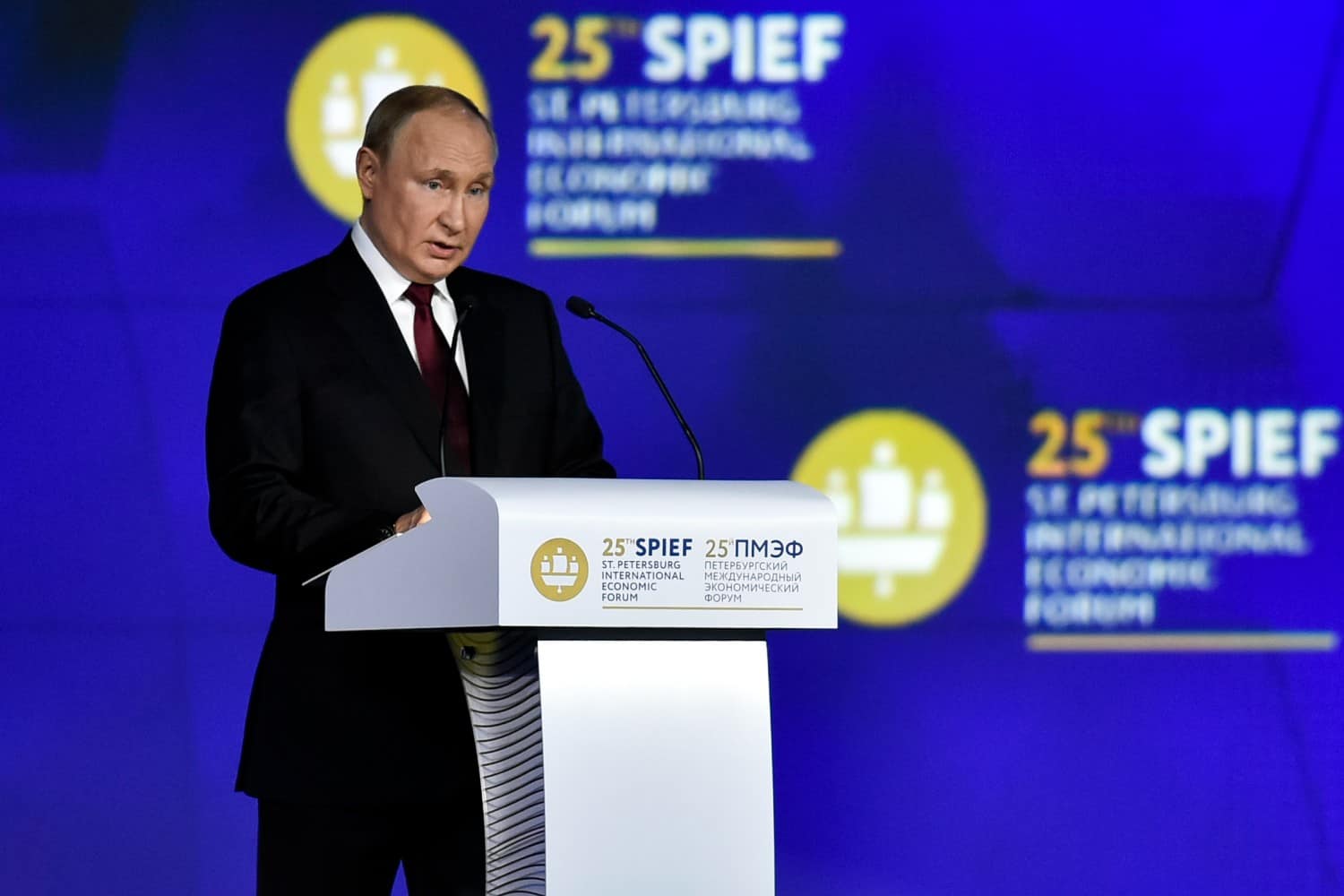 Putin criticized the West for imposing unprecedented sanctions on Russia. He referred to the unparalleled freeze of about US$ 300 billion in Russia's foreign exchange reserves as 'suicide' by saying that some currencies worldwide are doing so.
Local firms, including large oil and energy firms, have stepped in to replace those that left Russia because of the special military operation in Ukraine.
Asset sales by McDonald's, Renault, and Enel resulted in losses of hundreds of millions of dollars for the companies involved.
Putin mentioned several numbers and figures about the global economic status and Russia's ambitions. He said, "Pessimistic forecasts about the Russian economy in early spring did not materialize, including the dollar reaching 200 rubles".
One US$ reached over 100 rubles at the beginning of the special military operation in Ukraine, but it has fallen to less than 60 rubles now, which is better than the levels before the operation, he said
"Some Eurozone countries have seen inflation rise above 20 percent," the Russian President said. "The Russian budget will have a 3 trillion ruble surplus in 2022 (US$ 51.7 billion). The country is aiming for a 4 percent inflation rate," he added.
Putin's speech at the forum was postponed from 2 pm (Moscow time to 3 pm) because of a cyber attack on the forum's network.
According to last year's statistics, over 4,000 Russian companies are in various sectors in the UAE, accounting for roughly 90 percent of total Russian investments in the Arab world.
The Russian buyers market jumped to fifth place among the foreign nationalities most in-demand in the real estate sector in the Emirates. It is expected that Russian investments will double in the real estate sector.
Although the West imposed sanctions on Russia due to the special military operation in Ukraine, the UAE maintains strong economic relations with Russia.
The organizers of the St Petersburg International Economic Forum signed an agreement that the UAE will be invited to participate as a guest of honor in the 2023 event.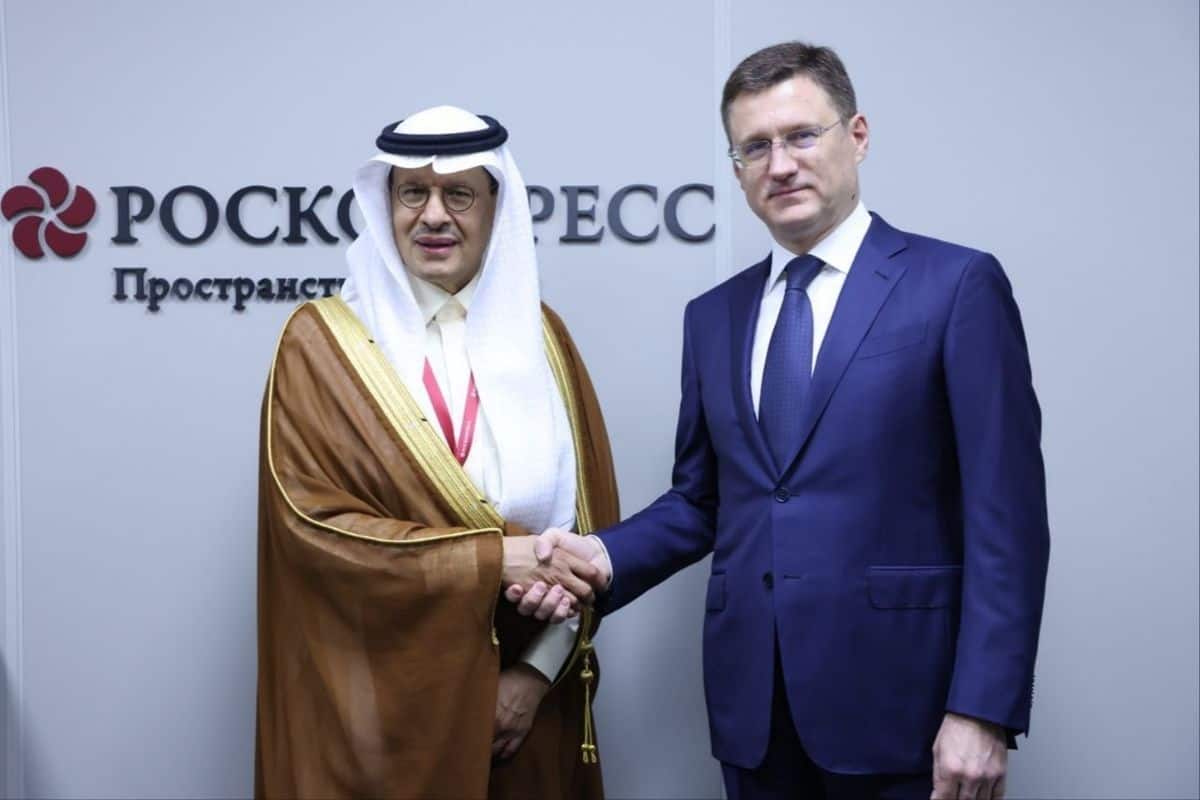 According to Russian deputy prime minister Alexander Novak, Moscow and Riyadh have agreed to hold their intergovernmental commission meeting in the second half of 2022.
Novak discussed the global oil market and bilateral relations between Russia and the Kingdom of Saudi Arabia on Thursday with Saudi Energy Minister Prince Abdulaziz bin Salman.
They also talked about achieving stability in the oil market through cooperation and other measures. Western countries have restricted Russian crude oil exports.
On the current agreement (OPEC +), Novak said the two countries would continue to work together to maintain market balance.
Egyptian President Abdel Fattah el Sisi said at the forum, "We have ambitious and large projects with Russia." He said, "Egypt has achieved economic growth despite challenges and we seek to implement a long-term strategic plan."
The construction of a nuclear power plant at El Dabaa and the expansion of the railway network are both critical components of Egypt's cooperation with Russia.
El-Sisi said Russia is an essential partner for Egypt in various fields, including food supplies.
Egyptian products, in high demand in Russia, were the star attraction at the forum.
Egypt's trade and industry minister Nevin Gamea heads this year's delegation which includes officials and businesspeople who hope to strengthen trade ties with Russian businesses.
The forum, also known as the 'Russian Davos', is celebrating its 25th anniversary this year.
In the forum Russian private company 'Sputnix' displayed a model of one of its most prominent satellites. The Russian-built Orbicraft-Zorkiy satellite for Earth observation is in orbit around the planet.
Attendees were also treated to a wide range of entertainment and educational opportunities. These included a 'Dunyasha' robot that served coffee.
The forum also included various options like musical performances, educational lectures and innovative panels.
This year, Egypt participates as a special guest of honor, following Qatar's participation as a large delegation in the 2021 edition of the forum, which included officials and businessmen.
After COVID-19's outbreak in 2020, the forum became the world's first and largest face-to-face trade event. Over 13 thousand people from 141 countries attended the event last year.