The TOP CEO Conference 2022 kicked off on Tuesday amid the presence of top professionals and leaders from the region. The first day of the two-day event is dedicated to the Arab Women Forum.
Welcoming the audience, CEO of Special Edition Julien Hawari expressed his condolences on the passing of the President of the UAE Sheikh Khalifa bin Zayed Al Nahyan.
The first day of the conference is dedicated to women under the "Arab Women Forum," where on-record and off-record conversations will be hosted to explore regional and global business dynamics with a strong focus on women's empowerment. 
"We live in a fascinating time and place," Hawari said during his speech. "There has been a tremendous rise in women's roles in various industries, particularly business and technology."
Ambassador of Saudi Arabia in Washington, Princess Reema bint Bandar Al Saud spoke about Saudi Arabia's plans for economic diversification, environmental sustainability, and gender diversity in light of the post-pandemic business scenarios.
"In Saudi Arabia, I didn't only see the change, I've lived it," Princess Reema said. " More women are attending college than men and have degrees: that's progress and transformation and the reset but it's just the beginning."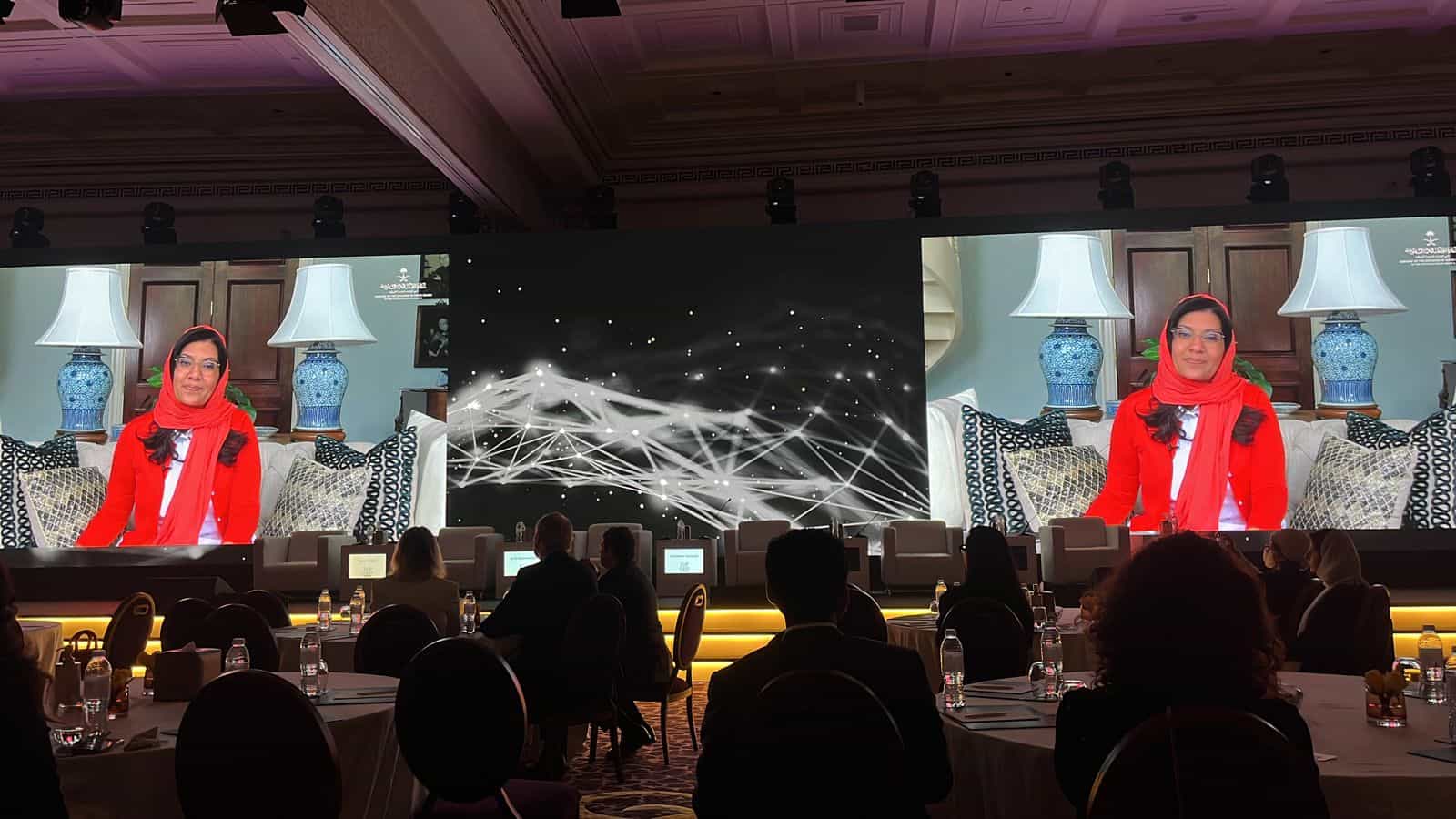 Panel 1: Storytellers from the War Front
The first panel at Top CEO Conference titled "Storytellers from the War Front" featured Noor Nugali, Assistant Editor in Chief at Arab News, Arizh Mukhammed, Reporter at Skynews and Christiane Baissary, Senior News Anchor at Alhadath.
Mukhammed admitted that it's not easy to cover war especially for women.  "But we are facing this with courage; yes, we feel fear, but we face these challenges and report all points of views," she said. "Reporters should be objective and show the real picture".
Mukhammed thinks that women war journalists can deal better with humanitarian conflicts including refugees, and injured people. "Women can touch feelings," she added. 
Baissary said that women are taking challenging roles like war reporting  and they have proved that they could do it. 
"More chances are given to women," she added. "There are challenges but we overcome them and work to  bring about transparency to what we do".
Panel 2: When Women Fight Back
Tom Urquhat, Presenter at Dubai moderated this panel and discussed with the docu-drama "Tinder Swindler" stars, Cecilie Fjellhøy, founder of Action:Reaction Foundation and Pernilla Sjoholm, Swedish public personality the effect of fraud on them and the importance of education and knowledge to fight it.
Fjellhøy believes that support is very important to connect with others to feel better and and help you figure out what to do, especially when you go through bad moments like fraud. She explained: "We need to be more educated to know what to do when swindled".
Moreover, Sjoholm said: "We took our story all the way when everyone refused to listen to us or show us support". She added that they are still fighting and will not give up.
"If you don't take any criticism that means that you didn't do a good job," Sjoholm said.
Panel 3: A New Beginning: Work 2.0
Moderator Kamal Dimachkie, Partner & COO at TOUGHLOVE Advisors, discussed challenges that women faced during the pandemic, and how women's recruitment in business jobs was increasing.
"Obviously, there is a focus on diversity and inclusion, but the pandemic has slowed that growth in the region. Women have  had to leave their jobs to take other responsibilities," the panelist Christine Harb, Global Brand Council at VISA, said. "Yet, the region is witnessing a rise in recruiting women and more knowledge sharing between companies to make sure women are supported throughout their career." 
Another panelist, Elham Mahfouz, CEO at Commercial Bank of Kuwait, said that women today had the potential to adapt. She urged them to become more flexible in their careers. However, she admitted that there is a lack of women participation in the board management positions.
Founder of Novonda Jean-Pierre Calvez said the research proved that diversity and women inclusion in business helped it grow. "Let women dream with a purpose," he said. "Aggressive goals must be set, like 50-60% of board members should be women, to reach the required development of the society".
Lack of engagement, mental illness and isolation are the negative results  of technology, Marketa Simkova, Partner at KPMG, said. "That's why we should be cautious. Employees must always communicate with one another to overcome struggles".
Samia El Kadiri,  Advisor and head of Research Governance and Compliance at Hawkamah, said that gender diversity was not a new topic, but following the pandemic, gender balance had become a goal for many organizations. Gender equality, El Kadiri added, can be effective as a first step in the region.  
"Companies can promote women's enrollment in the middle management positions and train them into taking leadership positions," she added..
Panel 4: Arab Women's Image
Moderator, Mathew Miller,  Senior Managing Director at Teneo, discussed opportunities and problems in the Arab region with speakers Khalid Abdulla Janahi, Chairman at Vision 3, May Nasrallah, Founder  and Executive Chairman at deNovo Corporate Advisors, and Suzy Kanoo, CEO and President at Khalil bin Ebrahim Kanoo Company and International Motor Trading Agency.
Kanoo and Nasrallah dwelt on challenges that women need to overcome to be more involved in the business world in the Arab countries and Janahi argued that women faced challenges across the world and not just in Arab countries. 
"What we need is equal opportunities for everyone," he said. 
Nasrallah contended that the main challenge for Arab women was the fear of failure. 
"Men are a lot better than us in adaptability in failing and rising again," she said while expressing hope that women would rise to corporate leadership positions in future. At the end, she had a simple advice: "Treat boys and girls the same, don't stereotype."
The Top CEO Conference is an open discussion among thought leaders, executives, and senior government officials. Its purpose is to bring global issues into a regional context, helping executives and leaders look at the possible impact of such concerns and consider the best strategies to take their organizations forward while taking advantage of the incoming transformations.
Panel 5: It's Fake News
Faisal Abbas, Editor in Chief of Arab News, said that fake news did not emerge with the introduction of social media; it has existed since the beginning of humanity. The only difference today is  production of broadband and social media. He also mentioned that false information has risen due to the speed of internet and the availability of tools in everyone's hands.
Khaled Janahi, Chairman of Vision 3, said that social media has aided in the spread of fake during the past decade. He recommended that checking should include all facts, rather than fake news only. It's not easy, but that's what it should be, he added. The positive side of social media, Janahi said, was that it has made "everything live and on the spot".
Speaking at the session, Hussein Freijeh General Manager, Snap Inc. for MENA, said that Snapchat works with regional cultural dynamics in terms of security and content, and that Snapchat is considered as a useful tool for content creators.
Three main principles were kept in mind, he said, during the creation of Snapchat, which are cover product design, high-level privacy, and curated component and human interference allowing screening of fake news and misinformation. Freijeh stressed that balancing policies and design is very important.
Rachel Wolbers, head of global engagement at Meta, said that Meta and Facebook were making numerous efforts to detect fake news. Detecting misinformation is a difficult process and a concern for Facebook, especially when it involves several languages.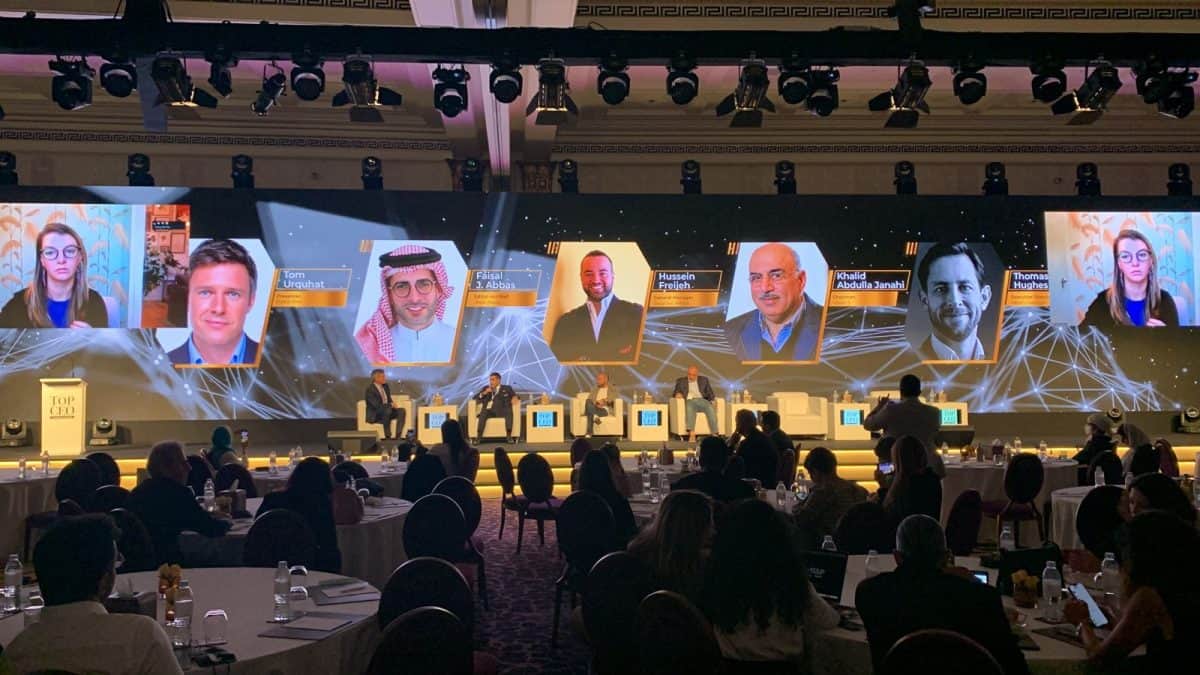 Panel 6: The Management Bottlenecks
"The Management Bottlenecks" Panel at the TOP CEO Conference 2022 included discussions about entrepreneurs and technology.
Entrepreneurs must embrace failure and hire people who are more intelligent than them, said a panelist in off-the-record session. Another panelist believes that most Arabs don't trust the system, not the skills. Yet, trust comes with time and needs many transformations.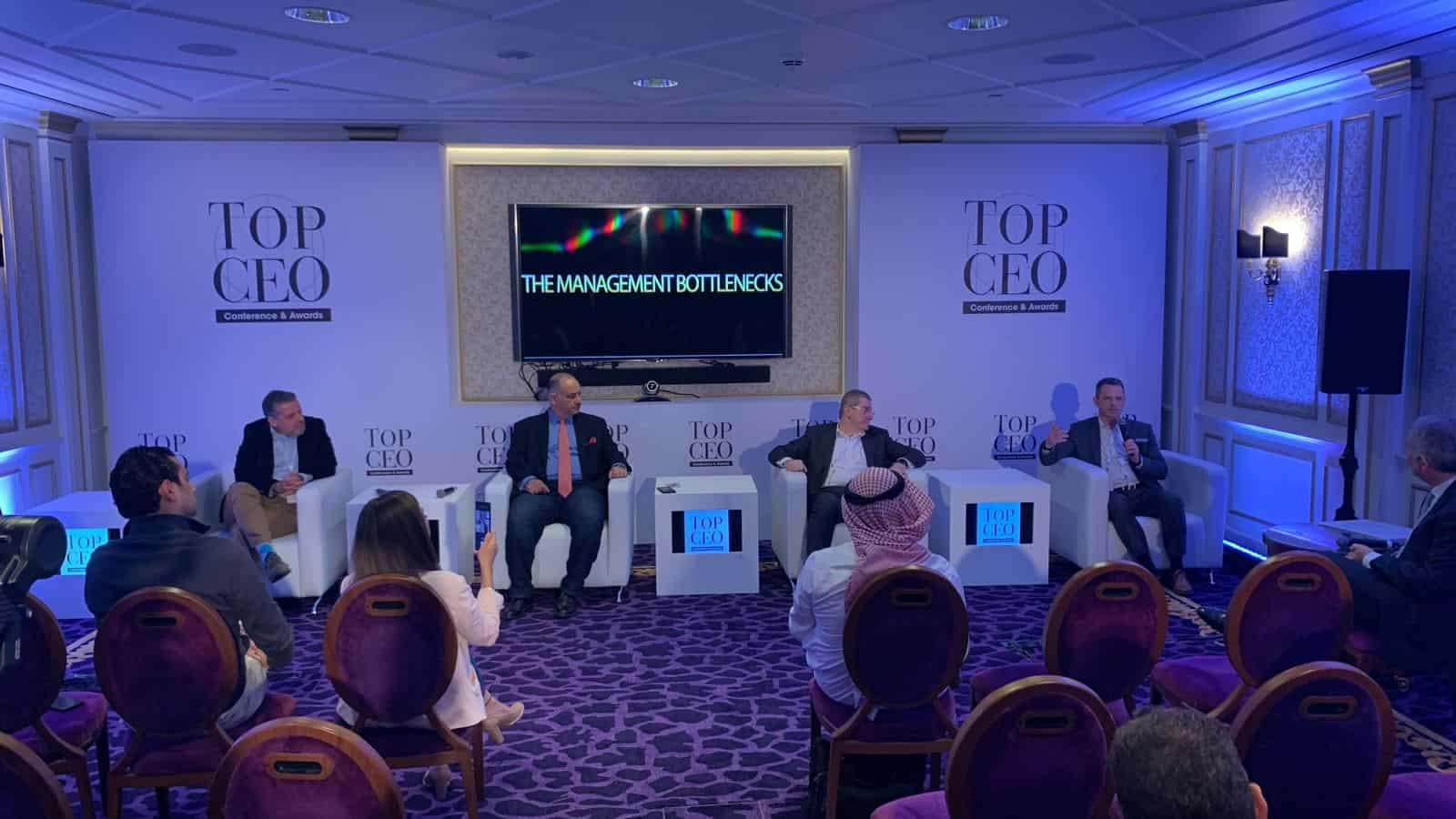 This sessions was aimed at addressing the question: "How should companies reinvent themselves to create a more decentralized approach, with more delegated authority and accountability?"
Panel 7 : The Workplace of Tomorrow
Experts on this panel agreed that technology has radically impacted the future of the workplace, since it has created new professions and jobs that did not exist earlier.
They also said how the pandemic has changed the way we work because people are now working from home and from other countries and they are successful, despite the lack of human touch and interactivity.
One of the speakers stated that working from home is more productive and easier, as well as healthier for working women, even though some people had to work 24 hours a day.
Experts also stated that the pandemic and its aftermath have affected the working women the most.
They also agreed that jobs and priorities for innovation and well-being will be considerably different from in the past and the hybrid work model will become the norm in workplaces, a phenomenon that is already being witnessed in the UAE and around the world.
Workplace well-being will be prioritized, and many firms will adopt it. It will become the core of workplaces, and inclusive workplaces will be a necessity.
Panel 8: Women in Tech
The panel discussed how GCC governments are pushing women's enrollment in technology.
The speakers called for hiring women in leadership positions while also taking into consideration that they have a role as mothers, especially in the first two years after giving birth.