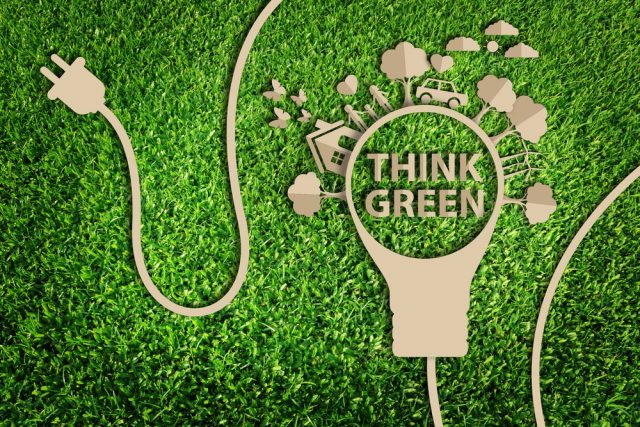 A massive economic diversification exercise is underway in the Middle East to gradually end dependency on fossil fuels for a sustainable future. One sector that has immensely benefited from the exercise is that of renewable energy. Over the years, it has not only emerged as a reliable and viable means to replace conventional energy sources, but also as a profitable sector and real contributor to the regional economy.
Burgeoning population, rapid industrialization and urbanization mean a never-ending insatiable demand for energy. According to the International Renewable Energy Agency (IRENA), Gulf Cooperation Council (GCC) countries' electricity consumption is growing at almost eight percent a year and expected to reach 856 terawatt hours (TWh) by 2020, requiring additional 100 GW over the course of the next decade or so. Even though GCC countries have an easy option of power generation through cost-effective fossil fuels, which are available in abundance, there is a paradigm shift toward cleaner sources of energy.
Gulf countries signed Kyoto Protocal, a UN framework on binding carbon emission reduction targets, and the Paris agreement, which calls for bringing the average global temperature below two-degree Celsius to pre-industrial levels. All GCC countries have incorporated "green growth" strategy in their national plans and visions.
In the hindsight, this has resulted in freeing up more oil for export, significant savings for economy and creation of a massive renewable infrastructure. The GCC Power Overview 2016 estimates that GCC countries could save up to three billion barrels of oil, which translates to around $200 billion, and cut up to one gigatonne of carbon emissions by 2030 just by achieving their respective renewable energy plans.
"The Gulf region is richly endowed with renewable resources as it is with hydrocarbons. The region boasts of abundant year-round sunshine, the space to develop large solar power plants and significant wind and geothermal resources. There is no better time to pursue clean energy than now when the industry is experiencing significant growth worldwide," says Nidal Abou Zaki, Managing Director, Orient Planet Group, a leading marketing communications agency.
(Sun)Lightning growth
With improvement in technology, declining cost of production, increased interest of the private sector and stronger government commitments, the renewable energy sector is expanding exponentially. From mere 20 GW in 2010, the renewable energy production rose to whopping 620 GW in 2015; still it accounted for less than one percent of the total power generated in the region. The solar power sector is currently having a dream run, attracting nearly 90 percent of green project investments in the region.
As per IRENA, the region's daily solar installation average of 6.5 KWh/m² is one of the highest in the world. The Middle East Solar Outlook Report 2017 states that 2016 was a record-breaking year as nearly 700 MW of solar capacity was made operational in the region. For the past two years, about 200 MW is being added to the installed base annually.
Sun is literally shining on the Middle East region with an estimated 60 percent of the land area offering excellent conditions for photovoltaic (PV) and concentrated solar power (CSP) generation. The UAE, which has a national strategy to attain 50 percent clean energy by 2050, is leading by example. The Dubai Clean Energy Strategy 2050 aims at 75 percent clean energy and reduction in CO2 emissions by 70 percent. In September, the world's largest CSP project to generate 700 MW of clean energy was launched at Mohammad Bin Rashid Al Maktoum Solar Park, Dubai. The park's 200-MW Phase-II came online in early 2017 and the 800-MW Phase-III was awarded to a consortium to make it functional by 2020. The solar park has a planned capacity of five GW by 2030. Dubai Electricity and Water Authority (DEWA) says the project will achieve the lowest price of energy at 7.3 US cents per kWh.
Abu Dhabi's 1.18-GW Sweihan PV project will become the world's largest PV solar site once it's operational in 2019. It will sell power for a record-setting low price of 2.42 US cents per kWh. The unbelievable price was achieved as the auction worked on a model to pay power generators more during peak demands.
Saudi Arabia also recently opened bids for its 3-GW PV solar plant, which is planned to be operational by 2019. Interestingly, Abu Dhabi's renewable energy player Masdar and Electricite de France SA bade to supply power for 1.79 US cents, which, if awarded, would be the region's lowest cost of power. Saudi Arabia has set a target of 3.45GW of renewable energy by 2020 and 9.5GW by 2023. It has charted a $50-billion program to develop 30 solar and wind projects over the next decade. It is also moving towards the construction of its first utility-scale 400-MW wind power project at Dumat Al Jandal. The kingdom's $500-billion futuristic city, Neom, will solely be run by solar and wind power.
Similarly, Kuwait's 2-GW Shagaya Renewable Energy Park and 2.8-GW Al-Abdaliyah's Integrated Solar Combined Cycle 280 MW are under construction. Tenders will soon be issued for another $1.2 billion Dibdibah solar power plant. Egypt has issued request for 6-GW PV solar plant. In October 2017, it closed finance for a 400-MW solar portfolio. In September, it received $210 million in debt financing from the Asian Infrastructure Investment Bank for 490-MW solar plant.
"There's a lot of excitement surrounding the solar industry in the region. While there's great demand for rooftop and off-grid solar solutions, it seems the next 'big thing' will probably be the implementation of building integrated photovoltaics (BIPV) solutions in the GCC," says Nik Holley, Product Development Manager, S-5!, a rooftop solar company.
Shams Dubai initiative requires to install solar panels on the roofs of all buildings in Dubai by 2030. Oman too is aiming at solar panels on homes and buildings to generate sustainable and clean energy. According to the European Union-GCC Clean Energy Technology Network, global solar PV installed capacity (for rooftop and other markets) surged from 99 GW in 2010 to 303 GW in 2016.
Nuclear power
The UAE and Saudi Arabia have also announced major nuclear power initiatives. The Emirates aims at meeting a quarter of the electricity needs from Barakah nuclear power plant, which is being built with the help of South Korea. One of the four reactors will be running in 2018, while all four are scheduled for completion in 2020 and will save up to 12 million tons in carbon emissions every year.
Saudi Arabia has set a target of generating six to seven GW from nuclear power by 2032 and 17 GW by 2040. Riyadh plans to build 16 nuclear reactors by 2030 and is expected to sign two new nuclear reactor contracts by the end of 2018. Egypt has also entered the field after signing with Russia to build North Africa's largest nuclear power plant.
Besides, waste-to-energy (WTE) projects, fairly new to the region, promises to make significant contribution. Coming up in Sharjah, the region's first WTE facility will treat more than 300,000 tons of solid waste each year to produce 30 MW. Dubai Municipality, too, is building a multi-billion WTE facility, touted to be the largest in the Middle East, to reduce landfill waste by 75 percent over the next five years and start creating 60 MW by second quarter of 2020. The UAE's Ministry of Climate Change and Environment has engaged leading players for more such facilities in Ras Al Khaimah and Fujairah.
According to the World Bank, the solid waste produced in urban areas in the GCC will increase by 95 percent to reach 82,600 tons per day. WTE initiatives can convert almost 90 percent of this waste into energy.
"In the UAE alone, every year five million tonnes of solid waste could be processed through WTE solutions to produce 500 MW. The potential for WTE in the region is huge," says Bader Al Lamki, Executive Director (Clean Energy) Masdar.
Green finance
Augmenting power production and diversifying into renewable sources call for massive development of infrastructure and investment. According to a report by MEED titled 'Renewable Energy in the Mena Region 2017,' an estimated $200 billion worth of investment is needed in region in coming years to meet the increasing demand for power.
Green bonds, which fund environment friendly businesses and assets, have emerged as the most preferred financing tools for the clean energy sector. Issuance of green bonds doubled to $82.6 billion in 2016 from 2015 levels. In the Middle East, National Bank of Abu Dhabi issued the region's first-ever green bond of $587 million for five years in March 2017.
The UAE requires an investment of $163.3 billion over the next 33 years, equivalent to an annual spend of more than $4.6 billion, for integration of renewable, nuclear and clean fossil energy. Dubai Green Fund worth $27 billion provides easy loans for investors in the clean energy sector at low interest rates. The World Bank has also stepped up its contribution. Under the MENA Climate Action Plan, the bank aims to double its financing in the region, around $1.5 billion per year by 2020 for encouraging private investments in renewable energy. Green finance will continue to grow and drive the regional economy's transition to a greener future.
Future outlook
The increasing role of alternative sources of energy in the MENA region has resulted in creation of a parallel green economy and massive employment opportunities. Industry-friendly regulatory policies, clean energy programs and innovative finance have created an ecosystem for the long-term success of green and clean energy sector.
In November, experts at the Global Solar Leaders' Summit, Dubai, were of the view that the regional renewable energy sector would employ 210,000 people by 2030, with approximately 85 percent of jobs coming from the solar power segment. The prospects are bright for the region as, energy experts believe, there's a great potential to export electricity generated from solar power in the future.