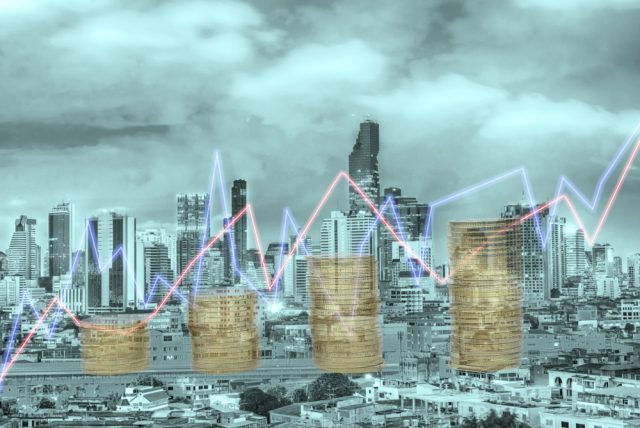 Steadfast on the path of economic diversification and structural reforms, countries in the Middle East and North Africa (MENA) seem to have finally found the equilibrium to adjust to the "new reality" of lower oil prices. This is reflected in the just released outlook for the region in 2018 by various international organizations and analysts.
As per the International Monetary Fund (IMF), the overall growth in the Gulf Cooperation Council (GCC) is projected to bottom out at about 0.5 percent in 2017, whereas its non-oil growth will pick up to 2.6 percent in 2018. The Emirates NBD Research forecasts the UAE economy to expand 3.4 percent from 2.2 percent in 2017; Saudi Arabia 2.5 percent, Oman and Bahrain nearly 2.4, and Kuwait 2.2 percent.
"Ambitious reform plans across the region are balancing the need for a more broad-based diversified economy. We think the progress achieved so far brightens the region's outlook and expect GDP growth to rebound to 2.3 percent in 2018 from 0.6 percent in 2017," says Ali Janoudi, Head (MENA Wealth Management), UBS, a global financial services firm.
Since oil and gas account for about 75 percent of the total revenue and represent 65 percent of the region's total exports, many analysts believe stabilization of oil prices in the $55-60 bracket will help the governments remain committed to the respective vision statements, diversification plans and capital spending on building infrastructure.
Deficit shrinks
The Emirates NBD Research expects the total budget deficit of the GCC will be around $100 billion (seven percent of the GDP) in 2017-18 as compared to $150 billion last financial year on account of sustained fiscal consolidation and reforms.
As global interest rates are favorably low, a large portion of the deficit is expected to be financed from international debt issuances, thereby easing a lengthy funding squeeze. Economic experts are of the view that regional debt levels will continue to fall till 2022 if governments carefully target current expenditures to spur social spending and public investment to mitigate the low growth fallouts.
The regional governments have also done well by holding on to their foreign assets and not using them to make up for any shortfall in oil revenue. According to Institution of International Finance, consolidated gross public foreign assets of the GCC countries, which peaked at $2.6 trillion in 2014, are likely to decline only to $2.3 trillion in 2017-18. Almost two-thirds of these assets are managed by sovereign wealth funds with diversified portfolios of public equities and fixed income securities. Sovereign wealth funds are currently in a healthy position to attract more foreign investment.
"Improved current account positions as a result of replenished oil reserves will support investment in non-oil sectors of the economy as the Gulf countries attempt to diversify away from dependence on hydrocarbons," says Chris Lafakis, Economist, Moody's Analytics.
The governments across the region are using this improved position to further strengthen sovereign wealth funds which in turn will become engines of growth. For example, Saudi Arabia has developed the 2018-20 roadmap to position its Public Investment Fund (PIF) as one of the world's top sovereign funds. The plan is to increase assets under management from current $230 billion to $400 billion by 2020 and $2 trillion by 2030, and achieve average investment returns of four to five percent by 2020, up from the current three percent, and eight to nine percent by 2025.
Revenues' avenues
Simultaneously, the GCC nations are also working on domestic revenue mobilization and curtailing high expenditures, i.e subsidies and wages. Saudi Arabia, which employs two-thirds of its working force, is targeting to reduce public sector wages to 40 percent of spending by 2020, from current 45 percent. Oman, which has brought petrol prices on a par with international rates, hiked fuel prices by more than 70 percent in 2017. In August 2017, the UAE and Saudi Arabia imposed a selective tax of 100 percent on tobacco and energy drinks, and 50 percent on carbonated beverages.
On January 1, the Value Added Tax (VAT) became a reality in the GCC with the implementation in the UAE and Saudi Arabia. Though five percent VAT on most goods and services will create a one-off inflationary spike, it will help governments in their quest to diversify their respective economies. Economists believe the new tax regime has the potential to generate $25 billion — approximately $21 billion for the two Arab kingdoms, equivalent to two percent of the GDP, in revenues annually for the governments. Bahrain, Oman, Kuwait and Qatar too are committed to its implementation but have given themselves time until next year. Upbeat with projections, Saudi Arabia plans to spend $261 billion in 2017-18 as the government forecasts a boost in revenue.
"VAT will help overcome deficits and increase spending in projects and infrastructure across the region. The additional revenue will be important to achieve economic growth and translate into improved credit ratings and lower costs of borrowing," says Gianmario Pisanu, Managing Director, Accenture (Middle East).
Residents had long enjoyed a tax-free and heavily subsidized existence which is difficult to sustain in the wake of persisting oil market volatility and eroding coffers. Further hike in fuel prices, slash in water and power subsidies and austerity measures such as wage cuts can't be avoided moving forward, as governments balance the books. The IMF also recommends Gulf countries to introduce or expand taxes on business profits.
Privatization drive
Authorities across the region have conducted detailed valuations and identified entities for a sell-off or for pursuing public-private partnerships. Governments in the regions fully realize future growth will be ensured only if the private sector's role expand continuously.
Interestingly, Moody's Investors Service predicts a stable outlook for GCC companies in 2018, with many of them looking towards consolidations and acquisitions outside the region to ward off the low growth fallouts and dwindling profits.
However, the IMF states the Gulf region should speed up funding the small and medium enterprises (SMEs) to address the rising problem of unemployment resulting from subdued growth figures.
"The growth in GCC would be still not enough to significantly reduce the 12 percent unemployment rate. The SME sector accounts for more than 60 percent of new jobs in the region. Unfortunately, this sector is facing acute shortage of funding. Besides making bank finance available, governments should facilitate capital flows into the sector from other funding channels such as private equity," says Jihad Azour, Director (Middle East), IMF.
However, concerted efforts are on across the region to ensure liquidity for the private sector. The capital raised via initial public offerings (IPOs) in the MENA region reached $236.7 million in the Q3 2017, a 20 percent increase on Q3 2016, according to Ernst & Young, a professional services firm. Capitals Market Authority recently floated a tender in order to sell a stake in the Boursa Kuwait. Saudi Arabia has declared its plan to sell a stake in Tadawul – the biggest bourse in the GCC based on market capitalization. Muscat Securities Market, too, is going private.
Besides, Dubai Strategic Plan 2021, big-ticket projects like Dubai Expo 2020, Vision 2030, national transformation plans among others promise to spur public spending, boost infrastructure and keep the private sector ticking.
Despite the tense geopolitical climate in the Middle East, GCC nations provide enough hope and evince interests of foreign investors to be part of the new economic order in the region. Saudi Aramco's IPO, billed as historic and biggest ever and likely to be out later this year, and NEOM, a $500-billion technology driven futuristic city, have global players rushing towards the region. The UAE has always been economically stable and reliable, and probably the best example of diversification.
However, exciting times lie ahead. Oxford Economics predicts 2018 is the year of reckoning for the GCC as it is set to witness a robust expansion after three years.