JERUSALEM — Arab outrage over the high civilian death toll in Gaza and concerns about the intentions of Benjamin Netanyahu's far-right coalition are putting Israel's ties with key regional peace partners under unprecedented strain.
While the UAE and Saudi Arabia reportedly helped block calls for dramatic actions against Israel at an Arab and Islamic summit in Riyadh on Saturday, Israel's relationships with longstanding partners Egypt and Jordan are being severely tested. There is a growing perception that Israeli actions may jeopardize the stability of the governments in Amman and Cairo.
In particular, both Jordan and Egypt are concerned that Israel might use the war as a pretext for mass expulsions of Palestinians. Additionally, there is widespread anxiety in Arab capitals regarding Netanyahu's insistence on maintaining Israeli security control over Gaza after the war's conclusion.
"The relationship between Israel and Jordan is at its lowest point ever," stated Daoud Kuttab, a veteran journalist and analyst for the Al-Monitor website, speaking from Amman. He noted this as the Palestinian death toll rose to over 11,000, according to Gaza health officials. Israel initiated its campaign to dismantle Hamas following the group's surprise attack on October 7, which resulted in approximately 1,200 Israeli casualties on what became the deadliest day in the country's history.
Also Read Exclusive reports on Gaza-related developments
Kuttab remarked that the Jordanian government, which recalled its ambassador from Tel Aviv last month and declared Israel's envoy to Jordan persona non-grata, is facing public pressure to further reduce ties. Jordan, with its Palestinian majority, is particularly disturbed by the images of Palestinian children killed in Israeli airstrikes.
Jordanian Foreign Minister Ayman Safadi expressed his frustration a day after the Riyadh summit, criticizing Netanyahu's refusal to consider a ceasefire. Speaking to a Jordanian radio station, as reported by Reuters, Safadi said, "Israel refuses to listen. What it is doing is not self-defense but committing war crimes."
Netanyahu's declaration that Israeli forces will remain in Gaza for as long as necessary, coupled with his rejection of American and EU proposals for the moderate Palestinian Authority led by Mahmoud Abbas in the West Bank to return to Gaza, is further escalating tension and distrust. The Palestinian Authority was forcibly removed from Gaza by Hamas during a brief civil war in 2007. Although its popularity is waning in the West Bank, it is still regarded as the most viable option for governing Gaza if it can be strengthened with broader Arab support.
This growing unease in Jordan regarding Israel is likely to affect economic relations. Daoud Kuttab anticipates that Jordan may delay the signing of the highly anticipated agreement with Israel and the UAE, known as Project Prosperity, which was scheduled for next month. This initiative, seen as a milestone in regional cooperation, involves Jordan exporting clean energy from UAE-funded solar installations to Israel in exchange for desalinated water from Israel.
"My gut feeling is that they will postpone this and not sign it," said Kuttab. "There is too much anger."
On October 7, Hamas also took approximately 240 hostages from Israeli border communities, including children and elderly persons.
At A Glance

* Arab nations express outrage over high civilian casualties in Gaza and distrust Netanyahu's far-right coalition.

* UAE and Saudi Arabia influence decisions at Riyadh summit to prevent harsh actions against Israel.

* Israel's actions in Gaza strain relations with Egypt and Jordan, raising concerns about regional stability.

* Jordan and Egypt fear Israel may use the war for mass expulsions of Palestinians.

* Netanyahu insists on Israeli security control over Gaza post-war, escalating tensions.

* Experts see the lowest ever point in Jordan-Israel relations due to civilian deaths in Gaza.

* Jordanian Foreign Minister Ayman Safadi criticizes Israel's refusal to consider a ceasefire, labeling actions as war crimes.

* Netanyahu's policies threaten the Palestinian Authority's existence, favoring annexation over statehood.

* Jordan may postpone the "Project Prosperity" agreement with Israel and UAE due to rising tensions.

* Hamas's actions on October 7 are seen as justification by Israel for military force; critics accuse Israel of indiscriminate bombing.

* Inside Israel, comparisons are made to the 1947-49 nakba amid current Gaza devastation.

* Egypt fears forced Palestinian migration into its territory due to Israeli actions.

* Israel's Intelligence Ministry's suggestion to displace Palestinians to Sinai Peninsula raises alarm.

* The current crisis is being seen as the most significant in Egypt-Israel relations.

* UAE maintains stable relations with Israel, contrasting with other Arab nations.

* Saudi Arabia's support for normalization with Israel hinges on a credible peace deal post-war.

* US, EU, and Arab states advocate for Palestinian Authority expansion, clashing with Israeli ministerial aspirations.
While Israel views the actions of Hamas as a justification for exerting maximum force, some Arab and Western critics accuse Israel of indiscriminate bombing and failing to differentiate between Hamas members and civilians. The Israeli military maintains that it strives to minimize civilian casualties and alleges that Hamas uses non-combatants as human shields.
Even within the Israeli cabinet, figures such as Agriculture Minister Avi Dichter of Netanyahu's Likud party are comparing the devastation and loss of life caused by Israel to the nakba, the catastrophe of Palestinian displacement during the 1947-49 Arab-Israeli war. Approximately 700,000 Palestinians were expelled or fled during that period, leaving behind enduring grievances and a sense of injustice. Most Palestinians in Gaza are descendants of those displaced by the nakba.
Meanwhile, Egypt is increasingly concerned that Israel, led by its most right-wing cabinet ever, might use the war to trigger a forced removal of Palestinians from Gaza into Egyptian territory.
These fears escalated when Israel's Intelligence Ministry, though a minor entity with limited policy-making powers, suggested last month the displacement of over two million Palestinians from Gaza to the Sinai Peninsula. Notably, Netanyahu's office did not disavow this recommendation, further heightening concerns.
Ofir Winter, an Israeli Middle East scholar and Egypt specialist, shared with Trends that "Egypt fears there is an Israeli intention to expel [Gazans] to Egypt, thereby resolving the Palestinian issue at its expense. Israeli statements are causing considerable worry. The prospect of a refugee influx is a red line for Egypt that could severely harm relations."
"The current situation represents the most significant crisis in their relations that I can recall," stated Winter, a senior fellow at the Institute for National Security Studies in Tel Aviv.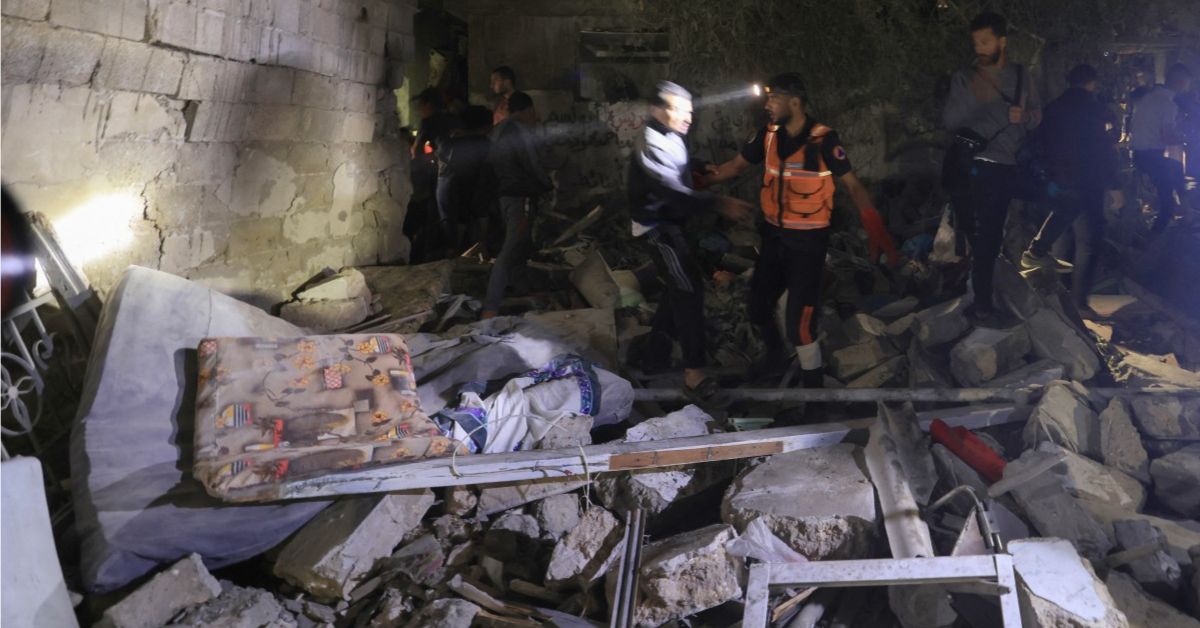 Winter observed that, during the conflict, the UAE has remained the most steadfast in its relationship with Israel. "Our peace with the UAE is the most stable peace we have," he commented.
According to Daoud Kuttab, "There are still people in the Gulf hoping this war is a temporary setback and that we can return to the normalization process."
However, he noted that the conflict has amplified Saudi Arabia's demand for significant Israeli concessions toward Palestinian statehood. "Whether Saudi Arabia would agree to normalize relations with Israel all depends on whether there is a credible peace deal after this war," Kuttab remarked.
While the US, EU, and Arab states with ties to Israel are advocating for the strengthening and expansion of the Palestinian Authority beyond its self-rule enclaves in the West Bank, certain Israeli ministers have different aspirations. Bezalel Smotrich of the far-right Religious Zionism party, for instance, is advocating for the dissolution of the Palestinian Authority. He envisions replacing it with localized bodies of Palestinians who would accept a secondary status and permanently closing the door on Palestinian statehood in favor of annexing the West Bank.
With Netanyahu also supporting de facto annexation and relying on extremists for his continued governance, coupled with Hamas attacks pushing Israeli public opinion further to the right, the likelihood of Israel making any substantial peace concessions after the conflict in Gaza – whenever it may end – appears to be minimal.