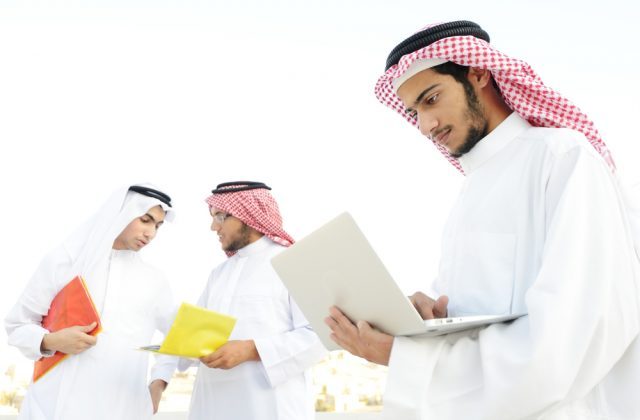 When the President of France, Emmanuel Macron, attended the opening of the iconic Louvre Abu Dhabi during his visit to the UAE on November 8, the 39-year-old former Rothschild banker had a message for the youth of Arabia. "Youth has the choice to show hatred for others or to build a world that fits everyone," the leader of France's centrist-liberal party 'En Marche!' (French for 'Forward') said on Twitter under his account @EmmanuelMacron.
The first Louvre museum outside France, located on Abu Dhabi's Saadiyat island ("island of happiness"), shall not only be a magnet for tourists and art aficionados, but also a home of education as it hosts a research center as well.
'Forward' is also the leitmotiv of Gulf Cooperation Council (GCC) governments in relation to their education systems, as more than 60 percent of the GCC population is younger than 30 years of age.
The road toward academic excellence remains rocky, however. According to the International Monetary Fund (IMF), the member states of the GCC, including Saudi Arabia, UAE, Kuwait, Bahrain and Oman, have one obstacle in common: "Relative to other countries, productivity in the GCC region tends to contribute little to growth, while labor contributes significantly more."
This finding reflects policies that favor the employment of low-wage foreign workers in the private sector, accompanied by high wages for nationals working in the public sector, said the IMF in its recent report.
And according to the recently published IMD World Talent Ranking, the UAE and Saudi Arabia landed on rank 25 and 26, respectively, behind Taiwan (23), Iceland (18) and Cyprus (17).
The majority of GCC graduates still seek a career in the public sector, but governmental reform programs target the significant expansion of the private sector. Popular employers in the GCC, such as Emirates Airline, Saudi Aramco, Abu Dhabi's Mubadala or Bahrain Mumtalakat Holding Company are government-controlled, but they play an important role in bridging the education gap.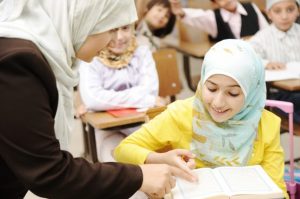 On November 13, UAE Vice President, Prime Minister and Ruler of Dubai Sheikh Mohammed Bin Rashid Al-Maktoum officially inaugurated the Emirates Flight Training Academy at the Dubai Airshow. According to the US aircraft producer Boeing, over the next 20 years the Middle East will see significant demand for commercial airline pilots. The 2017 Boeing Pilot and Technician Outlook, an industry forecast of aviation personnel demand, saw a 8.6 percent increase in pilot demand over last year, as demand grew to reach 63,000.
Climbing up the ranks
Asked why the Arab countries can still be found on the lower ranks of international education tests such as PISA (Programme for International Student Assessment), Suad Alhalwachi, CEO of Education, a privately-held education consulting service based out of Dubai Knowledge Park, tells TRENDS that, in her opinion, "this is a self-fulfilling prophecy. If we don't teach in a good way, and in the correct level, students will never be able to apply for international competitions and examinations."
For Alhalwachi, education is about quality, not about quantity. "The public schools are run on old methods, by teachers who are not great teachers and who became teachers because they were failures in their own schooling," she says.
On the other hand, Alhalwachi is positive about the planned standardization of the UAE school system. "I think it's good, provided the teachers are given a leeway to improvise," she said. On September 4, UAE President Sheikh Khalifa Bin Zayed Al-Nahyan issued the directive "Emirati School Model" in order to unify the national learning system.
In order to boost the interest for digitization, Sheikh Mohamed appointed 27-year-old Omar Bin Sultan Al-Olama as the world's first Minister of State for Artificial Intelligence (AI). Al-Olama will also oversee the inclusion of the AI teaching and education at schools, colleges and universities and to support science and research.
Klaus Schwab, Founder and Executive Chairman of the World Economic Forum, hailed the UAE within the GCC and its "positive force of science to tackle some of the greatest challenges of our time." However, in order to harness the transformative power of new technologies to build a sustainable future, leaders of global institutions need to step out of silos and look at the world as a holistic ecosystem of global interdependence, he said.
According to the Minister of State and Managing Director Dubai World Expo 2020 Reem Al-Hashimi, future education, scientific research, Internet of Things (IoT), disruptive technologies and the teaching of AI are also poised to be the major topics at Dubai Expo 2020, which will run from October 2020 until April 2021 under the topic "Connecting Minds and Creating the Future".
Vouching for student exchange
Oman tries to increase the quality of education by sending its students abroad. In mid-November Oman's Minister of Higher Education Rawiyah Bint Saud Al-Busaidiyah met the president of the Cypriot parliament Demetris Syllouris and agreed to establish a student exchange program, Cyprus Mail reported. Syllouris said Omani students could gain by attending universities in Cyprus and earn an EU degree.
However, Alhalwachi notes that a major hurdle is not a lack of investments in technology across the GCC. "The major obstacle for better education is the old curriculum, the lack of focus on self-study," she explains.
The Bahraini expert demands from schools that "teaching better mathematics, teaching languages from the start and communication skills should be on top of the agenda."
Her home country Bahrain, home of the oldest public education system in the Arab peninsula, launched in 1930, has, like all GCC states, strong education links with the United Kingdom, the former protective power of the ruling Gulf Arab families and their turfs (Britain, in exchange, enjoyed free access to ports along the Arabian Gulf and the Red Sea).
Gulf Daily News reported recently that Bahrain's 74 private schools are set to undergo strict monitoring. The investigations in relation to the quality of teaching as well as that of classrooms and gymnasiums will be based on academic assessment conducted by the National Authority for Quality Assurance of Education and Training.
Bahrain's Ministry of Education issued a stern warning, saying licenses of those private schools that continue to underperform will be revoked. For Alhalwachi, private schools are the better option. The public schools in the GCC, she says, "are run by old methods. Our college system is wrong, as anyone can get accepted to it."
In relation to higher education, the GCC is home of many "big names"- such as London Business School in Dubai or New York University in Abu Dhabi, but many parents still prefer to see their kids study abroad. Earlier in November, the British Council in Bahrain organized its annual Study UK Exhibition 2017 at the University of Bahrain in Manama. "It is inspiring to witness the enthusiasm and ambition of young Bahrainis looking to pursue their university studies in the UK, highlighting the importance of education in the relationship between our two countries," said Simon Martin, the UK ambassador to the Kingdom of Bahrain.
Black box to blackboard
In Saudi Arabia, the ground-breaking decree by Saudi King Salman Bin Abdulaziz Al-Saud that will give Saudi women the right to drive by June 2018 is a self-fulfilling prophecy for more education. A female employee will then be able to drive to her own lectures in order to improve her professional skills.
According to the masterplan "Saudi Vision 2030", which aims at significantly reducing the biggest GCC state's dependence from oil, the kingdom plans to increase the participation of women in workforce to 30 percent by 2030, from the current 22 percent.
"We believe the anticipated increase in the female workforce is achievable as cultural barriers diminish," said a research analysis by HSBC Middle East. The announcement, which was made by Saudi Crown Prince Mohammed bin Salman to lead Gulf state back to a moderate Islam, which he said existed before 1979, is widely regarded as encouraging liberal views in education, too. In their efforts to lift the level of education among students and employees, GCC governments aim to take advantage of the Fourth Industrial Revolution. This has put the region on an inevitable global race with emerging and developing countries.
But few people outside Saudi Arabia know, that since 2017, its capital Riyadh has been home to the world's biggest public university for women, the Princess Nora Bint Abdulrahman University, which has 60,000 students. It hosts faculties for "traditional" subjects such as economics, law and medicine, as well as computer sciences and networking, and telecommunication sciences. The Fourth Industrial Revolution might replace receptionists and dentists with robots, but digitization also offers opportunities. According Sam Olyaei, Senior Research Analyst, Gartner, there are lucrative prospects for young people. "Middle East and North Africa information security spending will grow by 11 percent to reach $1.8 billion in 2017, but there is a severe shortage of skilled IT security specialists in the region," he says.
Asked what she would do to increase the quality of teaching, Alhalwachi says: "In my opinion, we should not let the ministry of education to be the quality assurance as well as the runner of the schools. These two jobs must be done by separate organizations."