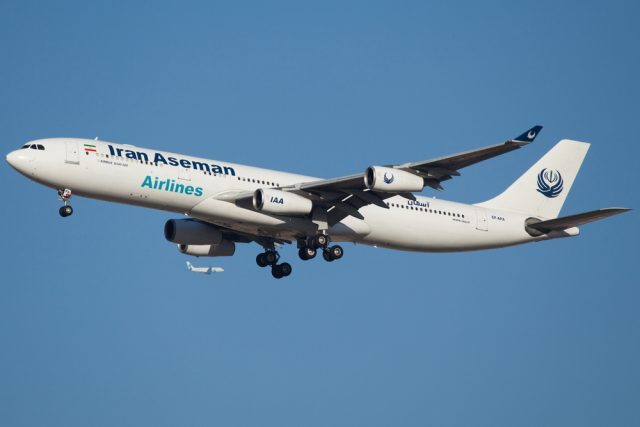 Scores of people are feared dead after an Iranian commercial aircraft crashed into a mountain in southern Iran valley on Sunday, reported a semi-official news agency in Tehran. Though rescue work is still on, till the writing of this report, but it was presumed that all 66 passengers on board were dead.
According to the reports, the ATR-72, a twin-engine turboprop used for short-distance regional flying, crashed in the close vicinity of the remote mountain town of Semirom, which is located around 400 miles south of the Iranian capital city Tehran.
"After searches in the area, unfortunately we were informed that the plane crashed. Unfortunately, all our dear ones lost their lives in this incident," Mohammad Tabatabai, public relations director for Aseman Airlines, told state broadcaster IRIB.
Bad weather adding to woes
Eyewitnesses told local media that the aircraft was attempting to make an emergency landing but it hit the Dena mountain range. There was a dense fog in the area, making it difficult for rescue helicopter to land immediately at the accident spot.
Bad connectivity through roads and mountainous landscape hindered the efforts of the rescue teams. As it was difficult to send help through land route so helicopters were mobilized to fly rescue teams to the accident spot to search survivors of the crash. Iran Red Crescent is aiding the rescue team in their efforts.
Ill-fated ATR 72
The crashed ATR-72 plane was operated by Aseman Airlines flight from Tehran to Yasuj, the capital of Kohgiluyeh and Boyer-Ahmad Province, Iran. It had a capacity of carrying nearly 70 passengers and crew and at the time of crash 66 individuals were on board.
It was a twin-engine turboprop plane and it lost contact with radar 20 minutes after taking off from Tehran Mehrabad International Airport at about 5.50am local time.
Aseman Airlines is Iran's third-largest airline by active fleet size and is based in Tehran.
Whom to blame?
The aircraft involved in Sunday morning crash was nearly two-decade old.
It should be noted that Iran's commercial passenger aircraft fleet has aged, leading to many air accidents happening frequently in the past few years. Due to years of global sanctions, Iran has faced difficulty in refurbishing its air fleet by adding new aircraft.
However, after the 2015 landmark nuclear deal with world powers, Iran had inked pacts with aircraft manufacturers like Airbus and Boeing to buy dozens of new passenger planes.