The commodity sector traded lower for a third week, with the main market focus being the risk of an economic slowdown caused by runaway inflation and central banks stepping up their efforts to bring it under control by lowering economic activity through aggressive rate hikes. That focus intensified this past week when US inflation data for August surprised the market by showing a small rise instead of an expected drop, while core inflation – which excludes food and energy – jumped by 0.6 percent on the month. This highlights the difficult task central banks face in getting inflation under control without damaging the economic outlook.
The inflation print sparked another jump in FOMC rate hike expectations, with the terminal Fed Fund rate expected to peak around 4.5 percent in six-months' time – some two percent above the current level and up almost one percent during the past weeks alone. As a result, the dollar rose to a fresh record high against a basket of 11 major currencies, while US two-year yields surged to a 15-year high close to 4 percent. Together with an ongoing energy crisis in Europe, a slowdown in China caused by extended lockdowns and a crisis in the property sector, the outlook for demand for key commodities is currently being challenged.
While fuel products, such as gasoline and diesel, together with China-centric commodities from copper to cotton led the sell-off, it was gold's slump below support at $1680 to a 2 ½ year low that got the most attention. At the other end of the table, we find soybeans troubled by a US stock downgrade and worries about a "triple-dip" La Ninã in the coming months. US natural gas traded higher following a roller coaster week on the prospect for hot September weather, while EU gas prices retreated as the European Commission sought consensus on a plan to bring consumers and industry safely through the winter.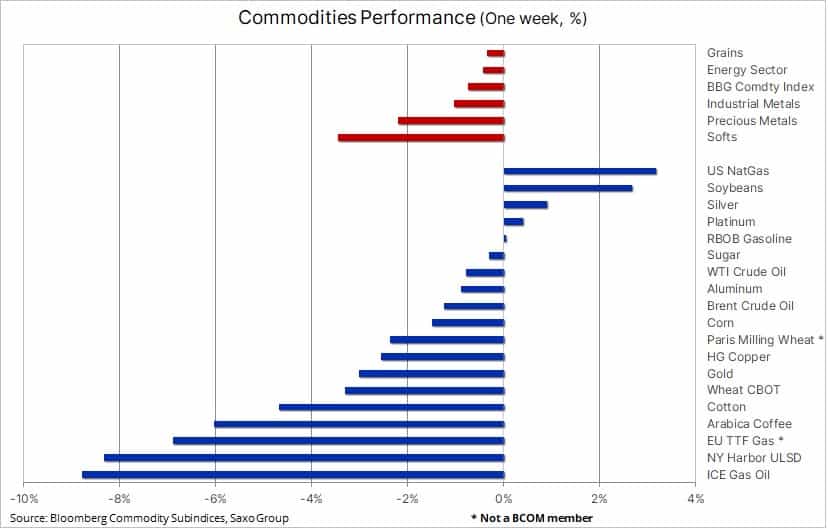 FedEx warning and slumping container rates pointing to a slowdown
FedEx, the global package and freight delivery company, was heading for a slump of more than 20 percent in the week following a big profit miss and after the company withdrew its 2023 forecasts. The company's CEO said that "global volumes declined as macroeconomic trends significantly worsened later in the quarter, both internationally and in the US". The company expects that business will worsen further in the current quarter. Meanwhile, global container freight rates are seeing an accelerated slump with the Drewry composite container freight benchmark rate slumped 8 percent this week to $4.9k per 40-foot container. The index is now down more than 50 percent from the record seen this time last year but remains around 3.5 times above the pre-pandemic average. Weakness was seen on all the major China to US and EU routes. This negatively impacted logistics companies, such as Maersk – one of the world's largest container shipping companies – which has seen its share price slumps by more than 40 percent from its recent peak to a 15-month low.
Gold drops below key support
Gold, which has been on the defensive for the past five weeks in response to stubbornly high US inflation driving up the dollar and US government bond yields, slumped below support-turned-resistance at $1680 as the market was overwhelmed by momentum and technical-driven selling related to the risk of a 1 percent US rate hike next week. In addition, the market continued to raise expectations for how high Fed funds will rise over the coming months.
At a near 2-½-year low, gold has struggled to find a defense against the FOMC hawkish tone, and, together with other investment metals, such as silver and to a lesser extent platinum, it may continue to struggle until some of bullish drivers reassert themselves. The focus remains on FOMC hiking rates and not the increasingly inevitable economic fallout –  a risk that was highlighted this week by FedEx and steep declines in the cost of shipping goods around the world. In our opinion, recent CPI prints could indicate some difficulties in bringing US inflation below the 5-6 percent area. If once the market draws the same conclusion, we are likely to see a sharp upward – and gold supportive – adjustment with forward inflation swaps still pricing in a drop to around 3 percent.
In our opinion, the reasons for holding gold against a policy mistake have only been strengthened by recent developments. The risk of the FOMC sending the US economy into a recession before getting inflation under control is rising and, once that occurs, the dollar is likely to turn sharply lower, thereby supporting fresh demand for investment metals. Before then, however, gold could be challenged further by the weakened technical outlook with a weekly close below $1680 potentially seeing the market target the 50 percent retracement of the 2018 to 2020 rally next at $1618.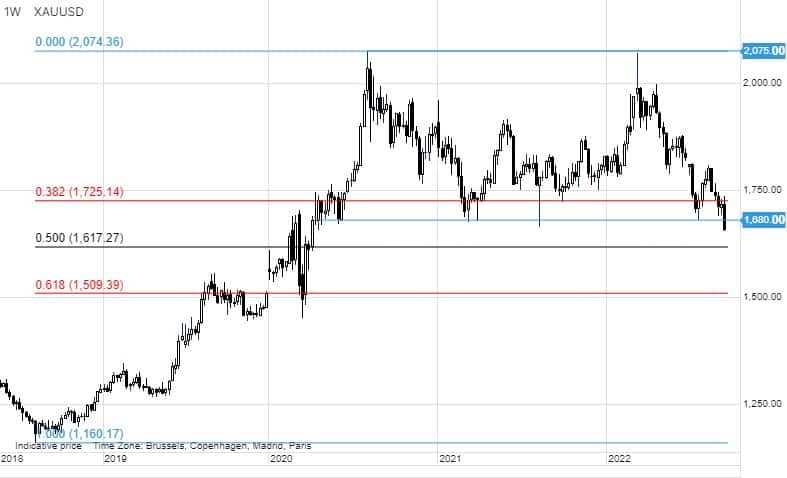 Food security could be challenged by rare "triple-dip" La Ninã event
Leading meteorological organizations are warning about the risk of a triple-dip La Ninã event spanning three northern hemisphere winters – a rare occurrence which, according to the BBC, has only occurred twice before. Changing temperatures around the world have led to several climate emergencies in 2022, from historic flooding, above average temperatures and drought. Parts of the world are expected to experience severe weather for the rest of the year and into 2023, as part of a rare "triple dip La Niña" event according to the World Meteorological Organization (WMO).
In Australia, the respected Bureau of Meteorology has declared a La Ninã event is underway and communities in eastern Australia should be prepared for above-average rainfall that may lead to flooding in the coming months. In addition, South America and equatorial Africa could see a repeat of the droughts experienced during the past couple of years. A development that could strengthen concerns about a global food crisis with inventories of several key food items falling to a multi-year low.
In this chilling update, Bloomberg takes a closer look at the rising risks associated with La Ninã – events where waters in the eastern tropical Pacific Ocean are cooler than normal, and waters in the western tropical Pacific Ocean are warmer than normal. This combination causes changes in wind, cloud and pressure patterns over the Pacific. When this change in the atmosphere combines with changes in ocean temperature, it can influence global weather patterns and climate.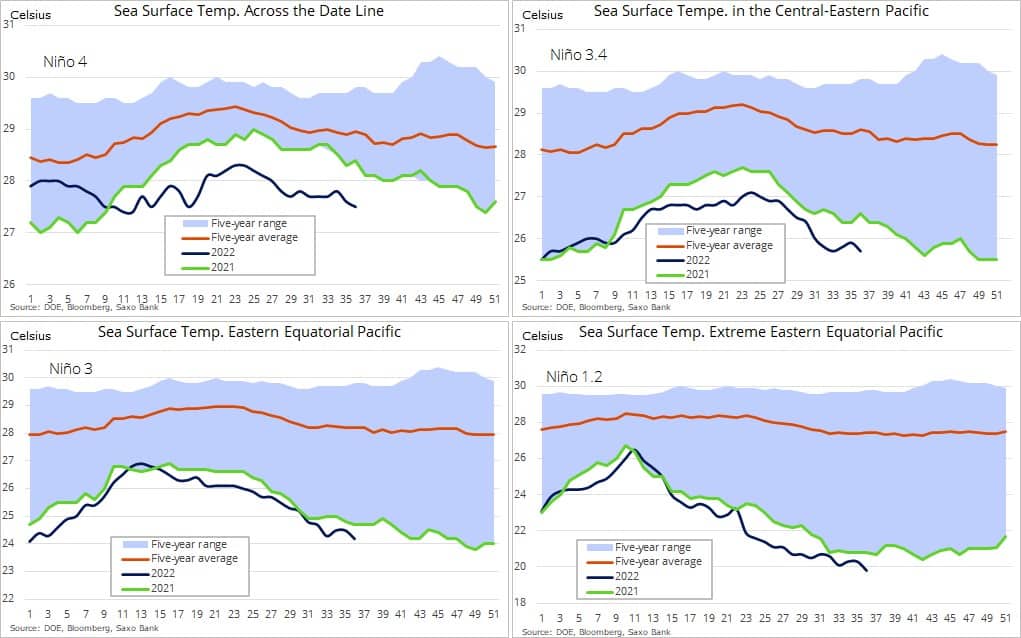 These latest developments have added a sense of nervousness to the grains market, the best performing sector this month with all the three major crops of corn, soybeans and wheat trading higher. In their latest World Supply and Demand update, the US Department of Agriculture trimmed ending stocks of US corn and soybeans to a ten and nine year low. Wheat remains supported by Putin's threat to review some aspects of the Ukraine "grain deal", which has seen seaborne exports of agriculture products resume, albeit at a much-reduced pace compared with pre-war levels.
Crude oil weakness led by fuel products
Crude oil traded lower in the week, partly driven by losses across fuel products such as gasoline and diesel, but remained within a recently lowered range, with demand concerns once again being the main focus more than offsetting potential supply challenges in the coming months. Growth and demand concerns, as well as the stronger dollar making the cost of fuel increasingly expensive around the world, remains the focus as the market prepares for another growth dampening rate hike from the US FOMC next week.
In addition, demand in China continues to linger after the IEA said the world's largest importer of oil was heading for its biggest annual drop in demand in more than three decades. Meanwhile, the US Department of Energy walked back on its SPR refill stance by saying that it didn't include a strike price (that was said to be around $80/barrel) and it isn't likely to occur until after fiscal 2023.
In Europe and increasingly also Asia, elevated prices for gas and power continue to attract substitution demand into fuel products like diesel and heating oil. In addition, the supply side will also be watching the impact of the EU embargo on Russian oil, which will begin impacting supply from December. The IEA in their latest monthly oil market report highlighted the embargo as their reason for lowering Russian supply in early 2023 by 1.9 million barrels per day – a development if not arrested by a peace deal or any other political development in Moscow could see the market turn increasingly tight again. In addition, the current lull in Chinese demand look set to reverse once lockdowns are lifted and, together with the risk of supply tightening, we see potential weakness in Q4 being replaced by renewed strength next year.
European gas prices drop further on EU support plan. The Dutch TTF (Transfer Title Facility) benchmark gas contract traded lower for a third week as the European Union continues to work on its plans to ease the worst energy crisis since the 1970's. While the good news is that the price has dropped by 43 percent since hitting a panic peak on August 26 ahead of the Nord Stream 1 shut down, the bad news is that the price remains more than 12 times above the long-term average.
Russian supply of gas to Europe through the remaining two out of five available pipelines that are still open has slumped by 80 percent during the past year, with the 285 million cubic meter drop having to be offset by higher imports from Norway and via LNG as well as a reduction in overall demand. Gas demand has already fallen by 15 percent and looks set to drop further, either through government intervention or through a voluntary reduction from consumers getting squeezed by the current prices for gas and power. In our opinion and assuming a normal winter, a strong push to reduce demand and Russia keeping the remaining flow running for lack of other venues to sell its gas, we believe Europe will scrape through the winter. For now, however, the price of gas needs to remain elevated in order to ensure demand is reduced sufficiently.
 Ole S. Hansen is the Head of Commodity Strategy at Saxo Bank.
The opinions expressed are those of the author and may not reflect the editorial policy or an official position held by TRENDS.