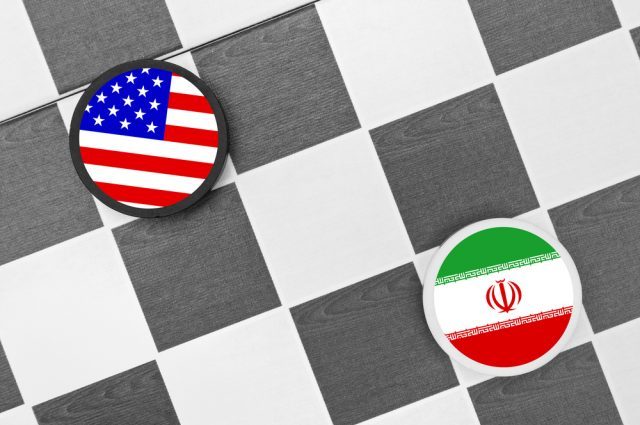 By Gareth Smyth
In the same week during which US President Donald Trump replaced Secretary of State Rex Tillerson with CIA director Mike Pompeo, the Saudi cabinet approved its first national nuclear program on March 13, with 16 reactors costing $80 billion. While Riyadh has stressed the diversification of energy sources and its acceptance of the Nuclear Non-Proliferation treaty (NPT) ban on diversion into military uses, the decision to go nuclear alongside Pompeo's appointment increased expectations that Trump will exit the Iran nuclear deal in May.
In a US television interview broadcast on March 18, Saudi Arabia's Crown Prince Mohammed bin Salman raised the prospect of a future with both Iran and Saudi Arabia possessing atomic weapons. "Saudi Arabia does not want to acquire any nuclear bomb, but, without a doubt, if Iran developed a nuclear bomb, we will follow suit as soon as possible," the Crown Prince told CBS.
While Tillerson was ambiguous over the 2015 agreement between Iran and world powers limiting its nuclear capacities, Pompeo's hostility to the JCPOA (Joint Comprehensive Plan of Action) has been clear. Back in 2014, with negotiations leading to the deal underway, Pompeo said that "under 2,000 sorties" by "coalition forces…[could] destroy the Iranian nuclear capacity." He surely echoed late King Abdullah's exhortation to US officials in a 2008 cable later released by Wikileaks to "cut the head of the [Iranian] snake".
Good deal or bad?
During the 2016 US presidential election campaign, then-candidate Trump called the JCPOA "the worst deal ever", while his predecessor Barack Obama had considered it a major achievement. John Kerry, Obama's Secretary of State at the time, recently called the JCPOA "the most transparent, the most accountable, the most verified, strongest nuclear agreement between the international community and a country."
For the US to abandon the JCPOA could have global consequences, including with North Korea, which has nuclear weapons and which, unlike Iran, is not inspected by the UN's International Atomic Energy Agency (IAEA). Kerry has suggested that the US leaving the JCPOA would lead Kim Jong Un to conclude that any agreement reached with a US president could be thrown out by his successor.
Paul von Maltzahn, the German ambassador to Tehran during the European Union's earlier round of nuclear talks with Iran in 2003-05, tells TRENDS the undermining of collective agreements carries dangers for the Middle East and the wider world. "The problem is that American policy is destroying the multilateral approach," he explains.
"Multilateralism is quite new and it is in danger: by nature, it's complicated and takes a long time, but it can create more stability. By contrast, 'might' instead of 'right' is volatile." Farideh Farhi, an Iran expert at the University of Hawaii, tells TRENDS that rising regional tensions stretch beyond governments. "We are at a stage in the Middle East where even academics and non-governmental researchers from various countries cannot get together in the Middle East and network," she says. "They have to meet somewhere in Europe."
Iran under strain
The Arab world's strong scepticism over the JCPOA is focused on the separation of Iran's nuclear program from other issues, including Syria, Iraq and Yemen. The sense has grown since 2015 that this detachment amounted to a de facto acceptance of Iran's regional 'interference'.
"The Iranian nuclear agreement should be upheld, but we need to know what understandings were attached to it," Chibli Mallat, professor of law at St Joseph University, Beirut, tells TRENDS. "My instinct is that evidence will emerge that [ex-president] Obama agreed to give the Iranians a free hand in Syria in return for Tehran's agreement to limit its nuclear program. The fact we accept the nuclear agreement does not mean we accept Iran's deleterious role in Syria, Lebanon or Yemen."
But many questions erupt casting shadows on the future. Is abandoning, or trying to modify, the nuclear deal an effective way to engage Iran, or even an effective way to put pressure on the country? And how far can this be done in a collective way? How difficult it is to reach a consensual decision?
Trump's critics say he has indulged in gestures and buck-passing rather than producing an effective consensual strategy to counter Tehran. In October, the US President signaled his willingness to leave the JCPOA and gave Congress 60 days to improve it: when that didn't work, he gave the three European signatories in January 120 days to improve the plan.
Hopes of a 'united front' between the US and Europe have centered on shared opposition to Iran's missile program, as was shown last August when the United Kingdom, France and Germany joined the US in a letter to UN Secretary-General António Guterres, protesting an Iranian rocket test.
Finding common ground
French Foreign Minister Jean-Yves Le Drian visited Iran in March, aiming to persuade Tehran to curb its missile program, partly as a means to maintain the JCPOA by appeasing Trump. UN Resolution 2231, endorsing the JCPOA, called on Iran not to develop missiles designed for nuclear warheads. Tehran insists its missiles are conventional, but there is sufficient grey area for Le Drian to suggest Iran had violated the UN resolution.
"Although Europe would be happy if the Iranians cut down their missile program, it's not a driving force in our policies," said von Maltzahn. "We're looking for ways to get Trump off his plan to destroy the JCPOA." There were signs Tillerson was amenable – at the time of his departure, his top policy aide, Brian Hook, was in Vienna for meetings with British, French, German and EU officials looking for new measures acceptable to both Europe and Trump.
The chances of a common US-EU approach reduced after Le Drian's mission and Tillerson's departure. Iran's political class united behind the country's 'right' to missiles, especially given its limited airpower, while its media ran headlines calling Le Drian 'The Rude Guest' and 'Trump's Parisian Lackey'. Iranian officials were peeved, with Mohammad Javad Zarif, foreign minister, suggesting Europe needed "a more constructive role" preserving the JCPOA and should press the US to "meet its commitments", a reference to continuing US sanctions.
Tehran continues to stress the JCPOA's importance in its own terms and as a precedent. After meeting Le Drian, Iranian President Hassan Rouhani said keeping the deal would "prove to the world that negotiation and diplomacy are the best options for solving problems".
Analysts dispute whether this was simply an Iranian tactic or something worth exploring. Farhi tells TRENDS that Rouhani's commitment was "as sincere and plausible as any far-reaching ideal could be" and should be tested. Von Maltzahn was sceptical about the possibilities: "The Iranians have been making noises about that [talks over regional problems], but it's coming from the wrong side – coming from the Iranians, it's unacceptable for the Saudi side."
Uncertainties to follow
All parties are aware of the uncertainties that would follow a US withdrawal from the JCPOA. The possibilities for Europe, Russia and China to keep the deal alive without the US depend firstly on the Iranian reaction and, secondly, on what new sanctions Washington might introduce. It is unclear how Asia, which currently buys half of Iran's oil exports, would react to new US restrictions. In 2012-15, under multilateral sanctions introduced by the United Nations, the EU and the US, Asian buyers curbed their purchases – alongside an EU energy boycott, this halved Iran's oil exports.
Meanwhile, if we go by the latest developments, Iran is apparently inconsistent over its own intentions. While deputy foreign minister Abbas Araghchi argued in a speech in London that Iran could quit the JCPOA if the US continued a "destructive attitude", Rouhani has strongly suggested that Iran might seek to maintain the agreement with the Europe, Russia and China, thereby clearly isolating the US. Von Maltzhan foresees what he calls a 'cat and mouse' game.
"I don't see what the Iranians can gain in the near future [should the US leave the JCPOA] by suddenly increasing their production of centrifuges [used to enrich uranium], so I would expect symbolic actions by Iran rather than a return to full-scale production [of enriched and highly enriched uranium, the former restricted and the latter suspended under the JCPOA]," he says. "The Iranians are not in any haste. There would be a cat-and-mouse game, with delaying tactics rather than rushing into things – Iran would make a movement and then wait for the reaction of the others."
Washington might do the same. "The Americans have formidable financial firepower and can use secondary sanctions [against third parties dealing with Iran]," Von Maltzahn adds.
"There is already a fear of secondary sanctions – major European banks are reticent to finance projects in Iran," says Maltzahn.
However, Gulf analysts generally welcomed Tillerson's replacement by Pompeo. The fact that it came just after leaked emails showing UAE-backed criticisms of his perceived support for Qatar and his wish for mediation between Doha and the Saudi-UAE bloc was for many observers more significant than rumors linking Tillerson's sacking to the long-running juducial investigation into alleged collusion between the Trump camp and Russia.
"Everyone thinks Tillerson's firing is about Russia, and it may be – but I don't think that's the full story," tweeted Iyad al-Baghdadi, founder of the Kawaakibi Foundation and a fellow at the Norweigian think tank Civita. "This is a masterstroke for the UAE & Saudi Arabia – and at a very convenient time."
Also in a tweet, Abdul Khaliq Abdullah, political science professor at UAE University, called Tillerson the " worst secretary of state ever" and claimed "history will remember that a Gulf country had some role in the expulsion of the foreign minister of a great superpower."
Gulf stepping up
Given the twists and turns of the Trump administration, Gulf countries have certainly stepped up their publicity campaigns in Washington. A investigation last year by Politico, the American politics magazine, found Qatar increased its spending on lobbyists from under $300,000 to $1.4 million per month after the crisis. Saudi Arabia, meanwhile, spent nearly $250,000 per month with three firms and had also spent $6.2 million on one firm alone in 2017.
This, of course, is dwarfed by Gulf nations' spending on US weaponry. After the US secured letters of intent for a $110-billion arms deal with Saudi Arabia last May, the State Department in March approved $467 million in military sales to Qatar and the UAE.
Rising military spending all round – Iran annouced in 2015 its intention to increase defence spending by 2021 from two percent to five percent of the annual budget – is a symptom of the wider breakdown of multilateralism, says von Maltzahn, adding that this is producing greater instability and outcomes that may be neither expected nor desirable. So far, he notes, the US is not the major beneficiary.
"Russia is outwitting the US in the Middle East because it has a strategy, which America lacks," he explains. "The Russians have been ruthless in pursuing their objectives, but they have more of a long-term view. If we look to Asia, we may be reaching may be the point of no return, where Chinese power is taking over from America. The problem is, in part, that American policy is destroying the multilateral approach. People are not thinking very far forward."