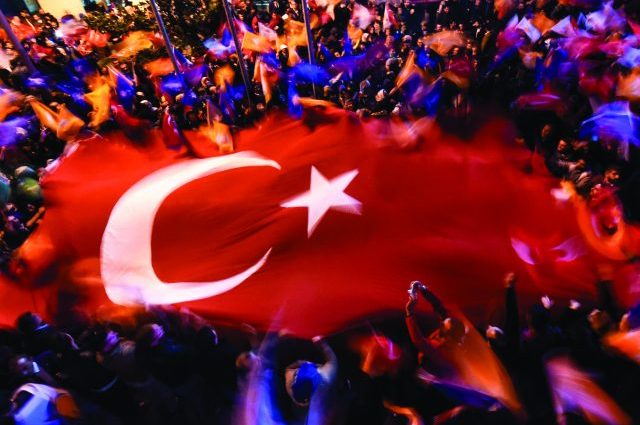 Turkey is all set to go for polls on June 24 to elect a head of state and a new parliament in what is widely seen as the most hotly contested and divisive poll in the country's history, though it is a contest even many in the opposition privately admit will see incumbent Recep Tayyip Erdoğan returned for another five years as president.
On April 18, following growing speculation an early election was on the cards, President Erdoğan announced the snap poll, some 17 months ahead of the schedule, a decision he said would help bring stability and security to Turkey and lead it into a new era.
State of economy
Much of the speculation had centered on the state of the economy, which has been flashing warning signals for some time that it was overheating, and whether Erdoğan's ruling Justice and Development Party (AKP) government would want to see out its term and risk a backlash from voters over rising inflation and debt levels or go to the polls early.
Capital outflows, a 15 percent fall on the lira since the beginning of the year taking it to 4.5 to the dollar by late May and surging imports supported by cheap credit encouraged by the president, who had declared himself an enemy of interest rates, have combined to widen Turkey's current account deficit to 6 percent of the Gross Domestic Product (GDP).
Supporting growth
The president's insistence on keeping rates low, a move aimed at supporting lending and growth, could backfire as investors become wary of Turkey's increasing debt levels and rising borrowing costs, fed by the weakening exchange rate. Already some of the Turkey's biggest companies have sought debt relief, with three corporations along asking for credit roll-overs worth more than $12 billion, while S&P and Moody's have lowered the Turkish sovereign rating to junk status.
While the economy posted growth of 7.4 percent in 2017, much of this was sustained by state-backed pump priming, measures that are being carried through into this year. These include a series of incentive schemes, low cost loans, deferred price increases on key lines such as fuel and the cutting of taxes on real estate and corporate tariffs and restructuring of credits.
Economists have costed the combined incentive packages at some $60 billion, while other tax and fee cuts and amnesties will further add to the pressure on the budget due to declines in revenue going forward, while the ramped up spending could more than double last year's 1.5 percent budget deficit.
Tough road ahead
Whoever forms the next government will have to deal with an economy facing a fall in consumer and investor confidence, according to economist Mustafa Sönmez.
"One of the main priorities for the incoming government will be to restore trust both at the domestic and international level in the economy," Sönmez told TRENDS. "Unless confidence can be returned, it will be difficult to generate a recovery."
Along with trust issues, the new administration will have to contend with double-digit inflation and unemployment, poor exchange rate metrics and the fallout from the pre-election spending surge, he said.