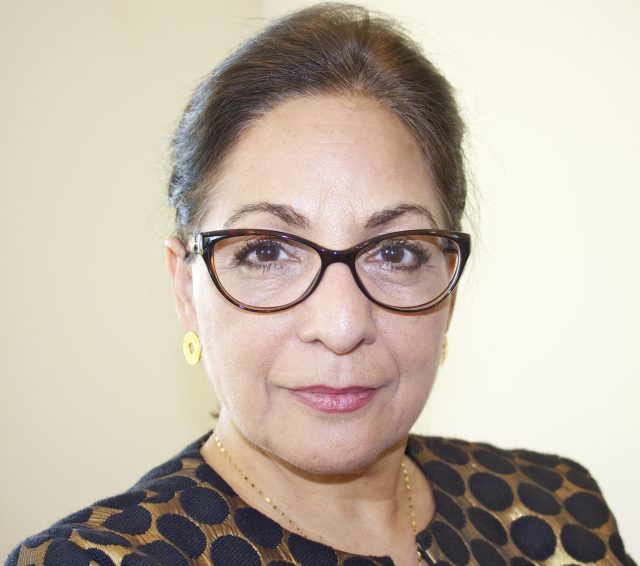 In late 2016, Daisy Khan, a New York-based global-peace activist, grew increasingly alarmed by the surge in violent extremism worldwide and the resultant demonization of Islam in America. Khan, a long-time advocate for equality and justice for Muslims around the world, immediately saw a connection between the angry anti-Islamic rhetoric in US politics and media ("much of it fueled by fear and misunderstanding") and a surge in hate crimes targeted at American Muslims.
Khan decided the time had come to write a reference book comprising evidence-based knowledge and facts that comprehensively refuted violent extremism and anti-Islamic hatred. "Knowledge," Khan declares in her preface to WISEUp: Knowledge Ends Extremism, the book she has just published, "is the most powerful tool against all forms of extremism."
Khan is the founder of the Women's Islamic Initiative in Spirituality and Equality (WISE), and is perhaps best-known for her thwarted attempt to build, with her husband, an Islamic community center near the New York World Trade Center in 2009. She tells TRENDS that the rise in anti-Muslim hatred and bigotry around the world is also "a clarion call for everybody – not just me and the many contributors to WISEUp – to refute the falsehoods of extremist groups like ISIS and to tell the truth."
Some of the truths that needs to be told, Khan tells TRENDS, are the facts behind the rapid spread of violent extremism. She says groups such as ISIS have "effortlessly called people to join them by borrowing terms from Islam that they couch as an ideology. ISIS has then turned this twisted ideology into a sophisticated marketing and propaganda machine."
Kahn tells TRENDS: "We at the Women's Islamic Initiative in Spirituality and Equality have launched an equally sophisticated marketing effort with WISEUp. Instead of telling ISIS falsehoods, however, we are telling the truth. We believe that truth and knowledge can defeat people like ISIS."
Serving as definitive resource
In order to create WISEUp, Khan sought contributions from dozens of noted Muslim scholars, faith leaders and public servants, as well as American diplomats and military veterans. Her stated goal was: "Let's create an evidence-based book of knowledge that serves as a definitive resource on practical ways to combat hate crimes, Islamophobia and terrorism."
While speaking at the official launch of the 400-page publication in Washington, DC, on October 26, Khan says that WISEUp is needed because "bombs, drones and sanctions are not working to stem the rise of heinous acts that occur every day overseas… What is needed is to try something different: to use the force of knowledge – and peace – to correct the public's misunderstanding of Islam."
The 400-page book intelligently deals with subjects that include "The History of Islam in America", "Preventing Extremist Recruitment", "The Root Cause of Terrorism…and its Solution", "Islamic Theology versus Extremist Ideology" and "Why Women Join ISIS."
The content of the book, says Khan, is targeted at both sophisticated readers and people who are totally uninformed. "It offers policy proposals to government leaders, reveals the truth about Islam to people who have been misinformed that they should fear it and helps families prevent their children from being recruited by extremists."
WISEUp also includes graphics, charts and "talking points" that enable readers to readily grasp complex issues – such as side-by-side comparisons of precepts in the holy Qur'an whose true meaning have been twisted by groups like ISIS.
The book – unlike many similar publications that originate from Washington think-tanks that merely identify a problem – concludes each chapter with several practical solutions.
"This book offers peace-loving Muslims here and all over the world a chance to stand up and be heard," says Sami H Elmansoury, a motivational speaker and one of the WISEUp contributors, who attended the October book launch. "As Muslims, we need to speak up when we see something is wrong. We also need to change the view within the Muslim community who believe that voting or any kind of participation in the political process is haram ['wrong' or 'forbidden']."
Becoming politically engaged
Political activism is one of the many recommendations in a WISEUp "policy briefing" co-written by M Arsalan Suleman, a nonresident fellow at Georgetown University in Washington, DC; and Saeed A Khan, a research fellow at Wayne State University in Detroit, Michigan. Suleman and Saeed Kahn write that the American Muslim community – which numbers approximately 3.3 million, or one percent of the US population – "is arguably the most diverse demographic in the country…constitut(ing) every race, ethnicity, culture and career imaginable. It is also the most diverse Muslim community on the planet."
Continuing, the authors of the WISEUp policy proposals assert that hate-mongers and a cooperative media have reduced the American Muslim community (and the 1.7 Muslims living overseas) "to a monolith and a caricature…cast(ing) it as a foreign, hostile and dangerous presence that – at best – is a dormant threat and – at worst – an existential one."
The two writers cite several hate groups and members of the media who "have turned the national tragedy of 9/11 into a lucrative business that sells fear of an Islamic takeover of America."
Citing the recent introduction of so-called "anti-Shari'a" legal measures (15 US states would eventually vote these measures into law), Suleman and Saeed Khan observe: "Statistics show that these efforts are having a negative impact on public perception of Muslims, who are one of the few, if not only, groups in the country that is judged primarily by the actions of Muslims overseas.
As a result of such framing, they are also held accountable in the court of public opinion for what occurs elsewhere in the world – compelled to explain, disavow and condemn such actions upon demand – despite having no connection apart from belonging to a common faith tradition. Such framing of the American Muslim community also facilitates securitization and surveillance policies targeting the community and gaining public support for such measures."
The co-authors of the policy brief section of WISEUp also a practical set of recommendations and solutions to readers of the book (particularly government leaders), appealing to the democratic American values, such as:
Facilitate opportunities for frequent dialogue between American Muslims and elected officials from both parties in local districts and in Washington.
Actively engage the American Muslim communities by the Democratic and Republican National Committees, and encourage membership and inclusion in how policies are formulated.
Increase the presence and participation of credible American Muslim voices on domestic and foreign policy issues.
Work with Muslim American organizations to highlight the diverse contributions of American Muslims that goes beyond the security lens to accurately reflect the community's contributions to society.
Support Muslim-led organizations that are increasing the civic capacity and engagement of American Muslims in local, state and Federal public policy discussion and formulation.
"WISEUp is a book of irrefutable truths that serves as a reference. Anytime that you need to know something about Islam, you can find it in there," says Daisy Khan." It is book that could be globalized immediately – just like ISIS has globalized their falsehoods about Islam and rebranded extremist lies about Islam for different parts of the world.
"That is why we hope people in the Gulf, North Africa, South Asia, Southeast Asia and other parts of the world will step forward and offer to translate WISEUp into a book modified for their country or state," says Khan.
"I truly believe that this is a book that needs to reach the masses," she concludes. "Truth and knowledge, in my view, are the only ways we can stop the spread of violent extremism."