Dubai, UAE – The Middle East is a significant region for global apparel and footwear, with GCC countries such as the UAE and Saudi Arabia strongly adopting Western trends while maintaining a strong Arab fashion scene.
Sustainability is a very important theme in the region, with 2023 being the Year of Sustainability in the UAE.
According to the survey of the Euromonitor International Voice of the Industry, 63% of industry professionals from the Middle East and Africa region said their company is planning to develop a sustainable product that is environmentally friendly while 57% will use sustainable sources, 46% will include sustainable packaging, 46% will be low carbon/carbon neutral and 35% will focus on water saving.
"The UAE is encouraging sustainability on government level, while businesses are implementing it on a strategic level, and consumers are embracing it for the better today and tomorrow," says Amna Abbas, Senior Consultant at Euromonitor International.
"Many strides are being made towards sustainability in the region's fashion industry, with regional apparel brands like Landmark Group's Splash and Max committing more and more towards sustainability and sourcing the majority of their clothing with eco-friendly fabrics such as recycled polyester, Tencel, Organic Cotton, and Lenzing Viscose," she told TRENDS.
In the UAE, there is a growing emphasis on sustainable and eco-friendly clothing. Environmentally friendly, competitively priced, stylish, and high-quality products are increasingly being offered by brands. They use organic cotton and other environmentally friendly materials like bamboo, hemp, and recycled polyester.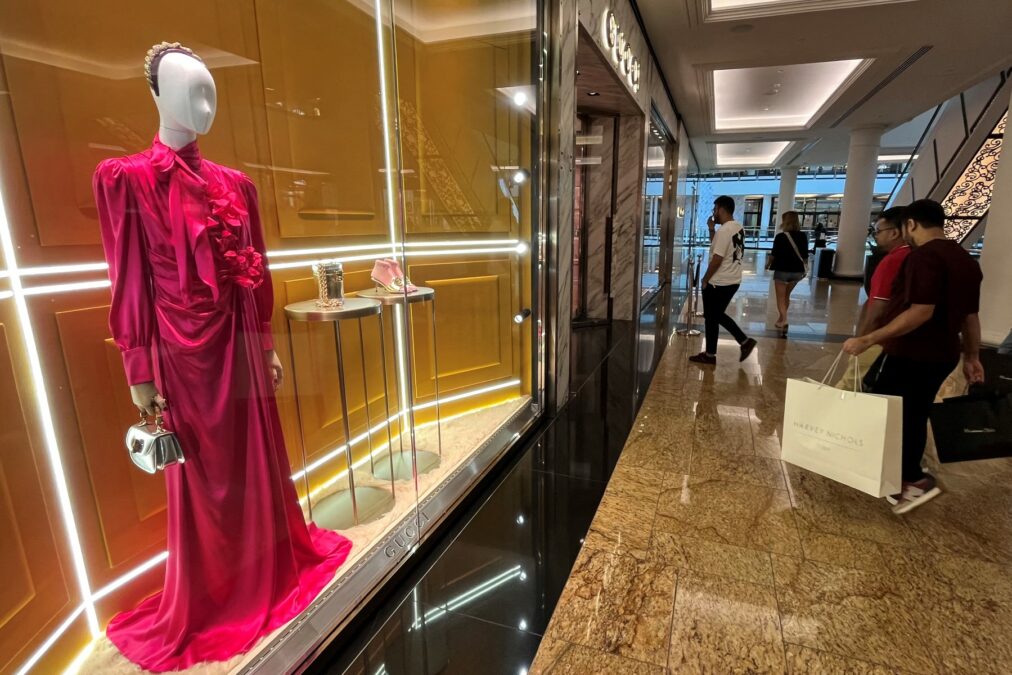 Moreover, ethical and fair-trade practices, including fair wages and safe working conditions, are becoming more prevalent. Additionally, eco-friendly dyes made from plant-based materials are being used instead of synthetic dyes, further aligning with the rising trend towards sustainability in clothing.
"The presence of eco-friendly choices, exemplified by products like Calzedonia's Black Eco Heart-Patterned Micronet Tights in the UAE, resonates with consumers who prioritize sustainability. This heightened environmental awareness not only aligns with global business trends but also taps into a fast-growing market segment of eco-conscious shoppers," Abbas explained.
However, in this new era, when the fashion industry is accused of "greenwashing," brands must validate their sustainability efforts and claims transparently and credibly.
Abbas believes rigorous environmental impact measurement, energy and water conservation, waste reduction, fair trade practices, and certifications from reputable organizations are required to build consumer trust and meet stringent regulations.
"There are many more opportunities within' sustainable fashion,'" she said, adding that on March 1, 2023, the Dubai government issued a circular outlining their plans to expand circular economy opportunities and approved a Green Procurement Policy for the city-state. In the future, brands of all price points will incorporate sustainability as they all work toward their sustainability goals, benefiting both people and our planet."
Retailers are also paving the way for a sustainable business model front.
"As a retail distributor, our focus as a circular and sustainable business model is on partnerships and resource management," says Florence Bulte, Chief Sustainability Officer at Chalhoub Group.
Chalhoub Group has taken a multifaceted approach to waste reduction and adopted circular business models as part of its commitment to sustainability. The Group has also expanded its portfolio of sustainable brands by working with Stella McCartney and, most recently, Adolfo Dominguez.
"We launched several circular business models in 2022, including Level Shoes' preloved e-commerce initiative, Hikaya's startup investment focused on using old furniture material to build and sell new ones, and finally Tanagra's homeware rental service," says Bulte. "Some of our brands such as L'Occitane and Level shoes have been offering "give-back" programs which allow customers to bring back old and unused containers and shoes respectively, in exchange for loyalty points or discount vouchers."
"These initiatives demonstrate our commitment to reducing waste and implementing more sustainable practices across our operations and partnerships," she told TRENDS.
She emphasized that the Middle East is seeing an increase in demand for secondhand fashion items, owing to millennials' increased environmental awareness and cost-conscious consumers' post-pandemic spending.
Bulte continued, "In terms of packaging, we have conducted comprehensive studies and actions to transition our concept brand packaging to 100% recyclable materials and established a preferred supplier base that adheres to our environmental requirements, ensuring cost savings."
"Furthermore, we have implemented changes in our visual merchandising processes to promote environmental friendliness and recycling. Our collaboration with Level Shoes is a clear example, with over 90% of VM materials disposed of in 2023 being reused or recycled," she added.
Retailers, on the other hand, face several key challenges in their sustainability efforts, according to Bulte, which include:
•Emission Data Availability: Accessing emission data remains challenging, with less than 20% of the brand/supplier base having committed to net-zero goals, hindering comprehensive reporting
•Data Complexity: Dealing with the complexities of supply chain emissions calculations, particularly in Scope 3 emissions, where a significant portion (45%) results from purchased goods.
•Infrastructure: infrastructure for renewable energy and electrification is developing in the region; however, it still presents challenges for full adoption, especially in malls, which are out of our immediate control.
•Brand/Supplier Alignment: Ensuring commitment from brands and suppliers to adopt climate measures is a crucial challenge, as suppliers may have different focus points and priorities.
•Regulatory Framework: Climate-related regulations enable faster adoption of climate measures. This currently exists in the region; however, we see indications for a regulatory framework to mature in the coming years.
"We believe that as retailers, we are presented with numerous opportunities to overcome the challenges associated with adopting climate measures," she said.
"The extension of EU climate policies throughout the supply chain creates a ripple effect that encourages global alignment. Regional net-zero commitments in countries such as the UAE, KSA, Bahrain, and India provide a foundation for unified climate action," she added.
Bulte believes that the upcoming COP 28 hosted in the UAE serves as an accelerator and catalyst for climate initiatives. Furthermore, participation in climate action groups, including the United Alliance for Climate Action (UACA) and the Chief Sustainability Officer (CSO) Network, offers collaborative support and opportunities to exchange on common challenges and influence policy formation.
Additionally, collaboration within the retail coalition, involving major mall developers and real estate owners, allows for collective efforts and shared expertise in advancing sustainability and climate goals.
"It is our responsibility as retailers to embrace a circular business model by incorporating more offerings such as pre-owned, repair, and rental options." These options are intended to meet our customers' diverse needs and desires while making it easier and more convenient for them to make informed, long-term decisions.
While the UAE's cosmopolitan blend of Western and Eastern influences drives growth in the secondhand market, more education and awareness efforts are needed. Notably, used textiles and shoes are sometimes viewed negatively, whereas used bags are more positively received. This highlights an opportunity in the region to educate consumers further and promote the sustainability benefits of secondhand fashion, she concluded.