RIYADH — Saudi Arabia's efforts to diversify its industries and India's ambitions to become a global industrial hub have led to swift advancements in economic ties between Saudi Arabia and India in recent years.
On September 11, the two countries signed 53 agreements and memorandums of understanding spanning investment, real estate, tourism, and commerce. This followed their announcement a day prior, detailing plans to introduce a new economic corridor connecting India to the Kingdom and the Emirates, extending to Europe. This corridor is anticipated to herald a new epoch in global trade.
During his trip to New Delhi, Saudi Crown Prince Mohammed bin Salman Al Saud highlighted the Indian community, making up 7 percent of the Kingdom's populace, as an essential segment of Saudi society, emphasizing their treatment akin to citizens. He also commended India on its successful organization of the "G20" summit.
Indians represent one of the most substantial communities residing in the Gulf nations, with roughly 9 million Indians forming the most extensive Indian diaspora. As per the Indian Ministry of Foreign Affairs, the UAE hosts 3.5 million Indians, Saudi Arabia 2.5 million, Kuwait about a million, Oman 780,000, Qatar 760,000, and Bahrain 330,000.
At A Glance

* 53 agreements signed between Saudi Arabia and India spanning various sectors on September 11.

* An economic corridor connecting India to the Kingdom, Emirates, and Europe was planned.

* The Indian community comprises 7% of the Kingdom's populace.

* Trade between India and Saudi Arabia: US$52 billion.

* Saudi Arabia is India's second-largest trade associate and fourth-largest oil supplier.

* The "Saudi Indian Strategic Partnership Council" was established in 2019.

* India is the third-largest crude oil importer globally.

* IMF predicts India to achieve the world's fourth-largest GDP by 2027.

* India's annual demand for various commodities projected to rise by over 5% from 2022 to 2030.

* Saudi Arabia dominates 40% of the Middle East and African metals and mining market, valued at $16 billion.

* Saudi Arabia's mineral resources are estimated at US$1.3 trillion.

About 70 percent of Indian professionals in the Gulf region are engaged in construction, technical roles, driving, along with technical engineering, entrepreneurship, and trade. Over 2,000 Indian companies operate in Saudi Arabia, whereas Qatar and Bahrain have 6,000 and 7,500 respectively. The UAE, with over 83,000 companies, stands as a significant financial hub for Indians in the Gulf, with Oman and Kuwait housing 6,000 and 4,000 enterprises, respectively.
India and Saudi Arabia maintain robust ties. The accords inked by Riyadh and New Delhi extend their deep economic and political rapport. Trade between them is valued around US$ 52 billion. Saudi Arabia ranks as India's second-largest trade associate and fourth-largest oil supplier. In contrast, the Indian diaspora in the Kingdom majorly contributes to India's foreign remittances.
The foundation of the "Saudi Indian Strategic Partnership Council" in 2019 signified a pivotal juncture in their relationship. Indian enterprises and investors, given their expertise, see ample opportunities in Riyadh, especially in sectors like construction, IT, steel, and aluminum.
Suhail Khan, the Indian ambassador in Riyadh, mentioned a plethora of Indian corporations in Saudi Arabia, actively involved in IT, construction, and services. Khan highlighted Indian firms' keen interest in the potential prospects offered by Vision 2030 and their enthusiasm in forging agreements with the Saudi side across diverse domains.
Addressing the bilateral rapport, Muhammad Shahid Alam, Consul General of India in Riyadh, penned in the local "Okaz" daily that the Indo-Saudi collaboration has evolved beyond the conventional oil and energy trade. Their synergy has expanded to fields like defense, maritime security, counter-terrorism, and many more. Alam attributed this expansion to the initiatives set forth by the leadership of both nations.
In a video showcased by India's official media, Prime Minister Narendra Modi expressed, "As two of the world's fastest-growing economies, our partnership is pivotal for regional peace and stability."
So, why has Saudi Arabia chosen India as its primary ally for strategic partnership? OPEC data reveals India as the globe's third-largest crude oil importer, subsequent to China and the US, making it a vital trade associate for the Kingdom.
India, witnessing an economic upswing over the past decades, aligns with Saudi Arabia's aspirations for economic diversification under its Vision 2030 framework. Predictions from the International Monetary Fund (IMF) anticipate India achieving the world's fourth-largest GDP by 2027.
India, striving to replace China as a global manufacturing powerhouse due to its impressive infrastructure and competitive labor costs, is set to make a significant mark in the world economy by 2050.
According to American news agency Bloomberg, in 2020, India unveiled plans to allocate land (twice the size of Luxembourg) to businesses eager to shift their industrial operations out of China, establishing communication with numerous American multinational firms.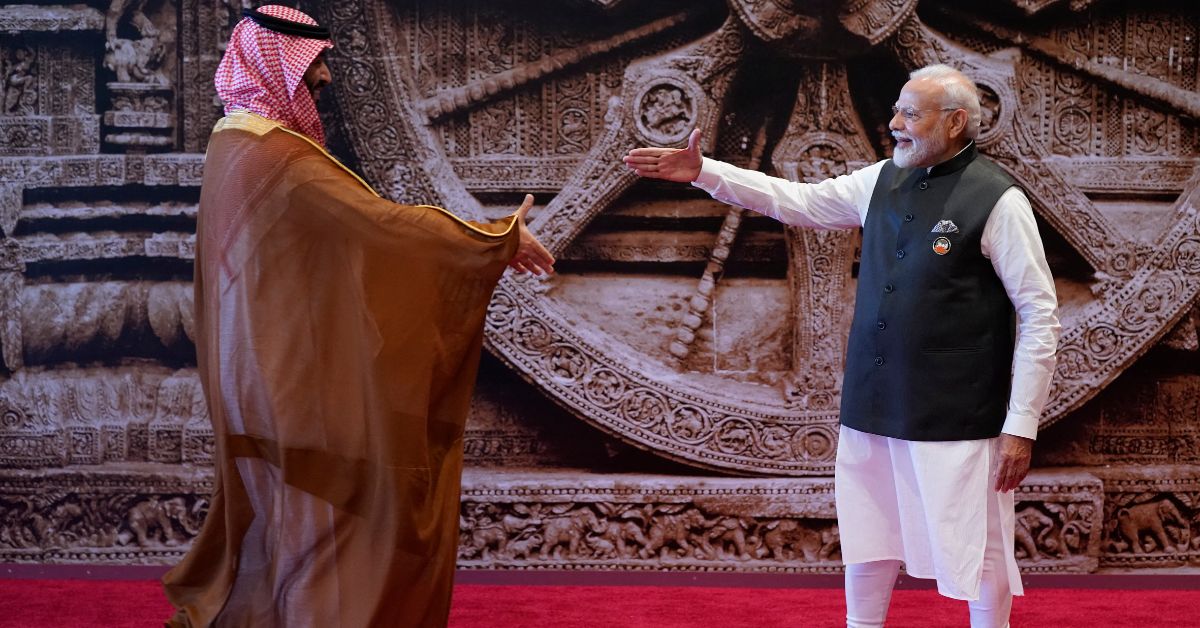 An economic report from the Australia and New Zealand Banking Group Limited, highlighted by CNBC, suggests India's economic trajectory is poised to surpass China's. The research underscores Asia's evolution as the forthcoming third-largest economy this decade, indicating a surge in its commodity demands.
From 2022 to 2030, India's annual demand for commodities like oil, coal, gas, copper, aluminum, and steel is projected to rise over 5 percent.
Saudi Arabia, aiming to diversify its economic sources, dominates 40 percent of the Middle East and African metals and mining market, valued at $16 billion. Bandar Al-Khorayef, Saudi Minister of Industry and Mineral Resources, disclosed last October that Saudi Arabia is determined to exploit mineral resources estimated at roughly $1.3 trillion.
So, what's the economic advantage for Saudi Arabia? The amplification of Saudi exports to India, encompassing various minerals and energy products, including sustainable energy sources, presents a significant benefit. Moreover, fostering a collaborative environment could magnetize more investments, particularly elevating Indian investments in the Kingdom.
The industrial synergy between Riyadh and New Delhi can deliver numerous boons to the Saudi economy, particularly in manufacturing, green technology, and clean energy sectors such as green hydrogen.