On their own, "blockchain" and "smart city" are buzzwords in their own right, having been disruptors in their own fields and leading to the revolutionization of the way people think of data — privacy and security in general and cryptocurrencies in particular — and urban management, respectively.
However, when they come together, blockchain may be able to solve quite a few of the teething and subsequent problems that may crop up in the planning and implementation of a smart city.
According to the World Economic Forum, expectations from smarter cities are rising, and the economic downturn induced by the Covid-19 pandemic requires more efficient urban management than ever before.
As a result, between 2020 and 2024, the smart city market, including energy, healthcare, and security, is predicted to increase at a 23 percent annualized rate, reaching the nearly $2.1 trillion.
Advanced technology, such as blockchain, can help solve these societal difficulties and achieve effective urban management.
The onus on cities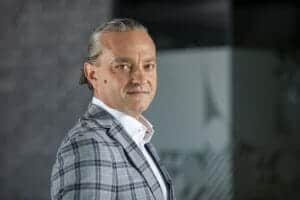 "Cities should stop thinking about themselves and start thinking about the people who live there," said Szymon Fiedorowicz, CEO of Skey Network, a company that combines IoT devices with blockchain technology.
"According to current trends, residents should feel at ease in the city because of the implementation of clever solutions," he explained.
"Democratization of data access and a sense of independence are vital parts of technological growth, and blockchain technology distinguishes these features."
Smart Dubai is proof
To make Dubai the world's happiest and smartest city, Smart Dubai is said to be exploring blockchain applications in a variety of industries, including finance, education, and transportation.
For instance, a blockchain-based project is underway to streamline enrollment procedures for students traveling between emirates.
"Dubai is the first and foremost city in the world to actively use blockchain technology in its solutions, and Smart Dubai is the most prominent evidence of that. It is a very advanced project compared to other global initiatives," Fiedorowicz said.
He added: "Dubai is associated with modernity and development. Therefore, the entire GCC region has a chance to be a revolutionary place in the world in the development of blockchain technology, and even to become the leader of the second Internet revolution."
Uses of blockchain in cities:
Here are some instances of how blockchain technology is being used in urban management:
Security: Blockchain improves the protection of the personal data collected.
Energy: Smart blockchain-based contracts make it easier for solar-powered households to automatically trade surplus electricity with other members of the grid.
Mobility: Government departments can monitor which citizens use their cars daily and offer them discounts and advantages to encourage them to take public transport.
Waste: Blockchain can provide the public and the waste-collection services real-time information on containers so they can always know whether they are full or empty.
Participation: Blockchain platforms guarantee the security, reliability, transparency, and anonymity of public consultations, such as elections, surveys, and referenda.
In addition, blockchain technology can boost other services, such as water-resource management, air-quality control, and park and garden care.
Infrastructure challenges: Even though smart cities are a significant trend, the challenge today is a high level of competition and the difficulty of integrating various devices and services into a single ecosystem.
"Blockchain provides a change that will assist growing these technologies and discover synergy," said Fiedorowicz.
Companies are focused on their objectives, but there should be just one big goal: integrating these solutions.
How to proceed?
Fiedorowicz said that the rulers must create a sandbox; enterprises that wish to develop an ecosystem should be fostered rather than given financial assistance. Infrastructure access is critical.
"Data has been in the hands of businesses since the beginning of the Internet revolution," he explained. "Now is the time to decentralize and create an ecosystem of data that is collected and distributed independently of the corporation."
Fiedorowicz, however, expects that there will undoubtedly be more cities using blockchain to solve their problems, as the authorities see the potential in the region and want to implement innovative solutions.
Additionally, for smart cities to contribute to societal challenges and operate smoothly, it is not sufficient to have independent, smart technology. Rather than that, interoperability and coordination among multiple smart cities are necessary.