The logistics sector was, in 2021, able to adjust fast to meet the needs of countries all over the world despite disruptions in global supply chains, limited freight capacity, connection breakdowns, and cancellations.
Shipping and logistics companies have redesigned their fleet capacity and altered their operations plans to fit changing trading patterns and the increased demand for e-commerce.
Companies have also used innovative methods to keep their operations running while overcoming numerous challenges.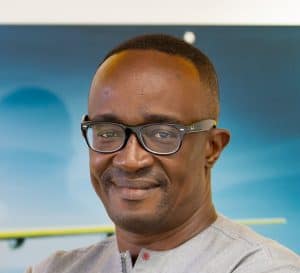 DHL Global Forwarding has weathered the challenges of shrinking air and ocean freight capacity, DHL Global Forwarding Middle East & Africa CEO Amadou Diallo told TRENDS.
"With restricted air capacity during the pandemic, we were and still are working hard with our airline partners to provide humanitarian solutions despite skyrocketing freight rates," he said.
"For instance, DHL is offering multimodal transport solutions to combine ocean, air, and rail services. We are also investing in new airplanes, trucks, and gateways," he explained.
Continues challenges
Trade restrictions have gradually begun to fade since 2021, coinciding with the acquisition of Covid-19 vaccines.
In addition, various economic activities have opened at the local and the global level, resulting in an increase in demand for international goods and products through the ports, leading to the rise in sea freight prices.
To address the continued challenge of reduced capacity and congestion at air and seaports, Diallo believes that "we need further long-term investments" in land and sea infrastructure.
"The situation in the air freight market continues to remain challenging," said Diallo.
"We see high volumes and high demand, but have limited handling capacities due to Covid-19 and infrastructural issues. However, airports with the modern structure are better able to cope with these challenges," he added.
On the other side, when it comes to ocean freight, Diallo noted that while carriers are striving to tackle the challenges by moving as much equipment as possible and even shipping empty containers back as soon as feasible, this is still insufficient to meet the enormous demand.
He explained, "Overall, we don't expect the capacity situation to improve dramatically in 2022. Though with some relief, trade volumes and capacity shortages are projected to continue. The limited capacity and high freight rates in both OFR and AFR will remain until global vaccine campaigns gather traction and passenger airlines resume pre-covid flight schedules. Thus, we recommend that you plan ahead of time and book far in advance."
Technology in today's logistics industry
Much has changed in the past year. Robotics and automation, big data analytics, machine learning, sensors, the Internet of Things, and next-generation wireless all play critical roles in today's supply chains.
Parallel to the recent turbulence in the logistics sector, a considerable number of companies have tended to extensively adopt technology tools, which have increased digitization and rely more on automated systems and big data capabilities.
According to Diallo, the logistics sector will become even more digitalized to ensure vital logistical activities meet current and long-term societal needs.
Using automated storage and retrieval systems, warehouses can identify, pick, and transfer merchandise more quickly, allowing ecommerce enterprises to fulfill tight delivery dates.
An example is Picking, a self-driving robot that automatically learns and shares the most efficient travel routes to maximize pick efficiency.
As a result, the self-driving robot boosts outbound picking productivity by moving autonomously to workers and minimizing picker travel time.
Unmanned aerial vehicles (UAVs) are another example of leveraging technology in the logistics sector, allowing for speedier and even automated delivery, especially in remote places where ground infrastructure is limited.
They offer a safer, more cost-effective, and faster solution for niche requirements that are inherently dangerous or unavailable to people, such as allowing remote inspection of warehouses, outdoor assets, and infrastructure.
On the other side, Diallo claimed that one of the most significant obstacles to technology adoption in the logistics business is integrating IoT devices into the value chain.
These hurdles are more typically associated with industrial and manufacturing processes since they necessitate significant initial investment in studying, selecting, and implementing the appropriate hardware alternatives before any benefits can be obtained.
"As a leading player, we are committed to driving digitalization and sustainability in the industry. It is vital to improve data availability and quality across the industry. Uniform standards, such as bill of lading or customs data, should be enforced globally," he explained.
Logistics trends in 2022
Supply chains are implementing automated storage solutions in response to consumer demands. The need for quicker processes is going to continue into 2022.
According to Diallo, new technologies in Big Data and Artificial Intelligence have continuously changed.
Therefore, companies need to implement the right trends to stay ahead of their competitors.
Organizations that fail to recognize the central role of digital adoption in their processes will be left behind in the logistics sector.
Patterns emerging
The following are some of the significant patterns we're seeing emerge in 2022:
Sustainability in focus: Consumers are increasingly expecting brands to act environmentally responsible — from their sustainable packaging to their emissions — and businesses are waking up to the financial benefits of reducing wastage along their supply chains.
Creating resilient supply chains: As businesses increasingly pivot to ecommerce, they need agile and flexible supply chains to stay competitive and adapt to market disruptions in real-time. In unpredictable demand, companies need elastic logistics — that can quickly expand or shrink, enabled by AI and analytics to predict upcoming demand surges.
Ecommerce leading to more automation: The ecommerce boom and rising customer expectations are also expected to lead to the growth of autonomous and automated robotic solutions in warehouses — saving businesses time and money.
The global independent warehouse robotics market is expected to almost double in size by 2025, reaching $27.2 billion.